Column #511 Willkommen Charis Mutschler!
Thursday, February 18, 2016
Column 511
Willkommen Charis Mutschler!
For a long time, I have been searching for a member of the female persuasion to join Howie Reed, Jamie Barron and myself at Dartoid's World. I have approached lots of women with my "proposition" and been slapped silly.  It's the story of my life ever since a pretty girl named Rachel nearly knocked me out at a party in high school.
I thought what I said was a compliment.
Today, I am pleased to welcome Charis Mutschler to the team. She couldn't slap me because she lives in Germany.  I would have invited Sharon Butler but since one of my top priorities is to promote all the good the ADO does for the sport I didn't think this would go over well.
The founder of Global Darts (Global Darts), Charis hails from Marbach, near Stuttgart (the birthplace of Friedrich Schiller, friend of Johann Wolfgang von Goethe – both well known dart players from the late 1700s and close confidants of Olly Croft).
A librarian by day (until her daughter, now 21, was born) and occasional darts fanatic by night, thanks to her husband who brought a dartboard into their marriage, Charis has been writing about the sport for years.
Her interest was sparked in 2004 when darts (both PDC and BDO) was first aired on German television. Soon, she began traveling to England to follow the Professional Tour events. In 2008, she was invited by the PDC and provided press credentials to attend the world championships. In short order, her "career" as a darts journalist was launched (and at about the same time her Global Darts website was created).
These days, Charis is a regular at most of the PDC Majors, from where she writes reports and posts player interviews (her first column for Dartoid's World is her recently published interview with Larry Butler). She's attended the Winmau World Masters twice, which she finds particularly interesting "because one can meet players – including youth and female players – from all over the world").
Charis is quick to note, "I am still a very lousy player" (I don't believe her) "because – I just don't have the time to commit these days to getting better" (she stole one of my excuses). "But I am a very, very good player in theory" (more theft!).
Bilingual and cultured – a lover of literature, dance and music, cats, the conservation movement (notably the protection of birds and their habitat) – Charis' writings about darts and its players often transcend the usual. She brings something unique to the chroniclers of the sport we all love and I am thrilled to be able to share her views in this space.
Writes Dr. Darts Patrick Chaplin, "I have known Charis for a number of years and regard her as a great friend both to me and to the sport of darts. Charis has worked diligently to track down and interview many people in darts and revealed many unknown facts about her interviewees and posted them on her impressive website.  She has also worked hard to trace the history of darts in Germany.  Her being featured at Dartoid's World will doubtless be of interest to darts fans across the world and guarantee that her work (and love of darts) is brought to the attention of many more enthusiasts."
Please join me in welcoming Charis Mutschler to Dartoid's World. Charis' first column will appear soon.
From the Field,
Dartoid
The following two tabs change content below.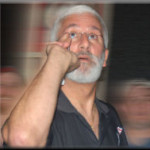 Author of the column that since 1995 has been featured by Bull's Eye News, the American Darts Organization's (ADO) Double Eagle and numerous other darts publications and websites around the globe.