Column #494 CDC Fantasy League Standings UPDATE!
Friday, June 26, 2015
Column 494
CDC Fantasy League Standings UPDATE!
With the all the hubbub this past week about Diana Ross' decisions on Obamacare and gay marriage, the Confederate flag, and Donald Trump pissing all over Mexico, it's possible that some have forgotten about really important things, such as the CDC Fantasy League.
Not me!
The standing's have now been updated through this past weekend's events in Ypsilanti, Michigan.  Congratulations are due winners, Jason Brandon and "Teddy Bear" D.J. Sayre – and to all 32 players who have made the cut for the $5,000 Matchplay event in Nashville (at Music City).
There has been considerable movement in the Fantasy League standings.  Mike Holler now stands clear at the top, followed by Richard Cuerrier, Jonah Dyer, Anna Moretti and Connley Litton (twice!).  The Fantasy League staff is still working to automate the duplicate-elimination function so rest assured, if a duplicate remains and that person wins they will only receive one $100,000 payout.
Scotty Burnett hangs just 26 points off the lead, Darin Young is just a point behind Scotty.  Jason Brandon is just behind Darin.  John Ronnholm is close.  So are George Hammes, Timmy Nicoll, Jennifer Mounts, Vera Carter, and many more.
Even the one and only Old Dart Coach, Howie Reed, is in the thick of it.  This proves it's not just the Supreme Court decision-making process that is mysterious.
Just a reminder: tour card holders and employees of the CDC and Dartoid's World (there are dozens, all highly paid), while able to participate, are ineligible to win.  This should be of no concern to David Irete – he's in the bottom 25 of the 700-plus entrants.  He is however, ahead of Marcia Loche and Greg Tong, which may mean something, or nothing.
The complete CDC Fantasy League standings through the fourth event can be found here: Current Fantasy League Standings.
From the Field,
Dartoid
The following two tabs change content below.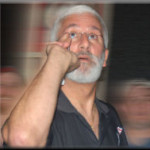 Author of the column that since 1995 has been featured by Bull's Eye News, the American Darts Organization's (ADO) Double Eagle and numerous other darts publications and websites around the globe.