Column #490 CDC Fantasy League hits 700 entries!
Tuesday, May 26, 2015
Column 490
CDC Fantasy League hits 700 entries!
The inaugural event of the Championship Darts Circuit (CDC) is just days away.  It all kicks off on Friday, May 30 in the great State of Ohio, home to the perennial best college football team on the planet.  The second event will be held June 20-21 in Michigan, home to one of the top 100 pee wee football teams in the country.
If the CDC Fantasy League is any indication of the level of interest in the tour – and hope for the future of darts in North America – then, well, there are a LOT of eyes on all that is about to unfold.  Anthony Eugenia, Peter Citera and David Irete are clearly onto something BIG.
So many people have picked "teams" in the Fantasy League competition (registration ended yesterday) that an absolutely accurate count of the entries is not yet final.  What is known is that more than 700 entries have been submitted.  That is an astonishing figure.
Even more amazing is from where eyes are focused on all that's about to unfold…
Fantasy League "teams" have been selected by darts enthusiasts from all over Europe, Asia, Australia, and Africa – joining hundreds from North America.
John Lowe has entered.
There are even entries from Mongolia.
Let there be no doubt that the world knows what North Americans have long known: the talent pool is here and the day is rapidly approaching when a North American will stand (again) atop the world of professional darts.  The best must play the best to become world class.  That is about to happen.
The competition is a who's who of North American talent.  Included are a three-time world champion, PDC World Matchplay champion, five-time Canadian national champion, three World Series of Darts qualifiers, a two-time ADO 501 national champion and three-time ADO national cricket champion, and on and on.
For Fantasy League players: the standings and tally of each "team" will be based on the total CDC tour points earned by the players, standings will be shared via this space approximately one week after each tour event, and the full entry list will be shared soon.
The massive number of entries has required very careful thought be given to the tie break rule.  So here it is.  Mark this down…
The tiebreak for this contest will be the final tour points results for each "team" for Group SIX.  If still tied, then totals will be examined progressively backwards: Group FIVE, Group FOUR, etc.  If STILL tied, a count back of each event will be used – i.e.: total points in Event 8, Event 7, Event 6, etc.  (If multiple duplicate teams are selected and no tiebreak is possible, the first place prize will be prorated accordingly.)
Again, the Fantasy League first place prize is $500 and a set of signature darts of the winner's choice from either Larry Butler, Chris White, Cali West, Chuck Pankow or Gordon Dixon.  Second through fifth place will receive a set of the remaining signature sets.
There is one final rule, buried in the fine print: employees of Dartoid's World are ineligible.
So you're all safe, not that Dartoid's World has any employees.
Applications are being accepted however, even from University of Michigan cheerleaders.
From the Field,
Dartoid
The following two tabs change content below.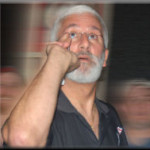 Author of the column that since 1995 has been featured by Bull's Eye News, the American Darts Organization's (ADO) Double Eagle and numerous other darts publications and websites around the globe.