Column #481 SO WHAT?
Sunday, February 1, 2015
Column 481
So what?
Okay, so I'm 60 (plus a little).
I'm not keeping track of time.  Really.  I don't care.  I DON'T!
It doesn't bother me.  Not a bit.
It DOESN'T!
I feel the same as I did when I was younger.
Sure, some small things are slightly different.  That's natural.
It's not like they matter…
For example, this morning I noticed that my razor seemed kind of dull.  It turned out to be my toothbrush.  SO WHAT?
Tonight while driving to league people were yelling at me.  SO WHAT if it turned out that one of them was sprawled on the hood of my car?
In between matches I was sharing a joke…
"You know," I heard myself say as I arrived at the punch-line, "you know, the dude who keeps screwing things up."  My team mates just stared at me.
"Come on, you know.  That nice Negro fellow.  The one with the cute kids.  You know.  That guy!"
SO WHAT if it took me ten minutes to remember who it was (Barack Obama).  It was an honest mental lapse.
So I'm throwin' 501.  And I'm throwin' pretty strong.  I have 82 remaining.  Three darts.  I miss the red bull by a sliver with my first dart, scoring 25 and immediately stroke and peg the 17.  And then – BAM! – just as quickly I close the double 16.
"Good game," I said as I offered my hand to my opponent.  Ashley was her name.  She was 17.    Looked good.  Yep, she sure did.
She was looking back at me kind of funny-like.  Almost starry-eyed.  Hmmm.
So I repeated myself.  "Good game, Ashley.  Good darts.  Nice t-shirt."
And then she spoke.  "I think you meant to throw tops.  You still have eight remaining."
SO WHAT!  I'm no fucking mathematician!
Everybody makes a minor subtraction error from time to time.
Later during my cricket match one of my flights popped off my shaft.
SO WHAT, if after five minutes, I had to admit I couldn't see well enough to slide it back on?  "Will you help me Ashley?"
It's was dark, damnit!
SO WHAT if I then threw ALL THREE DARTS at the triple 16, which it turned out both my opponent and I had already closed.
I goofed.  That's all.
THAT'S ALL!!
This shit could happen to anybody.
I'm not concerned.  Really.  I don't care that I'm too old for Ashley.
I DON'T!!
It doesn't bother me at all.  Not a bit.
Nope…
The only thing that worries me is that my ears seem to be hairier than my head.
From the Field,
Dartoid
The following two tabs change content below.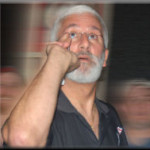 Author of the column that since 1995 has been featured by Bull's Eye News, the American Darts Organization's (ADO) Double Eagle and numerous other darts publications and websites around the globe.