Column #460 Fax from Dartoid in Rwanda!
Tuesday, April 1, 2014
Column 460
Fax from Dartoid in Rwanda!
Hi.  Kelly Ragland again.  Just received this message from Dartoid:
Rags!
I've messed up bad!  I'm in jail, man.
They released my friend, Jak.  His dad's with NBC so he has some pull, I guess.  He's going to try to get this faxed to Marylou so she can send it to you.  I was able to call her last night so I'm assuming she's told you what happened?  She's supposed to get here in a couple of days but I don't think they'll let her see me.  I told her that when they let me call.  Plus we can't afford it.  Let me tell you man, she's gonna kick my ass!
The good news is that I got the stuff for the dart case guy – some pretty thick branches of ebony and a couple of really small tusks.  The bad news is that it's all been confiscated.  The really bad news is that I have no idea what's going to happen to me.  They won't tell me anything.  They won't let me talk to anybody, not even the guy from the Consulate.  I guess that means you're a webmaster without a website (except those silly things you do for Kuczynski and Silberzahan!).  Ha.  Maybe you could just post this?  Type it up or scan it or something?  They took my laptop and my wallet.  And my darts!  I'm pretty sure it's going to be a while before I can write a real story again.  That'll probably make a lot of people happy!  One thing's for sure – if I ever get out of this cock-up I'll be able to write a real killer!
I'd tell you that Rwanda is a beautiful country but, frankly, from my current vantage point it pretty much sucks.  Bastards!  I did go on a mountain gorilla trek the other day in the Virunga Mountains and sat on the edge of a clearing very close to a family group – the babies were quite curious (but the silverback – he must have weighed 500 pounds – didn't seem pleased).  They are threatened here by deforestation, political instability and poachers.  We golfed last Monday and I actually saw a giraffe in the distance while hunting for one of my balls.
I got to throw darts twice.  There was a good set-up at the hotel we stayed at in Byumba – called the Lemigo.  It's near the little airport there.  Then the night before last I hooked up with some of the guys from the Rwandan National Team at O'Connell's Bar (yep, an Irish bar in Rwanda) here in Kigali.  Possibly they'd be helping me out now if I hadn't whooped their sorry asses!  They shoot against teams from Uganda, Burundi, and even Kenya.  I know from past travels that some of these teams (the Ugandans in particular) are quite good.
Obviously, Jak and I spent a lot of time at the markets.  That's what landed me at Gikondo Prison.  You can buy almost anything for next to nothing.  The stuff they took from me at the airport was worth a thousand bucks, easy.  It cost me 35,000 Rwandan Francs, only about $50.  But I was stupid.  I knew it was stupid.  They can pretty much do whatever they want with me.  I know that.  I knew that.  Now I'm stuck here in this crappy-ass place eating something called bugali (kind of like mashed potatoes) and wondering what's going to happen next.  There are something like 50,000 prisoners here and I haven't seen another white dude.
Well, that's it Rags.  Not much else to say and don't know when I'll be able to write again.  If I get to see Marylou I'll ask her to keep you up-to-date.
Man, did I mess up – so much for our plans to sell cases.  I'm probably going to lose my job.
One thing's for DAMN sure – I'd be really fucking bummed if this whole thing wasn't a damn April Fool's joke.
From the Field,
Dartoid
The following two tabs change content below.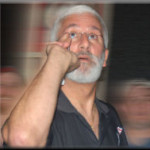 Author of the column that since 1995 has been featured by Bull's Eye News, the American Darts Organization's (ADO) Double Eagle and numerous other darts publications and websites around the globe.