Column #459 Dartoid Arrested!
Monday, March 31, 2014
Column 459
Dartoid Arrested!
This is Kelly Ragland.  I maintain Paul Seigel's website – Dartoid's World.  I received a call from Paul's wife, Marylou.  Paul and a friend have been arrested in Africa – Rwanda.
They were caught trying to board a plane with a suitcase full endangered wood and some ivory.  Marylou is trying to catch a flight to Kigali in the morning to meet with officials at the American Embassy and try to see Paul.  She said that they can hold him without charging him for up to ten days.  After he is charged, they can hold him for 90 days before there is a trial.  If he is convicted he could face as long as two years.
Right now that's all I know.  It sounds like real mess.  Just thought I'd let you know what's up.  As I find out more, I'll post it here.
Rags
The following two tabs change content below.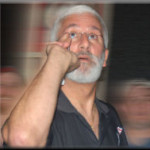 Author of the column that since 1995 has been featured by Bull's Eye News, the American Darts Organization's (ADO) Double Eagle and numerous other darts publications and websites around the globe.