Column #293 The Road to Mandalay (Bay)
July 1, 2007
Column 293
The Road to Mandalay (Bay)
By the old Moulmein Pagoda, lookin' lazy at the sea,
There's a Burma girl a-settin', and I know she thinks o' me;
For the wind is in the palm-trees, and the temple-bells they say;
"Come you back, you British Soldier; come you back to Mandalay!"
Come you back to Mandalay,
Where the old Flotilla lay;
Can't you 'ear their paddles clunkin' from Rangoon to Mandalay?
On the road to Mandalay,
Where the flyin'-fishes play,
An' the dawn comes up like thunder outer China 'crost the Bay!
— Joseph Rudyard Kipling (1890)
I have MADE IT to Las Vegas and the fabulous Mandalay Bay Resort and Casino for the Professional Darts Corporation's (PDC) sixth annual Desert Classic darts extravaganza. I can barely wait to find Tommy Cox and start giving him shit.
It seems like only yesterday that I was throwing darts at Mud Bugs and the 50 Yard Line in Reno, just 450 miles up the road. Drive time from the Biggest Little City in the World to the City of $1,000 Hookers is usually about seven hours. It took me three weeks.
That's because I went to the real Mandalay first.
In the interest of journalistic integrity I saw no other option. Seriously, how can someone possibly cover a darts tournament at the Mandalay Bay if they haven't taken the time to scope out the real deal? Perhaps Dave Allen or Sid Waddell can answer this question.
All totaled, including stops for darts in Hong Kong, Bangkok, and a pass through Seoul, the trip from my home in Tampa to Reno to Mandalay in Myanmar (formerly Burma) and back to Las Vegas added 25,076 miles to my frequent flier account. I now have enough points to get home for free.
To the extent any of us are familiar with Mandalay it's because, as serious students of literature like Playboy magazine, we were once forced in school to read English author and poet Joseph Rudyard Kipling's homage to this exotic old city in his poem Road to Mandalay. Of course, George Orwell was once stationed here as a policeman. He met some talking animals and wrote a book. Frank Sinatra, Robbie Williams, and even Manfat Voodoo all sang songs about Mandalay. So it's a real joint that really exists somewhere other than on the Las Vegas Strip.
Who is Manfat Voodoo you may ask? I don't have a frickin' clue.
After a brief stop in Reno where I met up with Jason Walgren to watch a couple of the Truckee Meadows Darting League teams shoot, I headed fourteen hours east for a couple of nights at the line with Noel Li and Andy Cheng from the Hong Kong Darts Association. We started out at the Admiral Bar in the basement of the Garden City Hotel in North Point before venturing into the rain and bowels of the neon city for some serious play. I left for Bangkok the next morning having not won a game.
In Bangkok I hooked up with Johnny "The Big Witkowski" and ended up throwing as a substitute in three matches for teams in the Lower Sukhumvit Darts League and playing in a Luck of the Draw where I was knocked out in the first round by some guy from Vietnam. I spent hours throwing darts – days actually (thanks to an obsessed British darter named Ben) – at the Moonshine and Flaming Moe's in Queen's Park Plaza. I also whiled away time at the New Cowboy Bar, the Silver Dollar, and Bully's before venturing into the great unknown…
That would be Myanmar.
Kind of like the British Darts Organization (BDO) Myanmar is a dictatorship. The ruling junta changed the name, from Burma, back to what it was called before the British conquest in 1885. Observers say that the country today is pretty much similar to the look and feel of Thailand a hundred years ago. What this means, at least to my eye, is that there are monks shuffling all over the joint.
Situated along the eastern coasts of the Bay of Bengal and the Andaman Sea, Myanmar is a simple but beautiful country, a land of rolling green hills, towering mountains, flat and lazy river valleys such as those along Ayeyarwaddy River that meanders the entire length of the country, and one dart board.
The board is in the Lobby Bar of the Grand Plaza Parkroyal Hotel in Yangon (formerly known as Rangoon), the country's capital city. I spent a night here hoping to connect with a couple members of the Yangon International Darts League, Morgan Zaw Win, Soe Soe Cole. Apparently we crossed wires because neither of them showed. The next afternoon I hopped my flight to Mandalay in the north.
Mandalay is Myanmar's cultural and religious center of Buddhism, a city of almost a million people, numerous monasteries, and almost 1,000 pagodas. At the foot of Mandalay Hill is the world's official "Buddhist Bible", also known as the world's largest book. There are 729 stone slabs that together contain the entire Buddhist canon, the sum of which is: if you're not a good person in this life in the next you will return as a worm.
With a list of several pubs I began to make my rounds. First up was the Myanmar Lion on 65th Street. Knowing that the most common name for a pub in England is the Red Lion I figure this joint was a good bet. It wasn't. I grabbed a Myanmar Red Lager and headed on.
I hit almost a dozen bars in Mandalay – the King Star, Light Ace, New Sweet, Takara, Tharaphi, Maha Maha, and more – and in not one of them was there a dartboard. I don't know who is responsible for this overt act of darts disenfranchisement but I do know that somebody's gonna be squirming on the end of a fish hook in their next life.
The bottom line: Myanmar ain't much of a place for darts. Yangon's worth a stop – there's a dartboard. Mandalay is a one-of-a-kind destination, at least for sightseeing (although the ideal way to travel here is by way of a week-long cruise up the old Ayeyarwaddy River of Kipling fame).
For darts however, the only Mandalay worth a visit is in Vegas and that's where I am today and where I'll be camped for the duration of the Players Championship and the Desert Classic. As I have for the past several years I will be reporting on all the "action" from my base of operations at the Palomino. From time to time, if I get a chance, I may even stop by the tournament.
Official darts action begins tomorrow with the Players Championship. A host of North Americans have anted up to compete for the almost $10,000 top prize against all but one (Chris Mason) of the top thirty-two PDC professionals. Perhaps Mason is pissed off at something I wrote…
On Monday and Tuesday the Desert Classic kicks off with two qualifiers that will see sixteen players move into the first stage round on Independence Day to begin battle with those already seeded. Their goal: to dethrone the reigning Desert Classic champion and two-times world champion John Part from Canada and pocket the near $40,000 first place check.
On Tuesday night at CD's Sports Lounge (3025 East Desert Inn Road) Stacy Bromberg and Joe McElligott will host their 10th annual Score for Charity to benefit the Make-A-Wish Foundation. Start time is 8:00 p.m., just after the Desert Classic Draw. This is definitely the place to be before play gets serious in the morning. The turnout is always spectacular and this year the event, which has raised nearly $100,000 for the kids to date, is certain to be better than ever. John Part will be there (hoping to best yours truly in a little game of dodgeball) along with Paul Lim, Dennis Priestly, Ronnie Baxter, Roland Scholten, Wayne Mardle and a host of others. The only person of note who will not be there is Erik McVay who has weaseled out of our charity challenge match (and who now has to wear a dress).
Like many Americans, part of what I look forward to at the Desert Classic each year is meeting people of the British persuasion. So as I close the first of this year's Dartoid's World series on the event I want to invite any of you from the Mother Country who are in town to look me up for a chin wag. You can also buy me a jar.
Until I get thrown out by Tommy Cox most afternoons I can be located in the PDC press room plagiarizing Dave Allen's ideas and writing more drivel like this. If you do hunt me down please bring a translator because I don't speak British. And don't forget the beer.
Oh, one last thing – if your name is Dave "Boy" Green and you're reading this and are in town I challenge you to a friendly match. I know you are a "big deal professional" who averages around "110 a handful on a bad day" but I have a sneaky feeling that I might just be able to hold my own, even though I don't actually own a set of darts.
From the Field,
Dartoid
The following two tabs change content below.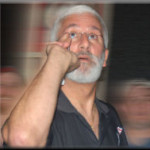 Author of the column that since 1995 has been featured by Bull's Eye News, the American Darts Organization's (ADO) Double Eagle and numerous other darts publications and websites around the globe.