Column #267 John Part is BACK (and so is the Asteroid!)
July 14, 2006
Column 267
John Part is BACK (and so is the Asteroid!)
Sunday, July 2
As puzzled scientists continued to peer into their telescopes and, calculate, recalculate and debate the final destination of the giant mountain-sized asteroid, now called 2000 XP14, hurtling its way towards Planet Earth, in Las Vegas, unaware of the potential danger, almost all eyes were fixed on the stage today as topless showgirls danced and jiggled in X – an Erotic Adventure at the Aladdin.
The few hundred other pairs of eyes in town (including honeymooners Mr. and Mrs. Erik McVay, who got married last Saturday, and Mr. and Mrs. Mike "DarterZ" Danford, who got hitched yesterday, with Phil Taylor in attendance, and broadcast the ceremony over the Internet) were nursing seven dollar beers in the crowd at the Mandalay. In just minutes the clock would strike 11:00 a.m. and two darters who were not British would step onto the stage, throw some darts and figure out how to divide the remaining $45,000 in LVDC prize money.
Their names: John "Darth Maple" Part and Raymond van Barneveld. Their countries: Canada (a small city near Tulsa) and Barneveld. Their claims to fame: six world championships between them. The match: 501 – best of eleven sets.
The result?
Well, by now of course (just has been the case with this entire series) you will know that Part emerged the victor on this day, silencing at least temporarily those who have questioned his form of late and permanently those who have ever doubted that he isn't the classiest act in professional darts.
Perhaps it just wasn't Barneveld's day. He was in the match early on, in the PDC's Dave Allen's words, "storming out of the blocks" to take the first set and, despite chances, losing the next three sets in the decider. But then, frankly, Barneveld lost the steam in his storm. By nine sets Part had the six he needed to claim victory and the $30,000 first place check.
Indeed, some say that Barneveld was just off his game. Even Barneveld, while effusive in his praise of Part, commented that "I think I played my worst game of the week tonight after playing well to get to the final." Part on the other hand (who like Barneveld, beat Phil Taylor to get to the final here three years ago, only to lose to Peter Manley) saw it a little bit differently. "Perhaps Ray wasn't at his best," said Part after the match, "but I think I played a part in that. I tried to make my determination as visible as possible. I put it into my body language as much as I could without shaking my head if I missed, so that Ray knew I was there."
So there you have it – the final installment in this year's Dartoid's World series on the Las Vegas Desert Classic http://www.SEWA-darts.com . Honorary American and General John "Darth Maple" Part is this year's LVDC champion. Bill Davis and Johnny Kuczynski will represent America later this year at the world championships in Purfleet. For the women, American Marilyn Popp just didn't have enough to put the breaks on England's Tricia Wright who cruised to a 6-1 victory.
In other LATE BREAKING news, scientists at the Lincoln Near Earth Asteroid Research Project (LNEARP) – which is a real outfit, funded by the United States Air Force and NASA – have just announced that the giant asteroid will not – I repeat NOT – smash into London tomorrow, as revised calculations previously suggested. London is safe! So is the British Darts Organization, until it destroys itself.
As of this writing, the asteroid is approximately "268,873 miles (432,709 kilometers) from the Earth, only 1.1 times the planet's distance from the Moon." According to LNEARP scientists, who apparently attended the National Dart Association's (NDA) Graduate School of Precision, this means that "at the object's current trajectory and rate of acceleration as Earth's gravity pulls it closer and closer, it will indeed (as originally predicted) land smack in the middle of Indianapolis, plus or minus a few hundred miles, either tomorrow (July 3) or August 19, or maybe it will just pass by Earth completely."
When I appraised NDA executive director Leslie Murphy of this news, she started howling like a wounded Basset Hound. "I can't believe this!" Murphy barked. "They don't know where it's going to land! They don't know when it's going to land! They change things every damn day!"
"These people are idiots, amateurs," whined Murphy. "What's a pretty girl to do?"
"I'll tell you what will really PISS ME OFF," said Murphy as she crawled into her bunker with a case a Beefaroni, "and that is if this whole asteroid scare of yours turns out to be nothing but a frickin' metaphor."
From the Field,
Dartoid
The following two tabs change content below.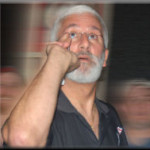 Author of the column that since 1995 has been featured by Bull's Eye News, the American Darts Organization's (ADO) Double Eagle and numerous other darts publications and websites around the globe.