Column #266 A Royal Suck-arse Day for the British!
July 13, 2006
Column 266
A Royal Suck-arse Day for the British!
Saturday, July 1
Today was one of those days where those of the British persuasion wished they had a sack full of Mulligans. Only one thing went right for the Mother Country and that's that they didn't get knocked out of the World Cup…
…by France. Wouldn't that have been a crapper!
It was Portugal that ended England's run and then France which shocked the world by upsetting Brazil.
In Vegas it was more of the same for the British. Despite jumping to a 2-0 lead, young Wes Newton saw Canada's John Part sweep the next four sets to book the first spot on stage in tomorrow's LVDC final.
Then the man Sid Waddell calls Mr. Stackalicious launched into a 2-0 lead against Dutchman Raymond van Barneveld. Thirteen-times world champion Phil "the Power" Taylor does NOT blow two set advantages.
Today he did. It must have been the crew cut.
Tomorrow it will be a Canadian and a Dutchman in the final of the PDC's fifth annual Las Vegas Desert Classic – Darth Maple and the Purple Dinosaur.
In other news today, the Tour de France got underway and on the first turn, the entire team from England team rode over a cliff.
Yes, it was a royal suck-arse day for the British.
From the Field,
Dartoid
The following two tabs change content below.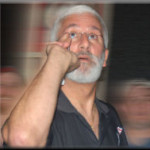 Author of the column that since 1995 has been featured by Bull's Eye News, the American Darts Organization's (ADO) Double Eagle and numerous other darts publications and websites around the globe.