Column #259 Tim O'Gorman
June 19, 2006
Column 259
Tim O'Gorman
If I was stranded on a remote island I'd most want to be with Osama Bin Laden. After the first two minutes I'd be all alone but the world would be a better place.
— Tim O'Gorman
__________________________________________________________________________
Nickname: I didn't have a nickname before the World Series of Darts. Since then, through consensus down at the Viking Tavern, the guys have come up with one. I'm now called "The Dagger" because they say my third throw is a dagger dart.
Date of Birth: February 4, 1966
Place of Birth: Bohemia, Long Island
Hometown: Melville, Long Island
Occupation: Detective (New York Police Department)
Hobbies: Working around my house. I am currently redoing my kitchen from soup to nuts.
Movie: Blazing Saddles
Television Show: LOST
Book: Darts for Dummies (I read it right before I played Phil Taylor!). Seriously, the last book I read was In Harm's Way by Doug Stanton about the sinking of the USS Indianapolis.
Favorite Night on the Town: Friday
Meal: Chicken Cutlet Parmesan with a Coors Light
Sports Team: New York Yankees
Music: Billy Joel
Pet Peeve: People with no common sense
Worst Habit: I drive too fast
What most people don't know about me: I hate spiders. I get my wife to kill them.
Weapon of Choice: 20-gram Hammerheads
________________________________________________________________________
I got into darts when I was nineteen years old in 1985. My older brother Scott got me hooked. He used to hang out and play for money at a local tavern called the Roadhouse Pub in Bohemia, Long Island. Since I wasn't old enough to get into the bars my father set up a regulation dartboard with light and a scoreboard in our kitchen. We had a very large kitchen! I seemed to be able to hit what I shot at from the first time I picked up a dart.
I'm competitive and that's important in darts. I want to win. In fact I have a reputation for being competitive at pretty much everything. I just don't like to lose. My wife Carolyn jokes that I won't even let her win at a board game. We've been married thirteen years and have a son and daughter, A.J. who is six years old and Julia who is two years old. When they grow up I plan to beat them too!
I spent twelve years in Catholic school. I went to high school at St. John the Baptist in West Islip, Long Island and to Suffolk Community College, also on Long Island. In 1986, I began working as a paramedic for New York City. I then joined the New York City Police Department in 1990. I currently work in the 73rd Precinct Detective Squad. I have been a Detective since 1997.
My claim to fame, so far, in darts is to be able to say that I stood up against Phil Taylor, the best player ever in the world, and took legs off of him. I am sorry for America that I didn't beat him but, now that I have played the best, I feel confident that I can be competitive at the highest levels. My goal is to BE the best.
You asked who I look up to in the sport. The answer is easy: Laurett Meddis, aka MOM. She has had a tremendous impact not only the game of darts but on every individual who has had the pleasure of crossing her path. She oozes confidence and it rubs of on everyone. I believe I can beat anybody because Laurett says I can and I know many other people whose game and confidence she has build the same way. Of course, outside of darts it is our armed forces fighting for America that I look up to the most.
I practice regularly, at least two hours a day. While I don't have a steady doubles partner and bounce around from tournament to tournament, I hook up a fair bit with guys like Johnny Kuczynski, Darin Young, Jimmy Watkins, Tom Sawyer, Gary Mawson, and Jimmy Widmayer.
I can't say that I really have a nemesis out there, somebody I just can't seem to get the better of at the line. I'm pretty much even in terms of wins and losses against the big dogs – except Phil Taylor. But he's only got me 1-0! The way I look at it whoever I am playing at the moment is the person I have to beat. I'll get Taylor next time!
Now that the World Series of Darts (WSOD) is over and about to be aired on ESPN my hope is that darts will start to receive the recognition that it deserves. Hopefully also I opened a few eyes and can now attract a sponsor. I am eligible for retirement from the police department in 2007 so who knows what my future hold…
Let me just say again that my goals is to be the best. I may or may not be in Las Vegas but in the immediate future I am planning on shooting at the USA Dart Classic, Long Island Fall Classic and Ghost on the Coast tournaments.
I'm already looking forward to next years' WSOD. I'd like to have faired better this year but even if I had – even if I'd have won the million dollars – my life would not have changed much. The money would have gone to my kids.
For now, I'm just living life, enjoying my family and friends and hopefully bringing a smile to people's faces. When my name comes up in conversation I just hope that people think of me a good, decent guy.
Of course I'll be watching the ESPN World Series for Darts series when it begins on July 18. I hope that others who watch and see me competing for America against Phil Taylor feel that I handled myself professionally.
I also hope that camera really doesn't put on ten pounds!
The following two tabs change content below.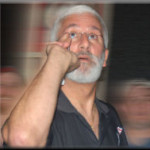 Author of the column that since 1995 has been featured by Bull's Eye News, the American Darts Organization's (ADO) Double Eagle and numerous other darts publications and websites around the globe.