Column #238 Joseph Carter Chaney
March 21, 2006
Column 238
Joseph Carter Chaney
When I get my ten minutes on television the first thing I will do is apologize to a special someone for hurting their feelings. Then I'll give a big shout out to Soddy-Daisy and my family.
— Joseph Carter Chaney
__________________________________________________________________________
Nickname: Joe "C"
Date of Birth: April 4, 1975
Place of Birth: Chattanooga, Tennessee
Hometown: Soddy-Daisy, Tennessee
Hobbies: Hunting for Indian relics and basketball
Movie: Tombstone
Television Show: The History Channel
Book: To Kill a Mockingbird
Favorite Night on the Town: Any night that I'm throwing darts!
Meal: Salad (with ranch dressing), rib-eye steak and Mellow-Yellow
Sports Team: Tennessee Volunteers
Music: Haystack – he's a rapper from Lebanon, Tennessee
Pet Peeve: Bad drivers and people who blame everyone but themselves for throwing bad darts.
Worst Habit: Copenhagen (I can put the cup in my pocket, spit in it and throw darts at the same time), cursing (I'm trying to stop) and Texas Hold 'em.
What Most People Don't Know About Me: I used to have a full head of curly hair and my friends call me Cabbage."
Weapon of Choice: It seems like everyone is asking me this question. I call them "no names" because I really don't know what they are. They might be Harrows. They weight about 20-grams. People have tried to get me to buy a different set but I won't have anything to do with it. These darts got me to the World Series!
__________________________________________________________________________
Like I said, I'm from a small town – Soddy-Daisy, Tennessee. It used to be two different towns but they combined. Altogether there are about 12,000 people. I'm real close to my family. There's my mother Rita Parker and my step dad Lloyd. I have a brother Charlie and there's Daryle and my sister-in-law Denise. And there's my other brother Stacy and his wife Sarah. My proudest accomplishment is earning my diploma from Soddy-Daisy High School. I graduated with honors. Now I'm a machinist, fabricator and welder.
It was Moe Morrow who got me into darts. I used to go into this little bar called the Dew Drop #2. That was in 2001. I enjoyed playing pool but everyone there played darts. One night Moe shot me a few games of pool, beat me, and then talked me into trying darts. Dart season had just started so I joined a "D" Division team. I practiced every day and by the end of the season my team had won the championship. So I moved up to the "C" Division and my team won that. Then I moved up to the "B" Division and won the most valuable player plaque. Moe said I was a natural. But then I quit playing for three years. I started again in January, 2004 and want to say that since that very date I haven't touched an alcoholic beverage.
I don't have a goal in darts. I'm just excited to have a chance to go to Connecticut and play against the best in America and the world. Sure, I'd like to win. I'd like to be world champion someday. I love the game. I practice for at least an hour every day. But what really matters to me is being thought of as a kind, caring man who wanted to live a peaceful existence.
You know, you asked who I look up, who my hero is. That would have to be my mother Rita Parker. She's always been there for my brothers and me. Her and my brother Daryle are behind me and my darts. Daryle loans me his truck so I can go to tournaments.
It was Moe Morrow who got me into the game so I guess he's who I credit most with my progress. There's Tom Petty too who helped me with cricket. He was on my first team and used to beat me over and over. I throw doubles with several people: Mathew Booth, John Marciono, Mike Owens, Chris Brown and Nathan Payne. I've learned from all of them. I don't have a nemesis. I haven't played long enough, I guess.
You asked me what my most embarrassing moment was and I'm not going to tell you. My mother knows what it was and I know you have talked to her a couple of times but she's not going to tell you either – so don't even try asking her!
Again like I said, I'm really looking forward to playing at the Mohegan and winning would be great, but darts is not the most important thing in my life. Being a good person is. If I do win the million dollars I will probably do a little traveling, maybe make a few stops on the professional tour, and make some (hopefully good) investments.
But most of all I would be sure to hook my family up a little bit.
Oh, and I'd find a remote island paradise somewhere and camp out for a long, long time with Famon Tomlin!
The following two tabs change content below.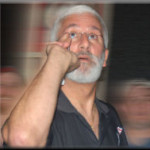 Author of the column that since 1995 has been featured by Bull's Eye News, the American Darts Organization's (ADO) Double Eagle and numerous other darts publications and websites around the globe.