Column #237 FINALLY, Sly from Paradise books his spot!
March 19, 2006
Column 237
FINALLY, Sly from Paradise books his spot!
They say that the "third time's the charm" and there ain't no arguin' that with the man called Sly from Paradise. In his third attempt and after coming so close – falling to Dave DePriest in the finals of the Chicago qualifier just two weeks ago – Winterpark, Florida's Joe Slyvan closed double fifteen at the ninth World Series of Darts (WSOD) qualifier in Houston today to book his spot on stage as the March to the Mohegan edges closer and closer to its final stop before the Big Event in May.
Only three qualifiers remain – two in Massachusetts and the other in New York – plus Friday Night Madness. For some, like Gary "Catfish" Davis and Donny Joe the limit has been reached on the number of qualifiers they can enter and Friday Night Madness is their last remaining hope to grab one of the coveted sixteen spots on the Mohegan stage. For others, many among the top-ranked darters in America – most notably Ray Carver and Darin Young – the clock is winding down. With the likes of Dave Marienthal, Conrad Daniels, Tony Payne, John Kramer, Peter Morrison (and even Dave Kelly, according to the rumor mill) dusting off their old darts and Brad Wethington, Scott Wallaston, Sean Downs, Tom Curtin, Tom Stewart, Mike Naulty, Chris Helms, Buddy Lessig, Chris Yates, Bill Davis, Davis Snider, Jerry Van Loan, Dayton Strawbridge, Jeffrey Steinberg, Mike Winthers and SO MANY MORE still in the hunt, booking the next three spots ain't gonna be no easy task, not for nobody.
In Houston today, ninety-four darters anted up the free entry fee to lay it on the line. Among the tough contingent were Davis Snider, George Walls, Chris Helms, Daryl Montgomery, Pat Cook, Danny Baggish, soft-tip star Donnie Ramcharan and Donnie Joe. But in the end, it was Slyvan and Chris Yates from Midland, Texas who squared off for the ESPN cameras in the final match.
Finishing in the top four were Davis Snider and Monty Broadway. Following them in the top eight were Frank Wolfe, Maximo Mena, George Walls and Chris Helms. Bruce Mills, Nathan Brock, Pat Cook, Donnie Ramcharan, Darryl Gabriel, Ron Howard, Paul Reese and William Burt rounded out the top sixteen.
Although Slyvan won the day he nearly didn't make it to the final oche. Slyvan raced to a two to nil lead over Davis Snider in semi-final play, but Snider fought back with brilliant darts to take the momentum back and move ahead three to two. In the sixth leg, Snider was looking at ninety-one for the match, with Slyvan sitting on fifty-four, but Snider couldn't close and Slyvan did with a fourteen and tops to take the match into the tiebreaker. Determined not to be sent packing as he was in Chicago, Slyvan wrapped the match up with a fifteen darter.
In the final against Chris Yates, Slyvan was even more determined. The thing is: there ain't no amount of determination that can counter repeated subtraction errors. For Slyvan, a faulty mental calculator nearly cost him in his final bid to make the Mohegan stage.
Slyvan took the first leg with the throw, closing tops with Yates looking at seventy. Yates then announced his intentions with a blistering twelve darter to even up the score – and then broke Slyvan's throw in leg three to go ahead in the match. But the man from Paradise was undaunted. Slyvan broke right back with a sixteen darter and then took his throw, closing thirty in the fifth leg to edge ahead in the match. Slyvan was just a leg away from the Mohegan stage…
However, as they're known to say down Texas-way, Slyvan almost "screwed the pooch."
In the sixth leg, Yates missed leveling the match, missing from eighty-eight, leaving fourteen. Sly then turned out to not be quite so sly, making a crucial error from seventy-one. Going for triple thirteen, Slyvan hit the single. Then with fifty-eight left – but thinking he was looking at sixty-four – Slyvan stuck the fourteen. Then "incredibly," in the words of Jay Tomlinson from Bull's Eye News, "with forty-four left but thinking he had fifty-four, he hit another fourteen to leave thirty!"
Unfortunately for Yates, the double seven was elusive. Thankful for an unexpected free trip back to the line, Slyvan took no prisoners closing the double fifteen with his first stroke, to finish up the job.
"As Mike Tyson would say, I'm ecstatic!" commented Slyvan after his victory. "I know how Chris feels, coming [myself] from the other side in Chicago. I felt I could make the final [in Chicago] and was proud to make it that far. I really had every bit of confidence to win and I had the shots, but just missed the doubles and he [Dave DePriest] didn't. Dave threw great in the final in Chicago. I don't want to take anything away from his accomplishment. Yes, Chicago was a let down… and I thought it was going to be another second place here when Chris went up two games to one with that twelve darter. But I came back strong winning two straight and then cleaned it up. I'm pretty psyched."
Looking forward to the Mohegan, Slyvan said, "You're talking about playing guys who do this day in and day out on stage for a living. On the same note, we have several players who are experienced in that kind of venue, like Roger Carter, Jim Widmayer, Jim Watkins and Johnny Kuczynski. I'm excited to be there to compete against the top guys in the world. I've played against Part, Manley, Scholten, Lloyd and Baxter before, so I know what to expect. I'm absolutely looking forward to it."
So the ninth WSOD qualifier is now history. Kudos to organizer Dennis Aitken for putting on another great show. The March to the Mohegan now takes a well deserved break until April 1 and 2, when the competition recommences in Marlborough, Massachusetts and Ronkonkoma, New York – before finishing up in Boston on April 22.
Yours truly will continue to report on the action, although not from the comfort of my couch, as I have up until now. I depart for Thailand 'round about the time "GAME ON!" is called for the Marlborough event, so I am counting on all my moles out there to continue to keep me up-to-date! THANKS to all of you. Until then…
For further information about today's Houston WSOD qualifier go to the Bull's Eye News (http://www.bullseyenews.com) and Professional Darts Corporation (http://www.planetdarts.tv/page/Welcome) websites. To read more about Sly from Paradise see Dartoid's World column #213.
From the Field,
Dartoid
The following two tabs change content below.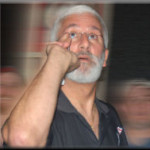 Author of the column that since 1995 has been featured by Bull's Eye News, the American Darts Organization's (ADO) Double Eagle and numerous other darts publications and websites around the globe.