Column #236 Things, they be rampin' up, baby!
March 18, 2006
Column 236
Things, they be rampin' up, baby!
In a finals match worthy of any on the Professional Darts Corporation's (PDC) circuit, eighteen darts was the most it took either of the remaining combatants today at the PACKED Double Tree Hotel in Windsor Locks, Connecticut. Trading legs of thirteen and fourteen darts, New York's Tim Grossman and New Jersey's Dave "New Wave" Marienthal matched power and precision before a wild crowd in what, to date, must stand as the premier finals match of the World Series of Darts (WSOD) qualifying competitions. In the end, in the seventh tie-breaking leg, literally as the clock struck midnight after a long, long day, Grossman closed the double fifteen for the win, leaving Marienthal on thirty-two to regroup and come back another day.
To get to the final oche Grossman and Marienthal (for more on Marienthal, the number one ranked darter in the country in 1998, and second ranked in 1999 and 2000, see Dartoid's World column #217; for more on Grossman, see Dartoid's Word column # 239) had to battle their way through a HUGE field of 259 – exactly 200 darters more than registered last weekend in Las Vegas.
Among the crowd and finishing in the top four at today's eighth WSOD qualifier were Jeffrey Russell and Peter "The Terminator" Morrison. Finishing in the top eight were Thomas Curtin, Jeffery Steinberg, Peter Howell and Robert Adamson. Closing out the top sixteen were Burton VanWie, Corey Jewett, Cornelius McLaughlin, Joseph Efter, Charles "Tom" Sawyer, William Anderson, Thomas Cocker and Donald Scism, Jr.
Other key names in attendance included Ray Carver (missed doubles cost him his fourth round match against Steinberg), Jerry Van Loan (doubles were also the culprit for this runner-up in the New Jersey qualifier, who saw Peter Morrison sneak back into their fifth round match and grab victory from the jaws of defeat), Conrad Daniels (WATCH OUT for this man!), Marilyn Popp (out in the first round), Carolyn Mars (out in the second round), Bill Ford, Charlie Macunas, Ed Konstanty, James Spinosa, Jeff Russell, Sean Moran, Mathew Malone, Tracy Feiertag, Karen Clancy, Gail Payne, Bruce Robbins and Joseph Beecroft.
Grossman struck quickly, taking the first leg in seventeen darts. But Marienthal evened it up with a seventeen darter of his own. And then things began to cook.
Let Mike Harris of Bull's Eye News take you to the scene…
"Ramping up the adrenaline, and finding their pace in the bright lights of center stage, the duo then exchanged back-to-back fourteen darters in games three and four. Grossman hit a crowd-pleasing 177 set-up shot in his forth pass, and closed double ten on the second dart of his next turn. Not to be outdone, Marienthal drew applause from the crowd as he raced down the board in game four (140, 140, 140, 41) and closed double twenty on the second dart of his next pass, tying the match all square at two each.
"Marienthal broke the pattern in game five though with a stunning thirteen dart game, including a 180 set shot in his forth turn at the line, cleanly nailing a double eighteen finish first pop on the next pass (140, 100, 45, 180, D18). Grossman, however, would not be denied his chance, pulling ahead in game six and setting a forty-six finish (S14, S16, D8), while Marienthal struggled. At eighteen darts this was the weakest game of a truly outstanding match!
"Facing off in the tie-breaking seventh, Grossman fired both barrels right out of the gate, opening with a 140. Marienthal answered with a 140 and two small tons of his own setting up a thirty-two. But this all came too late in the game to match Grossman's pace, who ended the battle and captured his ticket to the Mohegan with a double fifteen first dart finish, cleaning up the thirty remaining from his previous turn, where he had drawn a collective gasp from the fans as he wired the double twenty for the potential win one dart earlier. The final, tie-breaking game was completed in sixteen darts."
After the match – after nine matches actually, the number of wins required to make his way through the massive 259 man field – Grossman was understandably pleased. "I definitely came in thinking I was going to win. Not to sound cocky, but I did come here today feeling very good; very confident. I haven't played much in the past couple of years, but once they announced the World Series of Darts, I started practicing again about 2 hours a day or every other day – more on the weekends."
And Grossman is ready for the next step of the journey. "I'm already anxious to get [to the Mohegan], but I'll probably take a week or two off now just to catch my breath, then I'll really get focused. I'll definitely be putting in a lot of time after that getting ready, I'm sure. Will I win? I don't know. I'll just take it one step – one match – at a time."
Some will say that the venue was inappropriate for the size of the crowd – that darters were packed into the premises, subject to a late start and long delays. Others will say (and they are the ones who are right) that event coordinator Steve Wehrle and his crew from the South Eastern Connecticut Dart League did a superb job of promoting the event, motivating the stunning turnout and managing the chart-topping qualifier attendance.
This said, Dennis Aitken has plans of his own tomorrow (including a good old fashioned Texas barbeque) down Houston way as the WSOD March to the Mohegan continues. Others with special plans include Pat Cook, Chris Helms, Daryl Montgomery, Donnie Joe, and Donnie Ramcharan. Yep baby, things they definitely be a rampin' up!
So next up from Dartoid's World: qualifier number nine from Houston. Watch this space!
For further information about today's Windsor Locks, Connecticut WSOD qualifier go to the Bull's Eye News (http://www.bullseyenews.com) and Professional Darts Corporation (http://www.planetdarts.tv/page/Welcome) websites.
From the Field,
Dartoid
The following two tabs change content below.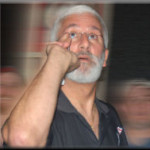 Author of the column that since 1995 has been featured by Bull's Eye News, the American Darts Organization's (ADO) Double Eagle and numerous other darts publications and websites around the globe.