Column #222 The Big Dogs Came but an Old Dog Stole the Bowl!
February 11, 2006
Column 222
The Big Dogs Came but an Old Dog Stole the Bowl!
The big dogs came to play today in Fairfield, New Jersey but it was an old dog who put retirement on hold to out-play two of America's current ranked top four, Darin Young and Bill Davis, and then in front of a wild crowd steamroll his way past Jerry Van Loan in a lopsided 4-1 final. Yes, at the end of a long, long day it was Staten Island's triumphant Jim Widmayer who announced his return to the sport of darts and booked his place alongside Isen Veljic and Roger Carter, as the third America ready to toe-the-line against the world's best when the March to the Mohegan finally arrives in Connecticut in May.
Despite the threat of the worst blizzard in years, which has now smacked the Northeast and stranded many, 115 darters converged on the Prime Hotel & Suites venue to battle it out and earn a shot at the unprecedented one million dollar prize. Among the hardcore but heading into the snow empty handed was American Darts Organization's (ADO) number one ranked shot, Johnny Kuczynski, who impressed so many at the Professional Darts Corporation's (PDC) world championship in December. Jim Watkins, Tim O'Gorman, "New Wave" Dave Marienthal (and his beautiful girlfriend, Janine), Tom Waterman, Dick Keen, Carl "Buddy" Lessig, Chris O'Connor, Chris Russano, Kevin Liebkemann also left disappointed.
Following runner up Van Loan were semi-finalists Bob Miske and Young. Finishing in the top eight were Stacy Stevens (who knocked out Philadelphia's Russ Jasinski early in the day), Russano, Tim O'Gorman, and Todd Harrington. Rounding out the top sixteen were Robert Graham, Scott Agnoli, John Steinhofer, Neil Dickson, Richard Ensmenger, Peter Howell, Keen, Lessig, and Marienthal (for more information on this WSOD hopeful see Dartoid's World column #217).
Having hosted the New York / New Jersey Open just last month, the Prime Hotel & Suites (690 Route 46 East, Fairfield) is no stranger to accommodating darters and an event of this kind; their main ballroom, in particular, provided a great setting for ESPN's production crew to capture the semi-final and final rounds in style. ADO president Buddy Bartoletta, Laurett ("MOM") Meddis and the event crew of LB Darts are also to be commended for their superb work in organizing and running this WSOD Regional Qualifier, which ran without flaw.
ESPN Sports Radio representatives made an appearance at the event with banners and giveaways. Several local reporters and photographers also attended to cover the event for area media outlets.
"The cameras didn't bother me; I've been in front of them before…" said the beaming Widmayer (who the British may remember from the 1994 World Matchplay). "I came in confident… I just knew that if I could get by Darin (Young) and Johnny (Kuczynski), I could get in. Don't count me out in Connecticut!!"
(For further coverage of the New Jersey qualifier go to the Bull's Eye News and PDC websites at http://www.bullseyenews.com and http://www.planetdarts.tv/page/Welcome.)
STAY TUNED for a FLURRY (note the blizzard pun!) of WSOD qualifier reports – right here in this space – as SIX events take center stage in March, beginning with Mike Broderick's March 4 qualifier in the City of Brotherly Love and Jim Askham's qualifier in the Windy City on March 5.
The March to the Mohegan will then really pick up force – and STORM (Har!) through Washington, D.C. (March 11), Las Vegas (March 12), Connecticut (March 18), and Houston (March 19) — before returning to the Northeast for the final three qualifiers in April and the Main Event in May.
Dartoid's World will be right here for it all. Check back often for the results and all the inside scoop.
From the Field,
Dartoid
The following two tabs change content below.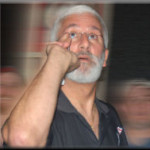 Author of the column that since 1995 has been featured by Bull's Eye News, the American Darts Organization's (ADO) Double Eagle and numerous other darts publications and websites around the globe.