Column #221 Taz Tops the Rajun' Cajun!
February 6, 2006
Column 221
Taz Tops the Rajun' Cajun!
YES, this World Series of Darts (WSOD) report is late.
Do you think I don't know that!
I'm sorry. There was some sort of silly-ass football thing going on yesterday and my contacts were distracted by the game (although they're claiming "technical transmission difficulties" which I am pretty sure is geek code for BEER).
As reported earlier, the second World Series of Darts (WSOD) qualifier did take place in Atlanta as scheduled. In a phenomenal final that could have and probably should have ended at 4-1, Roger Carter struggled with doubles but prevailed over a never-say-die Scott Wollaston to claim an adrenalin packed 4-3 victory and grab the second spot on stage at the Mohegan Sun Casino this coming May.
"What about that! Told ya I was gonna do it! What a day!" was the message from Carter that appeared on my computer screen after the match. Go here to read more about this American darting legend see Dartoid's World column #212. To read more about Wollaston (who you can DAMN well expect to be back) see Dartoid's World column #211.
Taz and the Ragin' Cajun battled their way to the final from among a tough field of seventy-two darters, a remarkable turnout considering the Super Bowl distraction. The qualifier drew shooters from as far as Florida, Indiana, Ohio, North and South Carolina, Louisiana, Kansas, Tennessee, and Missouri. Several even flew in from the first qualifier in Virginia Beach. Clearly, watching a bunch of fat boys grabbin' each other's asses isn't the most important thing in the world to everybody.
Disappointed in the semi-finals were Dan "Cujo" Lauby and Jeff Todd. Finishing in the top eight were Danny Casey, Gary "Catfish" Davis, Sr., Gordon Dixon, and Michael Winthers. Rounding out the top sixteen were Ryan Barnette, Dan Zimmerman, Brad Wethington (see Dartoid's World column #209 to read more about this WSOD hopeful), Daniel Baggish, Alan Matthews, Scott Overton, Jerry Hilbourn, and John Marsiano.
"I'm the MAN!" exclaimed the mild-mannered Carter immediately after his victory. "I loved coming in here telling everyone I was going to win this, and then backing it up. But the final wasn't that easy. I had a chance to win early, but I missed two double shots at tops and double ten in game five. I followed that with a missed dart at double eighteen on a 150-out in game six, which I never had a doubt about. But, I missed, leaving eighteen and followed with two missed darts at the double nine, and hit a nine on the third dart. Then, I went one and missed two darts at double four. I let him back in."
"I love this game so much," Carter continued, "but it's getting harder to play. It's not that I get nervous, but this World Series of Darts has really got me excited. I guess, it's got him excited too because he gave me a shot in game seven and I wasn't about to miss again!"
For further coverage of the Atlanta qualifier go to the Bull's Eye News and Professional Darts Corporation's websites at http://www.bullseyenews.com and http://www.planetdarts.tv/page/Welcome.
NEXT UP: the March to the Mohegan travels to New Jersey… next Saturday, February 11 – the Prime Hotel & Suites, 690 Route 46 East, Fairfield.
Until then…
From the Field,
Dartoid
The following two tabs change content below.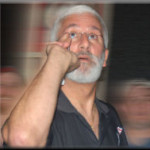 Author of the column that since 1995 has been featured by Bull's Eye News, the American Darts Organization's (ADO) Double Eagle and numerous other darts publications and websites around the globe.