Column #215 Donny Joe
January 31, 2006
Column 215
Donny Joe
If I get ten minutes on television I will be honored to be a proud ambassador of the sport. My goal will be to put on a good representation for the sport of darts and show the public that not all of us fit the overweight, beer guzzling, chain smoking stereotype.
— Donny Joe
__________________________________________________________________________
Nickname: DJ
Date of Birth: July 14, 1962
Place of Birth: Temple, Texas
Hometown: Houston, Texas
Hobbies: Darts, Texas Hold'em, Fishing and Golf
Movie: Terminator 2
Television Show: World Series of Poker and World Poker Tour
Favorite Night on the Town: Any night I can afford to get out!
Meal: Anything very hot (I grow habanero peppers in my garden) and Diet Coke
Sports Team: Houston Rockets, Astros, and Texans – and the University of Texas Longhorns
Music: Classic Rock, 80's music
Book: Poker books by David Sklansky, Doyle Brunson, and Dan Harrington
Worst Habit: Compulsive and obsessive behavior towards things I am passionate about
What Most People Don't Know About Me: Of the many people I know outside of darts, only a small handful know that I play darts!
Weapon of Choice: Harrows – Eric Bristow model, 21-grams
__________________________________________________________________________
After getting my BBA from the University of Texas at Austin in 1985, I started out in corporate Information Technology (IT) as a programmer/analyst and worked my way up. I left the corporate world after nine years to become a consultant where I spent time working for two of the "Big 4" public accounting firms. I currently work for a global Risk Consulting firm.
I lived in England from 1998-2000 while working on an international job assignment… during which time I competed in many British Darts Organization/World Darts Federation (BDO/WDF) and Professional Darts Corporation (PDC) sanctioned darts tournaments throughout the UK and Europe. I am the author of the "Darts in the UK" articles found at http://www.crowsdarts.com which draw from these experiences.
I played football and basketball in junior high and high school. I used to race Motorcross at the local and national level in the 125 class (and worked at motorcycle dealerships to support my "habit"). And during college and afterwards I played competitive "A" division racquetball in tournaments throughout Texas.
It was in 1989 that I first stepped in front of a dartboard. I knew nothing about the game at the time. Nobody got me started. It was totally a whim. I decided to play just because it seemed like fun. I learned the game on my own. So I don't really look up to anybody in darts because I respect everybody equally. I don't put anybody above me. Nor do I put anybody below me. I have my own high standards which I measure myself by.
This said, the local Houston darters have provided me a very good base to learn from. We have several of the current (and past) top shooters residing in the greater Houston area. I have learned, and continue to learn a whole lot from all of them.
My doubles partner is currently Patrick Simien and I have partnered with many top players in the past: Scott Munroe, Daryl Montgomery, Pat Cook, Donnie Ramcharan, Mike Granatelli, and Rick Stephenson. I don't really have a nemesis in the sport as I have now gotten the better of everybody who has ever gotten the better of me. Right now I am the Houston City Singles Champion. I also won the last American Darts Organization (ADO) Region III-1 US Team Regional playoffs and then went on to take 6th overall in the US Team Nationals in Shreveport. My aim in the sport is to never stop improving and continue playing for as long as the passion still burns.
Of course, right now I am preparing for the World Series of Darts (WSOD) qualifiers. I am focusing on my mechanics and throwing 501 with an emphasis on consistently finishing in the 15-dart range. I am also working hard on my out-shots. I know that darts has its image problems but I think that image is improving and the WSOD will help. I'd say "I hope so" but…
…hope is not a strategy. This was told to me once when I was trying to explain what actions I was taking to resolve a current issue. Although I had many things currently being taken care of at that time, there was one item that did not have a plan in place just yet. So I replied, "I hope that they finish in time so that we can do our part and finish the job"….and my boss said, "Hope is not a strategy….". Needless to say, that quote stuck in my head and to this day, I will say the same thing to other people when they say they "hope" something happens rather than take responsibility for the action themselves.
So how I fair in the WSOD is something I must control. Improving the image of our sport is something we all must take responsibility for.
I've been married to my wonderful wife Norma for fifteen years and have a nine year old son (Brandon) and a Labrador retriever named Amber.
Whatever happens, I want (I won't say "hope") to be remembered as a good father and family man. What I'll always be most proud of is my wife and son.
If I am fortunate enough to win the million dollars, I will take a small portion of it and "party like a rock star," then I will use some of it to put my son through college and the rest will go towards living a more comfortable life and retirement.
The following two tabs change content below.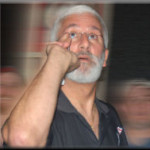 Author of the column that since 1995 has been featured by Bull's Eye News, the American Darts Organization's (ADO) Double Eagle and numerous other darts publications and websites around the globe.