Column #208 Speaking of Buttheads…..
January 20, 2006
Column 208
Speaking of Buttheads…..
Holy Guacamole!
We're only a three weeks into the New Year and all sorts of good darts stuff is goin' on. Just last night in league I was on FIRE around the boards. I chalked perfectly, making less than a half-dozen subtraction errors. I didn't spill a single beer. And it was somebody's birthday so I got a free piece of chocolate cake. So from a personal darting standpoint, except for my inability to actually throw worth a crap, the New Year's lookin' up.
Of course, at the top of the list of notable happenings so far in 2006, although it has nothing to do with our sport, has to be the marking of the 100th birthday of Albert Hofmann, the Swiss inventor of LSD. As Conan O'Brien noted, "Yeah, the guy plans to spend the day surrounded by friends, family, and a nine-foot-tall unicorn."
Over at the Professional Darts Corporation's (PDC) world championship at Circus Tavern Phil Taylor notched his thirteenth title with a quick 7-0 whitewash of Peter Manley and then, as is his custom, presented his darts to a child named Arian Lewis.
Over at Lakeside in the British Darts Organization's (BDO) version of the world championship (and speaking of adolescent darts prodigies) 21-year-old Dutchman Jelle Klassen stuffed the arrogance straight out of his countryman Raymond van Barneveld with a crowd pleasing 7-5 victory.
Eric Bristow (speaking of arrogance) was cajoled by a drunken monkey somewhere into blessing the Lakeside crowd with his presence. The idea was that the Crafty Cockney, record holding five-time winner of the event, would congratulate four-time winner van Barneveld after he equaled the record). Of course, young Klassen had his own thoughts about the matter. In the end, Bristow (and here I paraphrase the British tabloids) "just peed on the stage and called everybody who participated a 'bunch of buttheads.'"
Around the world, fans that couldn't follow the action on television (pretty much anybody who didn't live in England) huddled over their computer screens and kept in touch via the Internet. This was made possible thanks to a host websites run by dedicated darts techies (Gary Simpson at http://www.3inabed.com, Nick Williams at http://mistadouble.proboards31.com, Erik McVay at http://www.sewa-darts.com, and the infamous Darterz at http://www.darterz.com) all who have since lost their real life jobs for blowing off three weeks of work.
Over at Andy Fairclough's Superstars of Darts website at http://superdarts.resourcez.com interested darters have been hitting the site at a phenomenal rate of nearly 25,000 a day. While the PDC's http://www.planetdarts.tv/page/Welcome discussion forum seems overrun with teenage posters who all throw perfect nine-darters, Fairclough's just grow stronger by the day. Many of the top shooters in the world check in regularly, except for Chris Mason who has announced that he'll never post again because somebody disagreed with one of his opinions. Fairclough incidentally, has just begun to publish his popular electronic newsletter on a weekly basis. Although there is a nominal fee it's well worth it. Go to http://superdarts.resourcez.com and subscribe today!
Ah and lest I forget, also over at Superstars emerged the one and only Kebabking, creator and operator of the most exciting darts funny money betting "competition" available today, called Tipster's Challenge. In two prognosticating battles so far, one for each world championship, the competition has been fun and fierce. Kebabking himself came from back in the pack (though not nearly as far back as me) in a stunning defeat at the wire of Rhythm Stick in the first Challenge by predicting the final score of the Taylor vs. Manley final at Ladbrokes. In the second Lakeside competition, Weekesla pretty much held the lead over nearly fifty other betters from the start, finishing far ahead of all participants. If you haven't heard of Tipster's Challenge I encourage you to head over to the Superstars website and check it out.
On the movie front (and this is frickin' UNBELIEVABLE) an outfit called Squawking Parrot Productions, owned an operated by a relative unknown named Scott Cummins, has produced a film call Bull's Eye – The Movie, about darts. For now, I'll share no opinion – that shall be the subject of a future Dartoid's World column. If you're interested in purchasing the DVD however, go to http://www.squawkingparrotproductions.com. It'll run you about $20 but they ship fast.
Two new and fascinating darts websites have appeared since the start of the year. Both were created by Ricky Nickolson (who also created Steve Coote's website). My prediction is that BOTH of these websites are going to quickly become among the most popular in the ether. The first, called Darts 100 (http://www.darts100.com) electronically tracks hits at sites which register and daily lists the most active darts websites in the world. If your website has not registered (it's easy) with Darts 100 you really should click to the site and take a look. The second site (http://www.theoche.com) is called The Oche – the Main Line in Darts News. Though still being tweeked, it already mysteriously tracks news about darts from all over the world. It somehow automatically seeks out the news from wherever it is published and posts in into a newspaper-like looking format. This website in particular is destined to be a winner.
In just a couple of weeks the qualifiers begin for the World Series of Darts. Rumors abound. It is said that Russ Bray will be appearing at the first qualifier on February 4 in Virginia Beach, presumably to call the final. It is said that Johnny Kuczynski and Ray Carver have been tapped by the PDC and ESPN to sit in the commentary booth. And all around the country the names of old-timers who are back at the board, honing their rusty skills, keep popping up. The most recent: John Kramer.
Of course, three Americans – Kuczynski, Carver, and Darin Young, began the New Year with a little extra spending cash, owing to the fine darts they threw at Purfleet. All impressed a lot of people. Carver it turns out really tuned some heads – he has just struck a three year sponsorship deal with Unicorn. Carver also has recently launched his own website (constructed by Darterz) at http://www.raycarver180.com.
Over at the American Darts Organization (ADO) an overhaul is underway of their website (http://www.adodarts.com) and at the American Darts Association (ADA) Glenn Remick has just been interviewed by Beer Radio. Yes, Beer Radio exists. Don't ask me to explain it. Just go to http://www.beerradio.com to hear the interview.
In the ongoing struggle to develop better equipment (and as part of its growth strategy), the soft-tip National Dart Association's (NDA) R & D Department is about to unveil a spectacular new dart, called the Eatable Arrow. Supposedly it is fluorescent and made of rock candy. Those that have actually tried the darts say that they fly straight, don't melt in your hands, and can be eaten after a match. It is said that the NDA is also working on a similar dart, to be marketed under the name Fishy Chipper, as part of their strategy to take over the British market. So kudos to the NDA, always a leader (but don't repeat any of this because currently it's all a secret).
In the mailbag department, I was surprised to receive a communication from Don "Tiger" Wilson from the Santa Cruz County Darts Association. If you are a regular reader of this column you will recall that a couple of months ago I took Wilson, a journalist, to task for an article he published. In that article, titled Dart Games on Reality Television Miss the Mark, by a Long Shot, Wilson wrote that the World Series of Darts was "a bad idea" and that he knew "good dart entertainment when I see it, and international-champion-level darts is not it." He went on to say that the one thing that might save home viewers from "utter boredom" is "watching the raucous, funny-looking, beer-drinking, loud-talking" people who will be in the tournament crowd. If you're interested in reading the full article check out Dartoid's World column #203.
Well my bad. Apparently I misunderstood Wilson's words and intention. Here is his response, which I appreciate. It turns out that he was only joking.
Dear Mr. Seigel:
Thanks for your interest in the op-ed piece I wrote for the Santa Cruz Sentinel. Although you apparently have access to the Santa Cruz County Darts Association web site, there is no apparent reason for you to know anything about any of us around here. Had you known anything about me you would not have been surprised that I would make what appeared to you to be an adverse comment about darts; as a world traveler and darts commentator you frequently make remarks that — intentionally or not — get people a trifle riled up. That's your job, and it must be fun — but I would think that it also would make you realize that other people also can make remarks about darts or any other sport without some venial motive.
I am a journalist. I also am a dart player. I am almost obsessive about my dart playing — although I have a bum hip that gets to hurting like hell after I step up to the throwing line for more than an hour; as a result, I've had to ease up on my dart playing and my skill level has dropped a bit. As a writer, I delight in finding out just what direction everybody else seems to be leaning — and then taking an opposite position just to stir them up.
Apparently my op-ed piece about a World Series of Darts stirred you up. Your reaction certain stirred up the people in the darts association here. I believe that they sent you a long and lugubrious defense of my right to my own opinions, without going so far as to denounce me too. As for the people I play darts with, some of them said "Good for you, Tiger" and some of them suggested (as did you) that I was out of my mind.
I've waited a while to send you this note, hoping that the whole thing would blow over. As for the World Series of Darts: of course I'll watch it. What dartsaholic wouldn't?
Don "Tiger" Wilson
So Don, I am sorry. Also, what the hell do "venial" and "lugubrious" mean?
Finally, I am looking forward to meeting Captain Fred Everson, author of the popular book A Bar Player's Guide to Winning Darts (for Dr. of Darts Patrick Chaplin's review, go to http://www.patrickchaplin.com/Winningdarts.htm). After a couple years of trying to coordinate schedules, Everson and I are going to meet up this Sunday, January 29, at the Irish Fox and Hound Pub in Brandon, Florida (229 East Brandon Blvd.). If you're reading this and live close, we'd love you drop in and buy us beer.
While I expect to come out on the short end against Everson, one never knows…
The New Year is goin' pretty well.
I'm scoring well (with the chalk).
So far I've managed not to drop a beer on the floor.
With some luck I'll take a few games.
And with a bit more luck maybe Everson will bring me a chocolate cake.
Oh, and speaking of buttheads, Eric Bristow should sit on a unicorn.
From the Field,
Dartoid
The following two tabs change content below.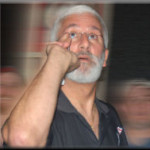 Author of the column that since 1995 has been featured by Bull's Eye News, the American Darts Organization's (ADO) Double Eagle and numerous other darts publications and websites around the globe.