Column #207 A Warm Wind's a Blowin' for the Sport of Darts in America
December 23, 2005
Column 207
A Warm Wind's a Blowin' for the Sport of Darts in America
Winston Churchill called it "the wizard war." Historians trace its beginning – the race for outer space – to the day Joseph Stalin's troops arrived in Peenemunde, the epicenter of German rocket technology, and found it deserted. Wernher von Braun, inventor of the notorious V-2, and over 100 of the greatest rocket scientists of the day, had already surrendered to the Americans. Twenty-five years later, Apollo 11 landed and Neil Armstrong walked on the moon.
Le guerre sale, the French were calling it by 1950. They wanted out of "the dirty war" in Indochina. They were being swallowed up in the rice paddies and jungles. By 1954 and despite over three billion dollars in American financing secretly pushed on Dwight Eisenhower by John Foster-Dulles, the French were out, following their destruction by the Vietminh at the battle of Dien Bien Phu. Eisenhower thought the war was over. As historians have noted and we all know now, the other side knew it had only just begun.
People think historians are smart people. I think they have it easy. All they have to do is dig through reams of paper, line up the dots like kids do with coloring books, and pontificate. It ain't nothin'. It's the dudes who can identify the dots way ahead of time who are really smart. And I'm one of those dudes.
Don't misunderstand me. I can not prognosticate. That's for geniuses. If I could do that I wouldn't be sucking the cellar drain right now in Kebabking's betting pool on the world championships at the Superstars of Darts website. What I can do is see dots, particularly after a night of Jagermeisters.
So I say to you darts historians out there, all two of you – Patrick Chaplin and Dan William Peek – there's a warm wind blowing for the sport of darts in America. When you get ready to write the next history chapter you can save yourself time. That's 'cause, the dots, they is a linin' up NOW.
October, November, and December 2005 must be recorded as the months that the sport of darts finally found its way in America. Years of hard work by a lot of people – names like Fleetwood, Cain, Tomlinson, Cox, and Remick to name just a few –converged to assure that the future is as bright as an Apollo afterglow.
The New York Times (imagine that – darts in the New York Times) kicked it off in October with the breaking news that the Professional Darts Corporation (PDC) will host the first World Series of Darts (WSOD) in Connecticut in May 2006, to be aired by ESPN, and that a million smackers will be on offer if the "unthinkable" occurs – an American somehow wins the tournament.
On the heels of this, word emerged in late November that Bravo television will feature a dart player on its hit show, Queer Eye for the Straight Guy. On December 13, the first casting call was held in New York City to select the darter who will be introduced and transformed in front of an audience of millions in the spring.
Then on December 20, in the first round of the 2005 world championships at Circus Tavern, the real possibility that the unthinkable might just not be so unthinkable began to unfold. America's Johnny Kuczynski strolled onto stage amidst a screaming crowd of thousands, stroked a maximum smooth as silk, and never looked back – whitewashing world-ranked number 16 Lionel Sams 3-0 without dropping a leg.
Although disappointment followed on December 21 for the next American to qualify, Darin Young, the match that followed – featuring the final American, Ray Carver, and world-ranked number four, Ronnie Baxter – transformed the wild crowd into a quiet crowd, then back again to wild, before leaving them stunned in disbelief.
Unable at the last minute to attend the tournament, I followed the play-by-play at Erik McVay's SEWA (South Eastern Washington) Darts Portal, http://www.sewa-darts.com. Bookmark this site!
Carver's performance was so over-the-top exciting that I damn near pissed my frickin' pants right at my office desk! Carver raced to a 2-0 set lead. Baxter stormed back to tie it up. Back and forth it went in the final set in a see-saw encounter of finesse and incredible nerves. Finally and certainly no more exhausted then me, Carver closed 32 to take the encounter. The darts he threw, guts he showed, battle he waged, grace under pressure he displayed, were of the highest level. He did himself, the ADO, his league – the Minuteman, and America proud.
On December 26, Kuczynski will step back to the line to wrestle Dutchman Jan van der Rassel. On December 28, Carver will face world-ranked number 33, "Pie Man" Andy Smith.
Although it can be argued that both Americans have less challenging second round matches than those they have already overcome, it really doesn't matter. Each has already demonstrated that they have the stuff to advance and to have as good a shot as anyone else, anywhere else, when the WSOD sets up shop next year.
Yep, there is indeed a warm wind a blowin' for the sport of darts in America. Johnny Kuczynski, DarinYoung, and Ray Carver are just three of the dots, along with American television's recent interest in our sport, which will make the darts historian's job easier in the year's to come.
So Patrick Chaplin and Dan William Peek: Take a rest. Have an egg nog. Your research is done. You can start writing another day. And to my British friends: Lace up your gloves. You're gonna need 'em come Boxing Day.
From the Field,
Dartoid
The following two tabs change content below.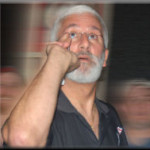 Author of the column that since 1995 has been featured by Bull's Eye News, the American Darts Organization's (ADO) Double Eagle and numerous other darts publications and websites around the globe.