Column #190 The PDC Spiked Ray Carver's Beer!!
July 2, 2005
Column 190
The PDC Spiked Ray Carver's Beer!!
I write this morning with a heavy heart and a roll of quarters in my pocket and the latter is not because I've just whiled the night away at the slots. Nope, I've been at Cheetah's and that's all I'm gonna to say about that. With just a couple of days to go here at the Desert Classic I don't want to get sent packing by either the PDC, or my wife.
The heavy heart part is not because of the breaking news that Supreme Court Judge Sandra Day O'Conner is resigning and George Bush's announcement that he will be nominating Genghis Khan to replace her – though I am sure this is cause for some concern to my whacko liberal friends Ed Edwards and Mick Nardelli, heads of the two darts associations in our nation's capitol.
No, sadly, my heart is heavy because it appears the PDC spiked Ray Carver's beer rendering him unable to find the doubles, at least early on, in his Quarter Final match against Lancaster's Wes Newton. After dropping the first set 3-0 and falling behind 2-0 in the second set, Carver finally found his darts, fought back, and checked out 121 to even the match and bring his fans to their feet. But that was it. Newton struck back, ripping off three straight to take the third set 3-0 and, although Carver battled on, the die was cast and Newton took the match and his place in the Semi Finals.
America's other favorite, John Part from Oshawa, a town with a funny name in Canada, threw the darts he needed to eliminate Holland's Roland Scholten 3-1. I know Part has "special" affection for the Dutch, and that it hurt him to have to send one of them packing, but that he did with this steady though uninspired win.
In the other two Quarter Final matches, Phil Taylor defeated Kevin Painter with a right cross to the jaw. No. No. That didn't happen but I am pretty sure I saw Painter cry when Taylor sent him packing, as usual.
The match of the day pitted the two Essex men, Colin Lloyd and Wayne Mardle (the man BORN to work from a stage in Vegas), ranked first and sixth in the world respectively. In a match that should have gone to Lloyd (at one point he had five darts to win it) and which produced seventeen maximums – easily the most high powered points producer of the tournament so far — Mardle emerged the victor and perhaps THE force to be reckoned later today.
The Semi Final draw will see Newton facing Taylor and Part against Mardle. For my part I certainly wouldn't want to be Newton and I'm not so sure after Mardle's last trip to the line that I'd want to be Part either.
My bet is that is that Part's experience and "hometown" crowd will see him through and that on Sunday we'll all be watching a repeat of the Taylor versus Part final from the 2004 world championships.
Finally, as you might imagine, my computer has been buzzing with e-mails this week. Here's a sampling of those which appeared on my screen this morning:
Gday, mate. Love your words on the PDC site. I am amazed they ain't found a reason to boot you off. I am doubly amazed they let you on it the first place! All the best from OZ mate.
.
Hey. Been reading all the recent drivel you've been churning out and methinks, though the fire is still there, the heat has dissipated — as proven by your survival after your fourth article kept afloat only by your eleventh apology to the PDC! I guess I must be content now reminiscing about the Dartoid of olde tymes back when he penned thoughts that should never have been tolde.
Whasssup! I don't understand. You have this picture of "Eve" on your website. I wonder who the hell she is. Why not just put a picture of me on your site — everyone already knows who I am (and how ugly I am). Have fun in Vegas. I wish I was there to show everyone how to play this simple game. And, hey — quit taking it so easy on the PDC.
The first message was from Australia's super website designer, Kevin Berlyn. The second was from the Darts Council of the Philippines' Steve Dorotheo. The third message of course, was from none other than the infamous Roger Carter.
Their message is clear. They are right!
So with just two reports to go let me reassure all of them, and you, with:
WATCH OUT TOMMY — the "best of times and the worst of times" are yet to come!
From the Field,
Dartoid
The following two tabs change content below.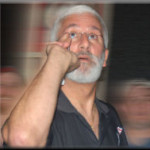 Author of the column that since 1995 has been featured by Bull's Eye News, the American Darts Organization's (ADO) Double Eagle and numerous other darts publications and websites around the globe.