Column #186 Ray Carver is IN!!
June 28, 2005
Column 186
Ray Carver is IN!!
A lot has happened in the twenty-four hours since posting my first report on this year's Professional Darts Corporation (PDC) Las Vegas Desert Classic. The most amazing thing is that the PDC is continuing to carry my reports, at least for another day. I can't explain it. After two bans in as many years I was confident I'd finally achieved the hat trick with yesterday's words of wisdom.
But that's life in Dartoid's World. No matter how hard I try, sometimes things just seem to go wrong. Ask England's Mark Walsh and Alex Roy. I drew Walsh in today's first qualifier and Roy in the second. Between them, I was blanked 8-zip and left with approximately 2,000 points on the board. My record after three and a half years of the Desert Classic now stands at two wins against eighty-eight losses. My only hope to improve on this performance is to draw darters with no arms in the third and fourth qualifiers.
Speaking of which, not unexpectedly, I awoke to a barrage of e-mails from people who read the drivel I published yesterday. Prominent among them was the one from the president of the Society for the Advancement of Children with no Arms, Legs, or Heads. I sent back a reply and told him exactly where he could roll.
There was also a message from former PDC Media Director Gayle Farmer. You're a loony, it read. How I miss your weird presence in the press office… well actually come to think of it, no I don't! Have fun — enjoy the tournament. I look forward to you being banned again at some point over the weekend.
There was also an e-mail from my wife Marylou in reference to my equating marriage with "Purgatory." NOTE: PDC officials have deleted her message because they now love me and don't want to cause me undue embarrassment.
Indeed, a lot did happen today after I trudged the 6,012 footsteps required to reach the MGM Grand Arena from my hotel room at the San Remo. On the way I discovered a pile of little postcards on the sidewalk offering a "special" on "western European girls" for "just $49." I must admit that I picked up a few of these cards. I gave them to Jay Tomlinson.
The first thing that happened after I finally did reach the tournament hall was I passed out from exhaustion. Fortunately my close personal friend, Tournament Director Tommy Cox, came to my aid with some quick thinking mouth-to-mouth resuscitation. That however, as you can imagine, brought on severe shock. I was rushed to the hospital and barely made it back in time to be served up as Walsh's first sacrificial lamb.
The big news of course (besides the still unconfirmed report that Doreen Berry punched out ballroom dancer Evander Holyfield in the lobby of the Tropicana) is that eight men and two women successfully battled their way through the first two qualifying rounds.
For the Americans, Ray Carver – who's been so close so many times over the past three years – tore through Manning 4-0 and then bested Dennis Priestly to earn his place in the top thirty-two. Wisconsin soft-tip star Scott Kirchner just missed making the cut in a tough-fought top-eight battle in the first round with Lionel Sams. Philadelphia's Bill Davis produced the only other glimmer of a chance for the Americans, but went down in a heartbreaking seventh leg loss to Dennis "Smiffy" Smith (he of the silky hair, who was then knocked out by Kirchner) in top-32 competition.
So after the first day, Carver is IN!
Joining Carver and the current top twelve in the world (and Americans John Kuczynski, Darin Young, and George Walls, and Canadian Jerry Convery – all who pre-qualified via the tournament route) are, from England: Sams, Walsh and Roy (apparently both inspired after trashing me), Andrew Hamilton, Darren Webster and Andy Callaby (who shocked the world just months ago by knocking out twelve times world champion Phil Taylor in the first round of the World Grand Prix), and Belgium's Erik Clarys.
For the fairer sex, Trina Gulliver (who steamed back from a 2-0 deficit to American Stacy Bromberg) and Deta Hedman (who knocked Bromberg out in the second qualifier) captured the first two of four positions for the ladies semi-final round on Saturday.
However, for the record — and I doubt few will disagree (certainly not Lionel Sams) — if sex appeal alone could earn someone a spot, certainly one should also go to Carolyn Sams. Crikey, I'd just give her the frickin' Grand Prize check NOW and call it a day. I'd buy dinner, a bottle of wine…
Of course, other darts stuff happened too.
A local television station showed up to interview Steve "Magic" Coote and Ricky Villanueva in advance of their Brawl for Charity tonight (at CD's Sport Lounge, 3025 E. Dessert Inn). The place is going to be packed.
North Carolina's Deb Parker lamented at length about people calling her Paula Delp. Go figure…
New Jersey's Howie Dircks introduced me to his soon-to-be wife and his new step daughter Tory (who is nine-years-old, wears "Halloween" socks, and is apparently a British politician).
Washington, D.C.'s Misse Parzow was overjoyed to win to gigantic plastic cups full of $360 in quarters at the slots. I saw her husband Darren weeping at a blackjack table though, so perhaps Misse's excitement was short-lived.
I watched England's Steve Maish smash his fist into a dartboard and knock it off the wall after missing an important double. He's a tough guy but I doubt he could take Doreen Berry in a twelve round bout.
I spent time with James Donohue, the "Don" of Sheldon Dart Cases, LLC, and admired his custom work.. The things are beautiful! He will have a website up soon at www.sheldondartcases.com. Check it out and be amazed!
I met the famous "Roger" who built and manages Phil Taylor's website and learned that "all those blokes at the Superstars of Darts website are nothing but a bunch of weenies." No. That's a lie. Sorry. I couldn't help it. Roger's a terrific guy who's doing an admirable job in the midst of a host of bozos.
Finally, although I didn't meet him (or her), at least not yet, I learned from someone who ought to know that the infamous "Rat" – that mysterious darts guru in the ether – is HERE, alive and in person, somewhere. More on this in the days ahead. Maybe.
Now only hours remain until the start of the final two qualifiers and I'm ready to make history.
Sure, I haven't won leg — but when it comes to the record of what's most important mine is perfect.
So far, everybody (Mark Walsh and Alex Roy) who has drawn Dartoid has managed to make the stage.
Obviously it's an OMEN!
So when "Game On" is called at 10:00 a.m. I will be facing Americans.
That's why I must sign off…
For the love of country, under the darkness of night, I shall now post this report and then brave the long 6,012-step walk to the Grand Arena, break in, and rearrange Tommy Cox's draw for the morning.
From the Field,
Dartoid
The following two tabs change content below.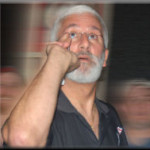 Author of the column that since 1995 has been featured by Bull's Eye News, the American Darts Organization's (ADO) Double Eagle and numerous other darts publications and websites around the globe.