Column #185 The Bullshit Begins!!
June 27, 2005
Column 185
The Bullshit Begins!!
WELCOME to the fourth annual series of Dartoid's World reports from the Professional Darts Corporation's (PDC) Las Vegas Desert Classic. This is the special service to darters everywhere that in years past has distinguished itself by demolishing the age-old mantra: What happens in Vegas stays in Vegas. This is also the only column that has been honored by being banned TWICE, for being "offensive to all humanity," by executives of the PDC.
So, if you are reading this at the PDC website, I must begin by pointing out that the words you are seeing are not a mirage. They are not little Steve Wynn hotels either. Har.
After lengthy negotiations with the PDC honchos I have reached terms on a new and exciting relationship, which may or may not last until tomorrow's report. Although the Agreement runs many pages (and much of it is in British, a foreign language which I don't understand) the basics are simple. Tournament Director Tommy Cox will allow anyone to play who has paid their entry fee, follows the rules, wears pants, and shows up three days in advance of their start time. In return, I have agreed to never again call Tommy a (NOTE: The PDC bigwigs have deleted a word here).
ANOTHER NOTE TO READERS: If the words you are reading magically disappear right now – click immediately to Dartoid's World to finish reading.
For the next week I'll be reporting regularly on a daily basis for seven days. I will try my best to spell all the words write, be gramatorically correct, and not say the same things over and over and over again or be redundant. I will also not use the word "American" because this is one of the words that according to my Agreement with the PDC I am not allowed to use unless "properly and politely" such as in the sentence: Americans throw suck-ass darts.
So, in a few hours the first two qualifying rounds of Desert Classic IV begin!! Almost $200,000 is on the line, which after Phil Taylor's winnings are subtracted, will leave approximately the cost to purchase half a dozen beers outside of the MGM Grand Arena to be divided among the rest of us. Las Vegas may go by the moniker Sin City but it should be called the City Where a Prime Beef Dinner Costs Less Than a Bottle of Beer.
The final two qualifying rounds are Tuesday. Sixteen men will advance to the draw to face, on Wednesday, the PDC's current top twelve plus three Yanks (the "proper and polite" way to refer to "our friends in the States") who earned seeds via qualifying tournament play, and some hockey player from Canada.
Tuesday evening, Stacy Bromberg will be holding her annual Score for Charity shoot for the Make-A-Wish Foundation. If you are a young darter with no arms, legs, or head you may want to stop by CD's Sports Lounge (3025 E. Desert Inn). The funds raised from the generous darting community could help you achieve your dream to play a position other than home plate for your little league baseball team. NOTE: the PDC slipped here and didn't to delete this offensive paragraph.)
The highlight of the Score for Charity shoot this year will be the Match That Never Was between England's Steve Coote and Lubbock, Texas' Ricky Villanueva. I know from a flurry of e-mails I've recently received that Villanueva's old pals back in Manila will be watching this space closely to learn of the results. I don't know Villanueva well but I understand from those who do that he can be an explosive personality on the line. Once when he lost a match in Mania he slapped his opponent on the nose with a half-eaten fish head. So the Fireman from Bolton is in for a tussle — and sometime between now and Wednesday morning's report I have to learn how to type in Tagalog.
The lowlight of the charity event may still be the match between Tommy Cox and yours truly. Tommy has not yet responded to my e-mail challenge so probably his e-mail is not working. I assume this because Tommy knows better than anyone else (having once even risked his life chalking for me) that in four years of Desert Classic competition – out of eighty legs – I have only won two. Theoretically he might be able to give me a go. So I am remain hopeful he will rise to my challenge.
LIVE televised (I think on the Playboy Channel) action begins on Thursday when the remaining sixteen competitors will step to the stage. Televised stage play will continue through the finals on Sunday, July 3 – just in time for the British contingent to get home and don their snazzy red coats to celebrate Independence Day.
During all of this excitement, in a dark corner somewhere, the ladies will also compete for a Grand Prize of approximately ten percent of the purse available to the men. It's fair. Women don't drink as much beer; mainly they drink herbal tea, so they don't need an equal share of the winnings. As usual, I will be watching this action as closely as possible with my special see-through x-ray glasses, and reporting as appropriate. I will also follow the ladies televised finals when they are show on Pitcairn Island's main television channel in August 2012.
Of course, there is always much more to cover in Las Vegas than the darts play itself.
For example, on Friday night friends gathered in a place that cannot be disclosed and did things that can never be discussed to send New Jersey darter Howie Dircks into Purgatory. Sorry, I meant the World of Marital Bliss. Howie ties the KNOT, a really tight one, forever, at the Aladdin on July 1.
The bachelor party was tentative for weeks because, as Howie put it to me, "I was concerned about ending up divorced before I got married." Due to business, I missed the occasion. But even if I hadn't needed to be out of state I probably would have passed on the invitation. Simply put, for a married man, drinking with the Boyz from Jersey is one of the most dangerous activities known to mankind, ranked by marriage counselors everywhere as second only to (NOTE: An entire phrase has been deleted here by the PDC authorities.).
I do wish Howie all the best in his new life with his wife-to-be and all the little kids that will soon be crawling around, slobbering on his darts, chewing on his flights and pretty much putting and end to his career at the oche.
So, I'll be reporting on all of this and more! For reference, even though I don't need it, I will occasionally be referring to a book that my daughter Jami gave me "for inspiration" Father's Day. Titled On Bullshit (honest!) it's a highly respected little book written by Harry G. Frankfort, the renowned moral philosopher, who is Professor of Philosophy Emeritus at Princeton University. It begins: One of the most salient features of our culture is that there is so much bullshit. Everyone knows this. Each of us contributes his share.
Over the next several days I will do my best to share my share with you and also keep you up to date on all that is happening inside (and outside) of the MGM Grand Arena at the PDC's Desert Classic IV.
From the Field,
Dartoid
The following two tabs change content below.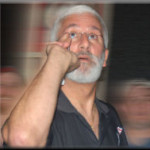 Author of the column that since 1995 has been featured by Bull's Eye News, the American Darts Organization's (ADO) Double Eagle and numerous other darts publications and websites around the globe.