Column #143 And then… there were EIGHT
July 1, 2003
Column 143
And then… there were EIGHT
From a starting field of 128 of the best shooters in the world just Phil Taylor, John Part, Alan Warrnier, Dennis Smith, Steve Beaton, Peter Manley, Roland Scholten and Colin Lloyd are still standing here at the Professional Darts Corporation's (PDC) second annual Las Vegas Desert Classic, LIVE from Clearwater, Florida. And SEVEN of them are ranked in the top TEN in the world!
Only Beaton, whose 8-7 advance at the expense of Ronnie Baxter dashed Tony Payne's last ray of hope to fight on for the Red, White and Blue, ranked at number twenty, is outside the very top tier of darters on the planet. As such, Beaton's the long-shot to go the distance.
After fourteen hours of televised play ALREADY, the best action is yet to come.
DAMN, I haven't watched this much tube since the weekend I discovered I could pick up the Playboy Channel. My eyes hurt. My ass is flatter than a bug caught under a wheel of Tom Fleetwood's scooter.
BUT quarter-final play begins in just hours. You can be certain that my dog, Bentley, and I will be right back at our spots on the couch. The match-ups are just plain awesome:
First off, it'll be the "Adonis" (or as Sid Waddell has been known to say, "THE Donis") Beaton vs. "One Dart" Manley. The smart money has to be on Manley. But mine's on the man from Warwickshire. My wife kind of likes him. I don't know why. But she's puttin' up with me doing nothin' but darts this weekend AND she's supplying me and Bentley with a steady flow of Amber Bock and pastrami sandwiches. So I'm going with her pick.
Next up, Smith takes on Part. The pony-tailed "Smiffy" was smokin' hot yesterday in his match with Ritchie Burnett, tossing up six maximums and, after five legs, averaging 106 points per handful. But my money's on the world champion, not only to send Smith packin' but to pocket the big check tomorrow night. For the record though, my wife likes Smiffy's "silky" hair.
Then, it's the "Ice Man" Warriner against ten-time champion of the world, Phil Taylor. I suppose if anyone in the final eight can stop "The Power," except Part, its Warriner. But he won't. Taylor will melt him and then turn him into mist.
Finally Scholten and "Jaws" Lloyd will toe the line. This will be a barn-burner and a half! I'll go with the man from Heidi-land.
For the ladies, AMERICAN Stacy Bromberg squares up today in semi-final play against England's Jane Stubbs. Crissy Howat and Deta Hedman face off in the other semi-final match. My wallet, and heart, are with Bromberg. My crystal ball sees her facing Hedman in the final tomorrow afternoon. THAT will be a hell of a match.
So there you have it folks. The stage is set for another exciting day of darts. Only eight men remain. And four women.
By morning there will be just two of each. BLIMEY! I'm like totally jazzed, man.
But I've also (as Jocky Wilson might have said) got just a "wee bit 'o the nerves." See, I've been wagerin' a bit here and there…
If Steve Beaton actually does turn out to be one of the last two men at the oche, and then wins the whole shebang, I lose BIG TIME.
I've promised to pack my wife in a box and mail her Warwickshire.
From the Field,
Dartoid
The following two tabs change content below.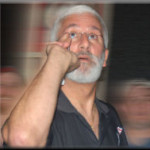 Author of the column that since 1995 has been featured by Bull's Eye News, the American Darts Organization's (ADO) Double Eagle and numerous other darts publications and websites around the globe.