Column #144 A New Book's Bein' Written
July 1, 2003
Column 144
A New Book's Bein' Written
I'm speechless.
Wordless, if that's a word.
I've been sitting in front of my computer screen for nearly two hours.
What can one say?
What words does one use to capture what John Part did to Phil Taylor yesterday in the semi-finals of the Las Vegas Desert Classic?
What began as a battle ended in a DEMOLITION!
The final 13-10 score belies the true nature of the contest.
Tied at 5-all, the match appeared to be taking the form everyone expected.
A close competition.
A tense competition.
A battle of high-scoring, fast-closing titans of the sport of darts.
But THEN, Part suddenly reeled off five straight legs!! The current world champion streaked ahead of the ten-time world champion to take a 10-5 lead.
An INSURMOUNTABLE lead!!
In the words of one of the commentators, "Taylor look(ed) stunned."
The word spread…
Somewhere outside, the news reached Sid Waddell. He comes DASHING back to the commentary booth. SHOCKED by the turn of events, Waddell, who is just finishing up a book about The Power's exploits, described his sense of the scene, and probably the sense of most of the British entourage. "I feel like I'm in a parallel dimension!"
Part takes the match to 11-5.
The crowd is going WILD.
WADDELL is going wild. Taylor, the "greatest player to ever draw breath" is being "totally dominated by the Canadian."
Taylor, whose "name in England is spoken in the same breath as Tiger Woods and Babe Ruth" looks like "paper mache Power."
To his credit, Taylor fights back.
But, at this point, the result is not in doubt.
Minutes later Part checks out 84 to complete the ass whuppin'.
In a way it was a sad moment. Exciting but also a little bit somber. The torch has indeed passed hands.
"I never dreamed John Part could beat me in the big time," Taylor was heard to say – after Part took away his world championship this past January.
Last night it was different. As they stood side-by-side for the post-match interview, Taylor was nothing but complimentary, referring to Part as "the best in the world."
It must have been equally difficult for Waddell to acknowledge this fact, but he did. "Certainly this confirms that John Part has the right to be called the number one dart player in the world."
Yes, win or lose in the final today against Peter Manley, John Part has turned the cover on a new book in the history of the sport darts.
And forced Sid Waddell to have to edit some pages in Phil Taylor's.
From the Field,
Dartoid
The following two tabs change content below.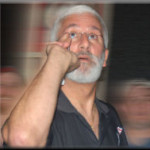 Author of the column that since 1995 has been featured by Bull's Eye News, the American Darts Organization's (ADO) Double Eagle and numerous other darts publications and websites around the globe.