Column #140 I'm Rooting for Kari Stevenson
July 1, 2003
Column 140
I'm Rooting for Kari Stevenson
The news this morning is that Cincinnati's Tony Payne, after ten years off the circuit, is BACK!
Go America! Whack them Brits!
After the first two qualifying rounds at this year's Las Vegas Desert Classic, Payne currently stands as the lone American to have made it through to the televised stage. The word is Payne threw stunning darts. He must have. En route he knocked off John Lowe, Roger Carter, Paul Williams and Lionel Sams!
Word also has it that several other Americans are lookin' good. Ray Carver, John Kuczynski, Darin Young, Steve Brown, Sean Downs, Dan Lauby and Deiter Schutsch are all throwing strong.
For the ladies, Stacy Bromberg just missed the grade in the first qualifier, losing 3-2 to England's Crissy Howat. Carolyn Mars, "Tupelo Honey" Kari Stevenson and Nancy Huntoon are all throwing strong enough to make the stage.
I find that I'm kind of rooting for Stevenson. When she hits the final double on Sunday I'm hoping she takes a page from soccer player Brandi Chastain. I will never forget that emotional moment in 1999 when the US defeated China to take the World Cup. The thrill of victory! After scoring the winning goal Chastain dropped to her knees in ecstasy, thrust her arms toward the sky and, well, tore off her shirt.
Chastain became an instant celebrity. So I hope the best for Stevenson. Oh YES I do!
IMPORTANT NOTE to Steve Brown and Deiter Schutsch: if you guys win PLEASE do not do a Chastain!!!
Like everybody else in the darting world who couldn't make the trip to Vegas this weekend, I am tracking the tournament results by following the reports that the Professional Darts Corporation's (PDC) Gayle Farmer posts each day at the fabulous PDC web site. If you're not doing this too just click to: www.planetdarts.co.uk.
I highly recommend this for two reasons. First, Farmer's reporting is just tremendous. In fact, it's so good that I don't understand why she can't get a real job. Second, if you follow Farmer's writing you won't have to wade your way through my crap.
I'm also receiving pretty regular telephone calls and e-mails from people who are actually in Las Vegas. I have highly placed inside sources who are feeding me the real dope on what's happening. I have promised to keep these sources confidential.
So, for example, while can tell you that it is very hot in Vegas, I can NOT tell you the name of the strip club that Dayton Strawbridge was in last night.
I am deeply disappointed to not be able to attend this year's Desert Classic. I've been practicing hard and, in all modesty, I was as READY. There is absolutely no doubt in my mind that it would have been a cake-walk for me, this time around, kicking that little chicken's ass in tic-tac-toe at the Tropicana.
Well, there are two qualifiers remaining before the field is set, the lights go on and Sid "the Squid" Waddell brings life to darts, via Fox Sports World, the likes of which America has never seen before. As phenomenal as the live action is, watching the televised play-by-play, accented by Waddell's frenzied, wild — almost indescribable — commentary — is an experience no darter should miss.
I can barely wait!
From the Field,
Dartoid
The following two tabs change content below.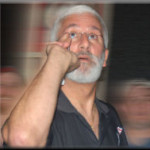 Author of the column that since 1995 has been featured by Bull's Eye News, the American Darts Organization's (ADO) Double Eagle and numerous other darts publications and websites around the globe.