Column #139 The Desert Classic
July 1, 2003
Column 139
The Desert Classic
The deal's done and I'm hyped.
Recently I quit my job and moved to Clearwater, Florida. But this isn't what I'm excited about, even though Clearwater's home to the original HOOTERS!!!
I've already joined a darts team. My captain's an old friend from Virginia Beach. Gina Miller's her name. We're called the G-spots. But that's not what I'm jazzed about either.
What's got me longin' for the July 4th weekend is the knowledge that the Professional Darts Corporation (PDC) is about to host the Desert Classic from Las Vegas for the second year running. And even though real life's intervened, preventing me from attending, thanks to my wife, Marylou, I'm gonna to be able to watch the entire thing, all twenty-eight hours of it, from the comfort of my living room. She's a real wheeler-dealer, my wife. She also looks great in a teddy.
All I've got to do in return for being able to watch the darts is spend hours once a week mowing the lawn under the scorching Florida sun in one-hundred percent humidity for the REST OF MY FRICKIN' life.
I'll probably die. But I'm not complaining. It's worth it.
The deal went down like this…
The people we bought our house from had a lawn service. For the tidy sum of $70 a month, some poor bloke slaved in the heat on my behalf. He mowed, dodged snakes and alligators out by the preserve and even trimmed dead palm fronds while I relaxed with a beer and watched television. Ah, the life…
The thing is, to fit this luxury into my budget I was only able to subscribe to "basic" cable. That meant that I could tune into Fox and watch Paradise Hotel and Temptation Island, and Fox Net and watch whatever crap comes on that channel. What it definitely did NOT mean is that I could click the remote and follow the Dessert Classic this coming weekend. THAT'S on Fox Sports World and costs an extra $15 a month.
But, I'm pretty good at math, except on the board, so I started to do the calculus. The way I figured it, if I gave up the lawn service I could easily upgrade my cable service. In fact, at just $14 a month for the upgrade, I'd have an extra $56 worth of beer money. I couldn't lose. So I proposed the deal to Marylou. She readily agreed, provided she could have the $56.
Every month. Forever!!
But again, I'm not complaining. I get to watch the Desert Classic. And my wife has cash for a new teddy a month. I DIDN'T lose!
Yesterday I headed to the cable place to pick up the black box and a really long wire that attaches to the television set. According to the girl at the desk the set-up was "simple." "What you do," she explained, "is attach the cable from the wall here and then take this cable here and attach it here and then attach the other end to your VCR."
Well, all I can say is "'simple,' my ASS!"
It's now Tuesday morning, t-minus just forty-eight hours until the first dart is thrown.
I've just put down the phone with the cable company. A technician will be out tomorrow to hook me up.
So, stayed tuned…
In between cutting the grass and trips to Hooters and, maybe, a tumble with a teddy, I'll be popping in regularly to give you the Dartoid's World perspective on this year's Desert Classic – LIVE from Las Vegas via Clearwater, Florida.
From the Field,
Dartoid
The following two tabs change content below.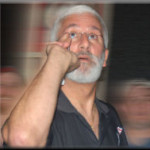 Author of the column that since 1995 has been featured by Bull's Eye News, the American Darts Organization's (ADO) Double Eagle and numerous other darts publications and websites around the globe.