Column #105 Tampa, Florida
May 1, 2001
Column 105
Tampa, Florida
For the past couple of months I've been considering a move to Florida — going into business with some old buddies from Tampa. This past week I came down to look around. They took me to a Devil Ray's baseball game. I'm having second thoughts.
For example, WHAT THE HELL is a Devil Ray anyway? Back before the expansion, the baseball cards I collected as a kid were for players from teams that at least sounded tough, like the Pirates or Indians or Tigers. In those days no self-respecting owner would have considered naming their club for what the Guide to Gulf Coast Marine Life catalogs as crustum piscis ("cupcake fish").
I was aware that the Tampa area was big on the retirement circuit but the Devil Ray's game I attended was a real eye-opener. As these pros took on Notre Dame, a COLLEGE team, I baked in the sun. A few rows behind me a group of nice elderly gentlemen, blasted on Rob Roy's or something and wearing Mickey Mouse ears yelled obscenities at the players. According to the announcer, if I was able to attend the weekend's double header and bake for twice as long, I could participate in the Devil Ray's version of "bat day" and get my cholesterol checked for free.
And I'm supposed to come here and LIVE?
My point is that I was starting to worry even BEFORE I hopped into my rental car to check out the local darts scene.
Thanks to some guy named Lance Walker, I was armed with the names of a few joints that specialized in the steel-tip genre of our sport. Walker was kind enough to provide a whole host of addresses in response to a post I'd made to the Cyberdarts ListServe a few weeks prior. It's not that others didn't reply. It's just that their answers weren't particularly helpful. This one from Randy Holmes in Ft. Lauderdale was typical: "Here's my grandma's number. Give her a call. Just don't you Tampa with her, mon."
"North Tampa is where it's at," advised Walker. "Try O'Brien's Irish Pub at 11744 North Dale Mabry. Also try The Point at 6710 Hanley. If you don't mind the drive, the Irish Fox and Hound Pub is about fifteen minutes from downtown, in Brandon, at 229 East Brandon Blvd." I left my hotel room in Clearwater and bolted to my car in a thunderstorm. According to something I read, more people per capita are struck by lightening in Clearwater than anywhere else in the country. Damn if I was gonna get fried before I found a bar to get fried in!
O'Brien's is one of the sponsoring pubs of the Tampa Bay Dart Association. In fact, if I correctly read the flier that was posted to the side of the four bent-up boards just to the inside right of the doorway, O'Brien's sponsors thirty percent of the teams in the league. Unfortunately, this isn't much of a boast since there appear to only be ten teams. I noticed that an old league-mate of mine, Gina Miller, held the top spot for women's high-on with a 140. THIS HAS GOTTA BE A MISPRINT!
As there was no one to throw with, I warmed up for a half-hour or so, had a quick beer and took detailed directions to my next stop, the Fox and Hound in Brandon, from a patron at the bar. I still have the advice he scrawled out for me on a slip of paper in my wallet. For those of you who are familiar with this neck of paradise please note: "Take Fletcher to 1-75 North. Exit at Brandon. Turn left. Go approximately two miles. It's on the right."
Well, with all due respect to this helpful gentleman, I can say now, after driving north on I-75 to within thirty miles of Brian Dougherty's home in Ocala, that these directions SUCK! What you are supposed to do, you big, damn, dummy, is take I-75 SOUTH! It took me nearly two hours of driving around in circles to find the Fox and Hound. I seriously considered just heading on to Ocala and calling Brian for a game. In fact I would have if I'd thought he might be there. The thing is I was pretty sure I'd seen him earlier in the day wearing Mickey Mouse ears at Florida Power Stadium.
Quite unlike the cramped, and generally moribund O'Brien's, the Fox and Hound is a spectacular darts bar. Six boards, all in wooden cases, are accented by superb lighting. There are mats on the floor. Shooters everywhere. The joint feels more like a house than a bar, with all sorts of nooks and crannies. And, if you've ever actually been inside a real Irish bar in Ireland, your mind should be able to conjure up the appropriate image when I suggest that the bathroom must have been imported.
Clay Downs, who doubles as the bar's restaurant manager and president of the Brandon Darts Association, introduced me to a few of the regulars. He arranged for a waitress to bring me a Guinness. He checked in regularly to see that I was well taken care of. Clearly I'm gonna have to use the "I'm with Sports Illustrated" line more frequently. Downs filled me in on the growth of his league and boasted of how it "pretty much dominates" the competition in Tampa.
To the background of an absolutely excellent Irish folk group, I duked it out with John Griffin, Cliff Brown and Stephan Schenck. Although I can't recall if it was Griffin, Brown or Schenck, I distinctly remember that one of them was the spitting image of guitarist Billy Gibbons, the musician with the flowing blond hair and long beard from ZZ Top. I wanted to ask him what it was like playing at Dubya's Inaugural Ball but thought better of it. I find that it's much safer to poke fun at people carrying pointy objects from the distance of this column.
With all due respect to each of these darters, I headed back into the thunderstorm convinced that either I had a pretty good night or the Tampa league might be a tad stronger than good old Downs suggested. And anyone who's actually seen me shoot KNOWS that I've never had what is considered a pretty good night.
Hunger won out over my fleeting thoughts of trying to locate The Point, the final pub on my list. As the night sky flashed and dime-sized rain drops pounded against my windshield I crumpled up my map and retraced my route back to the safety of my Clearwater hotel room. From the comfort of my bed I munched a pizza, sipped a couple of cold ones and dialed the phone.
"Hi," began, tentatively. "Uh, you don't know me. Randy Holmes gave my your number…".
From the Field,
Dartoid
The following two tabs change content below.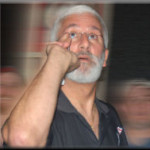 Author of the column that since 1995 has been featured by Bull's Eye News, the American Darts Organization's (ADO) Double Eagle and numerous other darts publications and websites around the globe.