Column #104 Myrtle Beach, South Carolina
May 1, 2001
Column 104
Myrtle Beach, South Carolina
They call it the "Grand Strand" — that alluring, 60-mile string of communities that wanders from the old Little River fishing village to historic Georgetown, the former center of America's rice empire. I'll bet you didn't know that America was once a rice empire?
Years ago the pirate Blackbeard terrorized the shore near here. Captain Kidd is said to have stashed treasure near Murrells Inlet, to the south. Among the Spanish moss-laden oaks, stories abound of pirates patrolling the seaside, phantom lighthouses steering ships from storms and cemetery-walking ghosts searching for centuries-missing lovers.
As recent as a hundred years ago, the price tag on a beachfront lot in the center of all this — Myrtle Beach — was a mere $25, pretty much the same as the average Luck of the Draw entry fee and a few beers. The land was over-run with razorback hogs, but it was still quite a deal.
Today this town that in the 1940's gave birth to the dance the Shag (basically, the Jitterbug slowed by booze) attracts some 13 million tourists annually. The area offers 60,000 guest rooms which, by my calculation, means 216 people have to sleep in each one of them. There are more than 2,000 dining establishments. nearly 100 manicured golf courses, designed by the likes of Jack Nickalus and Gary Player. There are easily as many miniature golf courses — packed with smoking mountains, extinct animals and pirate ships. These were designed by midgets.
Phenomenal numbers actually. It's no wonder that the area ranks near the top of the list of vacation spots in America. Where Myrtle Beach seems to be lacking, with but one bright exception as far as I have been able to discern, is in the darts bar department. At least those of the steel-tip genre. The aptly named exception is the Oasis Sports Emporium (4517 Highway 17 Bypass).
When I approached the counter here and explained to the bartender that I was from Sports Illustrated he was extremely nice. Right off, he handed me his boss's business card. "Steve Lazor, President" it read. I was truly impressed and sorry to have missed making Steve's acquaintance. I say this because, while I did shake Richard Nixon's hand at a rally back in 1968, I have never actually met the president of a bar.
The most impressive thing about the Oasis is not the darts set up, though it is terrific. There are five television sets, four bristle boards, three electronic boards, two blue-felted pool tables, a really nifty display of Zippo lighters, a partridge in a pear tree and a whole lot of other nice stuff that I took careful notes about on a napkin but lost and don't remember now.
What I do remember and what is quite impressive are the hundreds of tiny liquor bottles stacked up on the shelves behind the long bar. It was news to me, but apparently in South Carolina the government doesn't trust bartenders to fairly account for how many drinks they pour out of regular sized bottles — the government wants every last drop of its liquor tax. So, in the infinite wisdom that only our political leaders possess, a law was passed that prohibits bars from serving drink from anything but itty bitty liquor bottles. What this means is that each week President Steve has to break into the stock room at the airport to resupply. This is why he wasn't available to meet me.
Another thing that I remember, and what is MOST impressive about the Oasis, is the men's bathroom. I am absolutely serious. If you doubt me, go there. Period. Drink five beers and let nature take its course. While I have no idea what is in the ladies' bathroom and while I do admit to being mildly curious, I can't imagine it is more exciting than Erica Everest and her friends. Oops! I gave away the secret.
It seems like there are a lot of leagues operating around Myrtle Beach, even though it's a mystery where the bars are that have the boards they throw at. There's the Grand Strand Dart League. There's something called the Myrtle Beach Dart Club. There's a third league which, I think, is a soft-tip league called Rosemary's Baby or something.
Finally, of course, there's the South Strand Dart Association which sponsors the ADO sanctioned "Ghost on the Coast" tournament each October. I have a friend, Mark Newnam, who's attending this year's tournament. Mark's a Navy SEAL so he plans to kill the ghost with his bare hands and eat it raw.
The Oasis was extremely quiet the night I stopped in. I picked up some uneventful cricket with a few regulars — Doug Dorn, Frank "Big Ham" Bigham and Dave Fowler. I shot a sloppy game of eight-ball on one of the blue pool tables. I drank a few baby bottles of Jack Daniels and a half-dozen beers. And I spent a LOT of time in the Men's Room.
It was about midnight that I headed back to my hotel with Erica, folded up neatly and stuffed in my wallet.
From the Field,
Dartoid
The following two tabs change content below.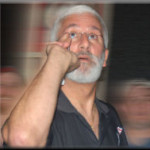 Author of the column that since 1995 has been featured by Bull's Eye News, the American Darts Organization's (ADO) Double Eagle and numerous other darts publications and websites around the globe.