Column #94 Professor Poopypants and the Royal North American Open!
October 1, 2000
Column 94
Professor Poopypants and the Royal North American Open!
Like many of you, over the years I have picked up a book here or there and gradually accumulated quite a little library of reading about our sport. I now have all six books that have ever been written about darts. Without question, the best of the bunch is Dave Pilkey's "Captain Underpants and the Perilous Plot of Professor Poopypants". Go out and buy it NOW!
I started my collection with the old primer, "All About Darts", by Ivan Brackin and William Fitzgerald. It was being offered for sale at Sears where I bought my first set of really nice, well-balanced, professional brass darts for $12. What did I learn? Well, according to their historian and statistician, Peter Welch, pig hair is required in the construction of a dart board. To build one properly "1,753,212 hairs (are required) from a white pig, 2,955,813 from a black pig, 517,327 from a red pig and 485,603 from a green pig."
Next I picked up Ken Kessler's in-depth study of dart technique and physics, "Darts — A Comprehensive Study of the Game". Although Kessler doesn't mention Brackin or Fitzgerald or Welch directly, he does emphatically state that if these guys were right "we would have a nation of hairless horses and pigs."
Somewhere along the way, when I thought I needed a mental edge, I added "Good Darts" by Dr. Gary Low and Dr. Darwin Nelson to my collection. In this book is an extremely helpful section entitled "A Step-By-Step Process For Changing A Problem Behavior". For example, if your problem behavior is that you lose your temper when you hit a one instead of a twenty, what you should not do is pound your opponent with the pig.
One day a concierge in Manila suggested I pick up the novel "London Fields" by the United Kingdom's Martin Amis. Another time, after reading a review in Bull's Eye News, I headed to Barnes and Noble to purchase Frank Baldwin's "Balling the Jack". Both books are great reads. Each supposedly was in line to be adapted to the big screen. Kind of like how this past year's North American Open was supposed to be televised. Neither book made it into the movies. This can only mean one thing — and I'm sure both Amis and Baldwin will agree: it's Tommy Cox's fault!!
There are currently two books on the market that are not just enjoyable reads but certain to improve one's game, regardless of their level of skill.
The first, of course, is "Fundartmentals" by Frank Pratt and Mike Harris. Steve Brown extols "Fundartmentals" as "far and away the most exciting book I have ever read about urology." The second is Mike Orav's "Become Your Darts" wherein Master Lo the dart guru helps the budding little Darthopper to become one with his dart. It is NOT true that this book is best read alone in the bathroom.
Without question however, the most instructive book on the market today for those of us involved in the sport of darts is Pilkey's "Captain Underpants and the Perilous Plot of Professor Poopypants". The essence of Pilkey's book, at least as far as I can figure it, much like Dr. Low's and Nelson's message, is that stress must be managed to achieve one's optimum level of performance. We've got to lighten up. Anyone that competes at darts knows this is fundamentally so.
In Pilkey's book, for reasons that I am not entirely clear about, the evil Professor Poopypants forces everyone to assume new names. Much like trying to picture your algebra teacher's face when setting up to take on your high school pitcher's heat, applying the evil professor's formula when preparing to face stiff competition at the line is certain to help. Think about it.
Imagine you're at the North American Open. You hear your name called by that nice British fellow — yes, Tommy Cox — to square off against Roger Carter or Paul Lim or Darin Young or Ray Carver or Michael Bundschu. Now, imagine instead, hearing your name called ("Listen up mates, and also all you damn Americans") against these same guys, but this time according to the code of Professor Poopypants.
Instead of "Dartoid versus Carter, Board 16" Tommy will say: "Dartoid versus Fluffy Diapersniffer, Board 16". Or, in the case of the rest of the names above, respectively, Dorkey Cootietushie or Loopy Burgerchunks or Dinky Diaperkisser or Buttercup Chickennose. Same guys, according to Professor Poopypants. But a much different game.
Suppose you're a member of the female persuasion and you're paired against Stacy Bromberg or Julie Nichol or Kathy Karpowich or Tina DiGregorio or Deb Lewis. Bit of a problem, eh? It need not be. Just apply Professor Poopypant's formula and, voila!!, these ladies take on entirely different personas in your mind. Stacy becomes Stinky Gizzardtushie. Julie becomes Booger Cootiehiney. Kathy becomes Falafel Diaperbiscuits. Tina becomes Zippy Cootiebuns and Deb becomes Lumpy Toiletmonkey. Same people, yes. But an entirely different game.
So, what's the point of all of this? I haven't a damn clue!
No, seriously, there is a point. Despite the fact (as you have probably surmised) that Pilkey's book was actually written for five-year olds, there is an important lesson that all of us can take away from reading it — at least considering what little is currently available on the market for darters who have reading skills.
If by visualizing presidential candidate George W. Bush as Goober Chickenshorts, school children find it easier to function in the face of the likelihood that this guy might blow up the world if he's elected, then darters across this country can do the same as they face their individual nemesis — or, even better, as they contemplate the scene at next year's North American Open…
I can see it now. Accudart will give the PDC a second chance to run the show. The PDC will dump the Riveria and hold the shoot at the new Blighter of a Bloke Pub down near Bally's. The traditional all-American fare of hot dogs and Budweiser will be replaced with shepherd's pie and stinky warm beer. Blimey, I can see it. Indeed I can.
And I can hear it too…
When the announcer flips on the microphone and says "Cheers, mates. My name is Tommy Cox. Welcome to the Royal North American Open. Let's play darts." I won't be fazed. Not in the least. I'll be as cool as a cucumber sandwich on a balmy London afternoon.
Why? Because I have a darts library. Because I've read Pilkey's book.
Because I know that Tommy Cox is actually Professor Poopypants. Because pigs come in all colors of the rainbow. Because life makes sense.
From the Field,
Dartoid
The following two tabs change content below.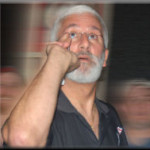 Author of the column that since 1995 has been featured by Bull's Eye News, the American Darts Organization's (ADO) Double Eagle and numerous other darts publications and websites around the globe.