Column #95 "I'm Going to Toledo!"
November 1, 2000
Column 95
"I'm Going to Toledo!"
If you've seen the film Summer of '42 or if you went to high school before the days when a good-night kiss and sex were essentially interchangeable, you will appreciate the range of emotions I felt recently when I, sort of like Hermie in the Summer of '42, approached The Man Behind the Counter.
Sort of like me, when I crept into Bob and Shirley Sloan's Bit of England Darts Shop (in the Pembroke Mall) in Virginia Beach a couple of weeks ago, Hermie was on a secret mission. He and his buddy, Oskie, had hooked up with a couple of hot little numbers at a movie the night before. They were clueless.
From somewhere appeared a medical book. They crammed. They scribbled out notes about how to round the bases with the fairer sex. They stuffed the little cheat-sheets in their pockets for future reference. Erotic visions filled their teenage heads. Later that evening, on the beach under the moonlight, they were going for the big 180!! Hermie's assignment: buy rubbers.
STOP PRESS!!!
NOTE FOR ALL OF YOU YOUNG PEOPLE OUT THERE, such as Jason Jarvis: "Rubbers" are not those things your mother makes you wear on your feet in the winter.
Those are called galoshes. "Rubbers" is a slang term for condoms. Condoms are where people live who don't like to mow their lawn. The singular of the term can be used to describe the tie-breaker (more commonly called the "prophylactic" match) in a game of darts.
Hermie sheepishly approached the white-coated pharmacist behind the drug store counter. With similar hesitation, and while carefully surveying the store to be certain none of my friends were around, I also moved slowly towards the sales clerk at Bit of England.
"Can I help you?" The Men Behind the Counter inquired.
"Uh, no. No. Just looking," Hermie and I replied, startled, as we backed away to reconsider our approach. Inconspicuously we wandered through the aisles. Hermie whistled Jingle Bells. I whistled In-A-Godda-Da-Vidda. We then departed for the safety of the street. Hermie took encouragement from his buddy, Oskie. I grabbed a beer.
Our nerves re-fortified, but with continued trepidation, we headed back into the frey. "It's me. Same guy as before," we explained, as we again approached the counter. "… just stepped outside for some air."
"What is it you're looking for? Maybe I can help you?"
"Uh, I'll know when I find it," we answered.
"If you tell me what it is maybe I can find it for you," said The Man Behind The Counter.
Feeling the pressure, but still not comfortable with being parted from our secrets, Hermie and I responded with the first thing that came to our minds. "I'll tell you. I … uh, just remembered," we blurted. Hermie then ordered a strawberry ice cream cone. I asked where to find those little washer-like things that you slip onto nylon shafts to keep your flights from flying off.
"One dip or two?" the pharmacist asked Hermie.
"Better make it a triple!" Hermie replied.
"That'll be ten cents," said the pharmacist.
"Uh, there's something else I need. I just remembered," said Hermie.
"Well, what IS it?" asked the pharmacist.
"Uh… sprinkles!" Hermie answered.
"That'll cost you twelve cents," said the pharmacist as he handed Hermie his cone. "Is there something else?"
"I hate to bother you," replied Hermie, "but… uh…".
"Speak up, son."
"How about a napkin!?"
The Big Moment was almost here. Hermie had a cone, sprinkles and a napkin. I had my hands full too. I had three little bags of the washer-like things. A half-dozen sets of flights, even though I have thousands of sets of my own "Dartoid's World" brand at home. And, I had a copy of Bull's Eye News — even though I've had a subscription for years.
"Anything else?" asked The Man Behind the Counter. Damn, we were cornered.
So, Hermie sort of sighs, and comes out with it. He nearly pukes first but, finally, the words just POP out of his mouth. "How 'bout some rubbers? I understand that you carry them."
And me? It was now or never. So I followed suit. "How 'bout some soft-tip darts? I understand that you carry them," I muttered.
"Carry what?" asked the nice man, who was really the Prying Bastard From Hell.
"Come on! Don't talk so loud. You know what!" Hermie and I begged. "There are girls in here!" Hermie exclaimed. "There are steel-tippers right over there!" I admonished.
"Alright. Contraceptives. Soft-tip darts. What do you want them for?" continued The Man Behind the Counter.
"Come ON. You know what for," squealed Hermie. My answer: "Well, sir, I'm going to Toledo."
And my answer was honest. I WAS heading to Toledo, a very nice town that's famous for two things above all others. MASH's Corporal Klinger used to eat hotdogs at a local restaurant called Tony Pacos. And soft-tip darts rule all of Lucas County. I don't know why. Must be something in the hotdogs. Anyway, I needed a set of soft-tip darts.
So The Man Behind the Counter beads in. "What brand? What style? What color? There are a number to choose from."
Hermie responds immediately, as do I. I mean, seriously, the question was a no-brainer. "I'll take three dozen of the usual — the blue ones." says Hermie.
And my frickin' answer? "Give me the cheapest set you've got, maybe the flourescent orange ones over there. I'm only gonna use 'em once."
"That'll be $12," says The Man Behind the Counter to Hermie.
"Whoa. How much for a dozen?" Hermie counters, unable to afford nearly so wild a night on the beach.
"That would be $4."
"How much for three?" Hermie asks meekly.
"One dollar, plus twelve cents for the ice cream cone." (I wonder if Jason has to go through all of this?)
"That'll be $49.95 for the darts," said The Man Behind the Counter to me, "plus $3.50 for the magazine and $5.75 for the flights. I'll throw in the washers for free."
Of course, I reacted with outrage. "WHAT!? $3.50 for Bull's Eye News!!"
So I went to Toledo, which, in case you don't know, is a city in Ohio. I hooked up with a couple of friends there, Dave and Karen Reynolds, who claim that they live in a little town called Oregon just outside of the city. I didn't have the heart to tell them that Oregon is actually a state somewhere near Kansas or Miami. They also claim to have three very well-endowed daughters but, for some reason, wouldn't introduce them to me.
Dave and Karen kindly took me to two wonderful soft-tip establishments, the Upper Deck (2148 West Lasky Rd.) and Pit Row (2841 Tremainsville Rd.). I don't remember much about either of these joints except that the bar is slanted at Pit Row. This causes drinks to slide off of it and splash all over the floor which causes beer juice to get all over your shoes. I also remember that there was a bristle board at the Upper Deck and a blond bartender who somewhat resembled…
…Jennifer O'Neill!
From the Field,
Dartoid
The following two tabs change content below.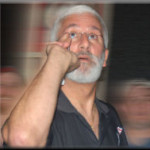 Author of the column that since 1995 has been featured by Bull's Eye News, the American Darts Organization's (ADO) Double Eagle and numerous other darts publications and websites around the globe.