Column #60 Sydney, Australia
September 1, 1998
Column 60
Sydney, Australia
For the past twenty-four hours I have raced the rotation of the earth around both its axis and the sun and wound up losing big time. Now, while it's a snowy Friday in the dead of winter back home on Cape Cod, I am typing away on a Saturday in the middle of the muggy Sydney summer. I'm a day ahead and a season behind. It's quite an odd feeling actually.
Worse yet, I'm a man with a set of Hammerheads in his pocket and no place to throw. And this is not for lack of effort. I have literally combed this town with no success. It's now well past midnight and I'm exhausted. I simply don't have the energy to head out to the one place where I'm certain to get a game.
Although it seems much longer, it was only a day ago that I flew out of London, the undisputed darts capitol of the world. I spent five hours there in a super little pub called the Goat Tavern, not more than a stone's (perhaps I should say "scones") throw across the park from Princess Diana's current residence, Kensington Palace. I managed to win 50 marks off a German lady named Petra. Another 10 quid from a zoologist from an Oxford named Jonathan. I was hot. I had designs on the Queen's jewels. Unfortunately, Di just never walked in the door. On the other hand, her chance to be Queen some day is down the toilet anyway.
So I had high hopes when I headed Down Under…
It was only some two hundred years ago that His Majesty's Government in Westminster sent the "First Fleet" of poor souls (two thirds of whom were convicts) sailing half way around the globe to plant the British flag and found the penal colony of New South Wales. Knowing of this history, it only stood to reason that darts would command some sort of priority status here. Brits. Convicts. The formula seemed complete.
But I've struck out.
I've toured the Sydney Opera House, that winged marvel of architecture on Bennelong Point near the Harbour Bridge. I've cuddled koalas at the famous Waratah Park, one of the better locations in the country to get close to Australia's unique wildlife. I've successfully fought off the temptation to open my wallet when my eye has been caught, so many times, by the candescent glow of energy that seems to pulsate from the millions of opals on display in shop windows. I've been less successful however, when passing the many stores stocked with Aboriginal arts and crafts. In the corner of my hotel room now stands a six foot didjeridoo. It's made from a large tree branch and hollowed by termites. Supposedly the first woodwind instrument, an experienced player can mimick the sounds of the bush — like the kookaburra, the dingo, and kangaroos hopping and frogs croaking. I'm sure my wife will like this better than a little old opal anyway!
What I have not been able to do is test the Australian competition at the oche. I've taxied to bars in Paddington and Manley. I've scoured the historic pubs in the "Rocks" area of the city. I've even made it to Woolloomooloo, one of the stranger sounding places I have ever come across. Just plain no luck.
Time and again though I have been advised, but stubbornly plodded in other directions instead, to check out a town called Fairfield, about an hour's drive out of Sydney. And I have now spoken by phone with someone named Florence Collins, captain of the New South Wales state darts team. Apparently, there is a joint there — a hell of a darts bar called the Diggers Club (14 Ansac Parade) where many of the better shooters in the area hang out.
But like I said, I just don't have any energy left. And what little I can muster up by morning I will need for my race with the earth back home.
From the Field,
Dartoid
The following two tabs change content below.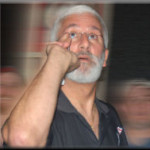 Author of the column that since 1995 has been featured by Bull's Eye News, the American Darts Organization's (ADO) Double Eagle and numerous other darts publications and websites around the globe.