Column #59 Kuala Lumpur, Malaysia
September 1, 1998
Column 59
Kuala Lumpur, Malaysia
Sometime ago I came across an advertisment on the Internet for a sports bar called Colors Fun Pub (2, Jalan SS21/39) near Subang Airport, just outside of Kuala Lumpur. The gist of the ad was a sort of cyberspace trash-talk: that if you wanted your "butt kicked once, or even twice" to stop in and play one of their "great shooters" on one of the seven quality boards on the wall. Obviously a visit to this pub was a must. The mysterious Malaysian darter just had to be found.
So en route back from business in the region I recently stopped in Peninsular (or West) Malaysia, that land of perpetual sunshine, secluded beaches and tropical rainforests — that land which has enchanted travellers for more than 5,000 years. Malaysia's lush virgin forests (which today still cover nearly 80% of the country's land mass) are home to the few remaining orang-utans, Sumatran rhinoceros' and clouded leopards left in the wild. More than 8,000 species of flowering plants still manage to flourish amidst man's encroachment.
Sprouting from the jungle in the center of this paradise is the capitol city of Kuala Lumpur. Once little more than a malaria-infested slice of nowhere, today this metropolis of swanky glass skyscrapers is one of the most thriving and modern cities in the world. And somewhere in the middle of this cement jungle, presumably, lurked the illusive Malaysian darter…
I called Colors Fun Pub from my cell phone the moment I stepped off the plane. Immediately I was disappointed. The place is closed on Saturdays and Sundays. But I plodded on. The Malaysian darter may rest on the weekend but, like the white hunter in search of the spectacular kill, I was intent on spotting at least one of these exotic fellows and taking them to the line.
On the advice of the concierge at my hotel my hunt took me to a place called the Jump (Wisma Inai, 241 Jalan Razak). The manager here, an accomodating guy named Anderson Fernandez, understood my quest and pointed me to my next stop (the Shark Club), reportedly a favorite watering hole of the exotic Malaysian darter. The Jump itself is frequented primarily by the more common Malaysian yuppie. But that's another story.
The Shark (23, Jalan Sultan Ismail) is a classy sports bar. Way in the back, past a couple of pool tables and the biggest television I've ever seen, I found a guy called Kumar warming up on one of two boards. So I limbered up a bit myself and engaged Kumar in some conversation. I learned that the Shark runs a blind draw on Tuesdays. Kumar claimed to be just a fledgling Malaysian darter and directed me to another joint called La Locus Pub (367 Jalan Ampang) on the edge of town. According to Kumar this was prime Malaysian darter territory.
So off I went again, my arrows tucked in my pocket. I was as ready as one could be for one's first encounter with a bonefide Malaysian darter. And, damn if I didn't walk straight into their nest! And what a nest it is — three boards, raised oches, track lighting, and awards all over the walls. There are even inspirational statements signed by Eric Bristow and John Lowe placed in strategic locations.
At La Locus I encountered an entire herd of Malaysian darters. At La Locus I met up with the better half of the Malaysian National Darts Team and their captain, multi-time winner of the Asian Cup and international tournament regular, Ravi Sandiran.
For hours, amidst the smoke and mugs of Anchor Beer (which sponsors the Malaysian Darts Federation to the tune of $1.2 million annually) I duked it out against guys with names like Ameran, Kher and Gerad. I won some. I lost more. And for the the last hour or so I went toe-to-toe with Ravi himself. Again, I won some. And I lost (a lot) more!
My arrows weren't long or sharp or straight enough this night! But what a time I had. It's without hesitation that I recommend a Malaysian darts safari to anyone that has the opportunity to take one …
From the Field,
Dartoid
The following two tabs change content below.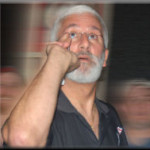 Author of the column that since 1995 has been featured by Bull's Eye News, the American Darts Organization's (ADO) Double Eagle and numerous other darts publications and websites around the globe.