Column #11 Johannesburg, South Africa
May 1, 1996
Column 11
Johannesburg, South Africa
Over the past week I have experienced some of the best Southern Africa has to offer. I have followed elephant families in South Africa's Addo National Park, drifted in mekoro deep into Botswana's Okavango swamps and even white-water rafted the Zambezi River in Zimbabwe — but all I have been able to find in the "darts department" is an electronic board in a bar in Johannesburg. And it sucked big time!
When it comes to darts I have but a few principles:
– I throw only my darts (Hammerhead GT's — 24 grams)
– I drink only when I'm finished throwing; and
– I never, ever, throw anything but steel tip darts.
In Johannesburg I broke all my rules. Usually I only break the second one.
Just west of the city in a town called Randburg is a little Irish pub called McGinty's (Republic Road — on the waterfront). After scouring the city of Johannesburg for a place — any place — with a legitimate dart set up I gave up and headed here.
What I found was an electronic dart board with a broken light and a broken scoreboard. I was given a set of soft tip bar darts with mangled tips. If this wasn't all bad enough the machine ate two rand coins and required four rand for a game, which at the current exchange is more than a dollar.
So, I tossed a few of my crooked darts. I watched most of them come flying back at me. I ordered the recommended local brew (Castle Draft) which arrived twenty minutes later and tasted like peanuts.
Suffice it to say I left McGinty's a half hour after walking in the door.
From the Field,
Dartoid
The following two tabs change content below.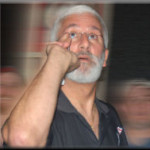 Author of the column that since 1995 has been featured by Bull's Eye News, the American Darts Organization's (ADO) Double Eagle and numerous other darts publications and websites around the globe.