Column #10 Zurich, Switzerland
May 1, 1996
Column 10
Zurich, Switzerland
I am writing from approximately 37,000 feet above the Sahara Desert. To the east is Casablanca. Directly west is Cairo. I wonder if there are any darts bars down there…
I'm en route to Johannesburg for a press conference where my organization (the International Fund for Animal Welfare) will be announcing a deal with Kruger National Park to end the thirty year long practice there of culling elephants. That's my job — I help save animals.
But my game is darts and my drink is beer — and I have just left behind in Zurich three terrific places for both. All came highly recommended to me by Zurich native Peter Ehrbar and after five hours of checking them out I can recommend each of them just as highly to anyone who happens to find themselves with a little spare time in this European city. Each of these places is just twenty minutes by rail from the airport and all are within walking distance from each other.
At the top of the list has got to be the Nelson Pub (on Beatengasse — close to the main railway station). This is a beautiful place — accented by brilliantly shined brass, fifties and sixties music and frequented by a young international crowd.
There are only two boards but they are ideally set up (raised oches, extremely well lit — even the floor is rubber coated to protect darts after bounce outs). And the place is friendly — if you happen to stop by be certain to ask for Nicole. She set me up a time or two with free mugs of the local beer — Hurlimann and Warteck. The food is good. The prices fair. And you can throw until you drop or until 4:00 AM, whichever comes first.
Then there's the Oliver Twist Pub (Rindermarkt/Neiderdorf — in Old Town) and the Bonnie Prince Pub (on Zaehringerstrasse). There's just one board in each of these places though. Each is smaller than the Nelson Pub and both seem to cater much more to the locals, particularly the Bonnie Prince. Again, the beer was an experience — this time Cardinal and Feldschlosschen.
I was disappointed not to be able to pick up a game today — so I can't vouch for the local competition.
What I can vouch for is the local beer. And, without question, Switzerland's got Aneheuser-Busch down for the count.
From the Field,
Dartoid
The following two tabs change content below.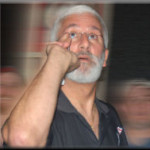 Author of the column that since 1995 has been featured by Bull's Eye News, the American Darts Organization's (ADO) Double Eagle and numerous other darts publications and websites around the globe.