Column #599 The World Seniors Darts Championship deserves massive support. And Larry Butler!
Friday, May 21, 2021
Column 599
The World Seniors Dart Championship deserves massive support.  And Larry Butler!
To quote the greatest of them all, darts fans should be "over the moon" at news of the upcoming World Seniors Darts Championship.  I certainly am.
But then I'd much rather watch an old Ali-Frasier fight than any of today's crop of boxers (except Manny Pacquiao).  I'd much prefer to watch a rerun of Arnold Palmer and Jack Nicklaus battling it out until the final putt than any of the current names I've never even heard of.  I'd rather watch a video of the 1994 World Matchplay – for the hundredth time – than anything Michael van Gerwin does.
In fact, were I forced to choose between watching the Premier League (as great as it is) and this competition among the legends, gentlemen (and women) and ambassadors who paved the way for so many of those who today whine their way to the board and back it would be a no-brainer.
It's just sad that the likes of Eric Bristow, Jocky Wilson, Barry Twomlow, Stacy Bromberg and others are not still with us.
And it's a TRAVESTY that Larry Butler hasn't been invited.  Well, yet.
Twenty of the 24 spots for players 50 years old and older have been filled – with two more invites coming soon to others who have made "special achievements on the darts circuit in the past."
How can Butler not be invited?  What do you think, Dennis Priestley?
Then, in November the final two spots will be determined in a qualification tournament.  Except for two considerations I'd give it a go myself: 1) I suck, and 2) I'm only 38.
Still, Butler or no Butler, the concept – "a joint venture between MODUS Sports and Jason Francis, who transformed his Snooker Legends exhibition tour into a global circuit" is BRILLIANT.  No doubt this will evolve into a tour that will fill up arenas around the world.
The event which is expected to take place early next February comes with a $25,000 check for the winner – but this is insignificant compared to the potential of the concept.
Imagine, in one room – Anderson, Deller, Fordham, George, Gulliver, Lim, Lowe, Manley, Part, Priestley, Taylor and more.
Twenty-four of the best ever.
Like Ali, Marciano, Dempsey, Frasier, Foreman, Mayweather, Pacquiao, Ruth, DiMaggio, Gehrig, Cobb, Bird, Chamberlain, Jordan, Johnson, Russell, Bryant, Abdul-Jabbar, Woods, Palmer, Nicklaus, Sneed, Hogan, Pelé, Maradona, Spitz and Phelps – FIRST NAMES JUST AIN'T NECESSARY.  Even little old biddies can probably identify most of these greats.
That's what these darts players have meant to our sport.
The World Seniors Darts Championship deserves massive support.  And Larry Butler!
From the Field,
Dartoid
The following two tabs change content below.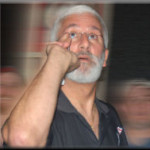 Author of the column that since 1995 has been featured by Bull's Eye News, the American Darts Organization's (ADO) Double Eagle and numerous other darts publications and websites around the globe.