Column #598 Goodbye old friends
Friday, May 14, 2021
Column 598
Goodbye old friends…
I am posting this column again because some people have asked me why I have blocked them…
Darts and politics don't mix!  Not in my world anyway…
"For some time, I have been working on a column, struggling really," I wrote to a friend recently.
Writer's block?  No.  I never have a problem putting words to paper.
It's worse…
Although I don't throw competitively much these days most of my closest friendships date to the many years I was deeply involved – four or five nights a week at league or blind draws, weekends at tournaments.  What I cherished most during all those years was the one constant: it was always about the darts.
We could and did talk to death every conceivable darts-related subject.
We didn't know what each other did for a living.
We didn't know who was rich or poor.
We certainly didn't know anything about each other's politics.
We didn't care!
Darts was about darts.  And beer.
This was special.  We had the sport in common and that was pure.  That was enough.
Facebook and the past 10-12 years of political division have changed all of this.  I hate it.
Today, I will begin what I have resisted for so long, not wanted to do.
Everyone is entitled to their opinions.  But the only opinions I care about from darts friends are opinions about darts.
Effective today, any "friend" who shares a political opinion (whether I agree or not) which shows up on my newsfeed or in any darts forum to which I belong will be unfriended or blocked or whatever.
Enough is enough of all this hatred.
From the field,
Dartoid
The following two tabs change content below.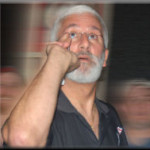 Author of the column that since 1995 has been featured by Bull's Eye News, the American Darts Organization's (ADO) Double Eagle and numerous other darts publications and websites around the globe.