Column #541 Rocky's Annual Roadside Outdoor Darts Tournament
Tuesday, August 1, 2017
Column 541
Rocky's Annual Roadside Outdoor Darts Tournament
There's Marciano, Graziano, Balboa, and the 41st Vice President of the United States…
You've got those big mountains.
And don't forget the squirrel!
Then there's "Rocky" the darts dude from Parkhill, Ontario, Canada.
Surely this guy – Ron Wilcox – has more brains than your average boxer or a mountain range. Or even Nelson Rockefeller who at 70 years of age had a heart attack and died while in the middle of an adulterous act with his 25-year-old mistress, Megan Marshack.
"How did Rockefeller die?" goes the old joke. "Low blood pressure: 70 over 25."
Nope, except for a slight resemblance to the Rocky the Flying Squirrel from the old Bullwinkle Show Ron Wilcox doesn't have much in common with any of his namesakes. But if promoting darts was the measure, a Wilcox vs. Marciano bout would require a rewrite of the history books and Marciano's record to 49-1.
Yep, when it comes to our sport Canada's got a lot to beat it chest about. Of course there is John Part, three times world champion. You've got Bob Sinnaeve. Gary Mawson. Chris White. David Fatum. And more than half of the group of eight who qualified to take on the best in the world recently at the PDC's World Series of Darts in Las Vegas.
Oh, I can hear some of you now. Don't waste your time or mine arguing about nationalities. Mawson, White and Fatum all hail originally from Canada. So what? Florida, California and Arizona are lucky to have 'em.
Along with these names and others – Dave Richardson, David Cameron, Jayson Barlow, Shawn Brenneman, the amazing James Wade-slaying Dawson Murschell, Ross Snook (whose nickname is only one letter short of another Rocky), Patricia Farrell, Gayle King, Kim Whaley and so many more – Ron Wilcox merits recognition.
And don't forget Rani Gill. She's the best ever. She once punched out Eric Bristow or threw a chair at him, depending on who's telling the story.
Just like so many of our times who've had an idea and made millions, Wilcox had an idea. However, unlike, say, Louise Poirier (a great Canadian) who made a bundle off probably the most spectacular idea since the wheel, Wilcox has failed (at least personally) on the money making aspect of the equation (although he has generated a fair bit for charity).
Actually, Wilcox's "failure" is by design. While some are in the game to make a buck (I won't mention any names, like Charles Peterson) Wilcox's motivation is to enjoy the sport, help the sport, encourage new blood to pick up a handful, promote sportsmanship, and give back to his community. Wilcox is honest.
Back in 2007, Wilcox decided to create the largest outdoor dart tournament in Canada, and eventually the world.
Poirier invented the push-up bra.
So who's your hero?
Rocky's Annual Roadside Outdoor Darts Tournament is patterned after Chuck and Stick's Chicken COOP Open held each spring in Noel, Missouri. In fact, when Wilcox dreamed up his idea he spoke at length with Mike Edwards who with others is now the main organizer of the COOP event, now in something like its 32nd year. The tournament – a non-stop, 24-hour-a-day, 3-4 day blind draw affair – attracts 1,000+ each year. It grew from its beginnings, literally in a chicken coop, when just a handful of couples attended. For the past decade, the COOP has been carved in stone on my tournament schedule. This is primarily because everyone is so drunk that I have half a chance.
About a month ago, I traveled to Canada to check out Wilcox's creation. I flew into Toronto's Pearson International airport and rented a car for the "couple hour drive" (according to Wilcox) to the tournament site at the Corbett Community Center in (go on, guess) Corbett, Ontario – halfway between Grand Bend and Parkhill, which are both in the middle of nowhere. The drive took five hours because Wilcox's directions sucked. But I saw a lot of wheat fields and cows.
Wilcox's debut tournament drew 12 people. And ran just one day. There was no tent or lights, hence it concluded at dark. Not a good start. But Wilcox prevailed. He kept building, marketing, pushing and prodding. He called radio stations and got them out to cover the tournament as it grew. He contacted newspapers. He pounded on doors and emailed loads of potential sponsors. Some might say he lives on Facebook, promoting, promoting and promoting.
It worked – or it's working. The word is out.
This year there were 358 registrants. Players are attending from as far as Saskatchewan, Quebec, Newfoundland, New York (and Florida, in my case). Some players from Ohio and Michigan have become regulars.
There's a DJ (Caduzer  entertainment). Great eats (thanks to Back N Tyme catering from Grand Bend). A terrific bar (Ails Craig Royal Canadian Legion). In past years, there have been live bands (the Beatles and the Rolling Stones). There are plans in the works for a Friday golf event next year. And Wilcox is talking about a "special attendee" for the 2018 event. I am guessing it's John Part but hoping (no offense Maple Boy) it's a Hooter's girl.
Sponsors are stepping up to the plate, more and more every year – so much so that the tournament has been proud to write thousands of dollars in checks to the local area Food Bank. This is a BIG part the whole thing. It's only partly about darts. The event is a bonafide family affair (run by Wilcox, his wife Lisa and daughter and son, Sharla and Steven), supported by local friends and businesses and which puts the local community first, second and third.
(NOTE: I am assuming that these days "thousands of dollars" is a lot in Canadian currency. However, I am reminded of a poker game I attended in Canada while I was in college. I won $50. The next morning at Tim Horton's my winnings were barely enough for a jelly donut. But it was a damn good donut.)
The businesses that could be counted on this year included Five Star Framing, George's TV Repair, HMS Insurance, the Main Street Motel, the Grand Bend Canadian Legion, Phamasave Drug Store, Mitchell's Home Hardware, Maple Grove Farms, Premium Transport, Dale Wurfel Chrysler-Dodge, Dealz Liquidation, Robert Q. Travel, Eric "EDubb" Robinson from #PromoteDarts in St. Louis, Sarnia Premier Dart league, Cool Smokers, Murray McLean Auctioneers, Gavin Evestrophs, Townsley Barn Painting, Paul LeBlanc from Toronto Darts, British Darts of London, Mike Rowse Custom Cabinets, Ailsa Craig and the Parkhill Foodland Ontario Stores. Yep, it's a long list and to many probably a boring paragraph but without sponsors none of the charitable work any of us do in connection with tournaments of this sort would be possible.
All of the aforementioned deserve thanks and respect.
Many more from Parkhill, Corbett and Grand Bend should ante up for next year.
I partnered with Steven Wilcox. We met when he was just 7-years-old. I was in Hamilton, Ontario competing in the CANUSA Games for the Flint, Michigan darts team. Steven wanted to play me a few games so his family made the few-hour drive to meet me. And let me tell you, I whooped the little bastard. Stomped him good. Made him cry like a girl.
Steven is now 18, tall as a tree, and has just enlisted in the Canadian Armed Forces. (They are beefing up in case Trump decides to invade.)
He's a hell of a kid and his parents should be very proud. But he's not as pretty as his mom or sister.
For several of the past 4-5 years Steven has been the #1 ranked youth player in North America and one of the top 10-15 in the world. He's been invited to play in Shanghai and competed in several tournaments in the UK. He's good. For reasons unknown he has partnered with me now on 3-4 occasions…
I don't think we've ever made it past the first round. I seem to have developed a short-arming problem worse than any of the Wizard of Oz munchkins. And so it was again at Rocky's Annual Roadside Outdoor Darts Tournament. We got smoked just like a dead Canadian salmon.
I got new directions for the return trip to Toronto and made it in just a little over two hours and saw a lot more cows and wheat.
This tournament is a good time – run by good people for a good cause.
So next time you see one of Wilcox's promos for the 2018 tournament (he's already posted a couple dozen on Facebook) you are encouraged to add it to your schedule.
In the event any further enticement is needed, no doubt Steven Wilcox is looking for a partner who can hit more than the one and five (and sometimes even the twelve and eighteen!). If he takes you aboard (and America doesn't attack Canada before next June, meaning he might be able to take leave to play) you are almost certain to return home with some extra cash.
Great job, Rocky Wilcox!
The COOP better watch out!
Oh, and thank you all for your hospitality. I especially loved the little stuffed plush toy cow you gave me. But my dog loved it even more – and tore it to shreds.
From the Field,
Dartoid
The following two tabs change content below.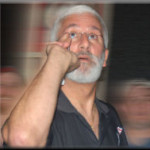 Author of the column that since 1995 has been featured by Bull's Eye News, the American Darts Organization's (ADO) Double Eagle and numerous other darts publications and websites around the globe.