Column #525 Please help cute Katie run again!
Thursday, October 20, 2016
Column 525
Please help cute Katie run again!
If you're a regular reader of this column you will be aware that only occasionally does Dartoid yield his opinionated (some say disgusting) persona to his creator. In fact, over the past 20 years and through 500+ columns about darts Dartoid has stepped aside only a handful of times – but always to help generate funds for something important – the devastating tsunami that impacted many of our Japanese darting friends, John Kuczynski's annual holiday Toys for Tots fundraiser, Stacy Bromberg's charitable work for Make-a-Wish, Kathy Maloney's "No Baloney" charity tournament to help raise money for Friends of Strays, and more.
Dartoid's creator has personally donated to these causes as well help several young players like Steven Wilcox, Alex Broderick, and Miles Gallagher raise funds to achieve their darting dreams. Of course, he has also thrown exhibitions against some of these kids, and others (and whooped their asses – at least the kids), to help them fund their expenses to the Youth Nationals and most recently, in Steven Wilcox's case, the Youth World Masters.
So today it is me writing – Paul Seigel – to ask you to help a friend of mine (a leader in the Philadelphia darts scene, National Darts Hall of Fame inductee, and my former webmaster), Mike Broderick, help his sister's little dog, Katie. In my real life there are no Hooters girls (please don't tell anyone) and a 42-dart game of 501 is par for the course (if you believe that contact me for a money game). I my real life I provide fundraising consulting services to animal protection organizations. It is only animals and my family that I am more passionate about than darts.
Please, take a moment to read Mike's plea below. Please help if you can, as soon as you can. Just click to:
https://www.gofundme.com/KatiesHipSurgery
If you don't care about charity or animals (if you're a bum) and just want more of Dartoid (if you're a different kind of bum) check back on November 1 when Dartoid returns with observations about the darts scene in Havana, Cuba – and may even have something nice to say about the ADO.
Be aware. Be afraid.
From the Field,
Dartoid
______________________________
Hello, my name is Mike Broderick. I created this page to help out my older sister Joan and her dog Katie. Katie is a 2 1/2 year old Boxer/Pointer mix.
Joan got Katie from a friend who fosters dogs. Katie has the best temperament I've ever seen in a dog.
She is such a wonderful dog but needs a femoral head osteotomy (FHO) to eliminate the pain in her hips. Katie has severe hip dysplasia. She can barely walk without pain; in fact, her surgery had to be move up and done sooner because it was getting worse every day.
Today, October 19, she will be getting the surgery on one hip. I thought I had more time to create this but the total process will take months since they are doing one hip at a time.
But here's the kicker. It costs $3,000 per hip for the procedure! That's why the goal is $6,000.
So I wanted to surprise my sister and create this page to help offset the costs. If you would like to help Katie, please donate. ANY amount, small or large, will make a profound difference!
I am eternally grateful for your support.  Any amount raised will mean the world to Katie, my sister and me.  I will post more photos/videos and updates to keep you informed.
Again THANK YOU SO MUCH!
_____________________________
Here's some info on the surgery:
What is Femoral Head Osteotomy (FHO) Surgery for Dogs?
A femoral head osteotomy, also referred to as a femoral head ostectomy or FHO, is the surgical removal of the head and neck of the femur. In simpler terms, it is the removal of the "ball" part of the ball-and-socket that makes up the hip joint. This way, the bones of the joint are no longer in contact, which eliminates the pain that is caused by the abnormal contact of the bones in a dog with hip dysplasia or severe osteoarthritis. This procedure is usually used as a last resort or salvage procedure in dogs with severe hip dysplasia that are not candidates for a total hip replacement. It is also used to treat dogs with Legg Calve Perthes Disease. Once the femoral head and neck are removed, the surrounding muscles and developing scar tissue work to support the area, and act as a false joint. This means that now when the limb is moved, the forces are transferred to the pelvis rather than the leg itself. The FHO surgery is a fairly simple procedure in that minimal equipment is required, and no implants are needed. The procedure causes the leg to be slightly shorter than the unaffected leg, although amazingly, most dogs return to close to normal activity after the surgery.
The following two tabs change content below.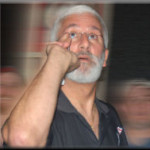 Author of the column that since 1995 has been featured by Bull's Eye News, the American Darts Organization's (ADO) Double Eagle and numerous other darts publications and websites around the globe.