Column #521 A little bit O'Seoul
Thursday, September 1, 2016
Column 521
A little bit O' Seoul
In 1995, some friends and I rode bicycles from Dublin to Moscow. At a clip of about 75 miles a day, the 2,500-mile journey took a month. Two lonely weeks were spent monotonously plodding along the desolate old gulag inmate-built Trans-Siberian Highway. Early on, we adopted the convention of stopping each time we passed a statue of Vladimir Lenin, founder of the Russian Communist Party and ruthless leader of the Bolshevik Revolution. We'd hydrate with Gatorade, dishonor "Lenin" by singing a few bars of a Beatles' song, and get back on the road. And so it was some 20 years ago.
I was reminded of this one recent Tuesday evening as I exited at the Gangnam subway station in Seoul. On the way to my hotel and in search of a soft drink and sandwich, I cut down a small alleyway where I was told I'd find a Mini Mart and Dunkin' Donuts. Business complete for the day and, sort of as I did along the Trans-Siberian Highway, I found myself humming a tune, not exactly a Beatles' number, but with a catchy and unforgettable beat – and a message that just may be helpful to the ADO.
Perhaps you remember the old hit, Little Bit O'Soul, popularized in 1967 by the Ohio garage band, The Music Explosion.
My mind drifted back to where I was, so far away from Asia, the first time I heard the song. Just 13, I was on a bus with my friend Dale Bannister, a championship diver, heading to Berston Field House in Flint, Michigan, to go swimming (50 years before politicians polluted the water system there). Berston has long been the epicenter of top boxing talent in Flint, producing fighters like Chris Byrd, Andre Dirrell, and Claressa Shields. We ended up boxing instead. I got my ass kicked.
And THEN, there it was! I couldn't believe my eyes…
Next to the market and across the alley from the donut shop was a sight unlike any I have come across in my travels, a sort of cave-like opening, similar in my mind's eye to the one in Ali Baba and the Forty Thieves, which I read in grade school. Screw the Mini Mart and Dunkin' Donuts. I was no longer thirsty – at least not for a soft drink.
Before me at 103 Teheran-ro, Gangnam-gu, stood a story-tall "dartboard," accented by a big screen television, which framed the double door entrance to a basement pub called the Dart Prince. Fortunately, no special command – no Open Sesame – was required to enter this "cave" and partake of the hidden treasure within.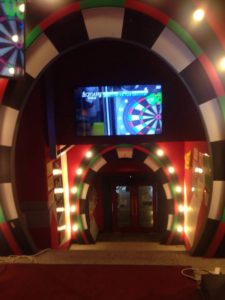 I passed through the dartboard to behold 40 gleaming neon darts machines, all Phoenix. Perhaps 50 players were gathered about – mostly recreational – couples and groups of friends, drinking, lunging over the line, and playfully mocking each other's lack of ability.
A few "better" players congregated in one of the darker corners, acting the way some young, better, so-called "professional" players do these days. Aloof, but (over) confident. They furiously tapped their cell phones, probably posting nonsense at the Darts Discussion Group. I played a couple of them. I don't remember their names. And to be sure, they didn't want to remember the name of the grey-haired American, three times their age, who showed them they should stick to eating dogs.
I settled at a table, ordered a Hite Lager for the Won equivalent of about $7, and from a menu in Korean which included some western fare pointed to a photo of nachos. Later, after a couple of games with a pretty girl named Hye-rim (some names are worth remembering), I pointed to a photo of a scoop of chocolate ice cream.
There was a well stocked display with miscellaneous darts supplies. Phoenix tournament posters were tacked on the walls between the machines.
I have since learned that the Dart Prince and its Phoenix machines, like Berston and boxing in Flint, is at the center of the soft-tip scene in Seoul. Phoenix is a subsidiary of HIC Hong International. According to company president Sang-Wook, the Phoenix brand occupies 97% of the South Korean market and a majority (55%) of the Japanese market, both figures (particularly the Japanese percentage) that many would debate. Be that as it may and while DARTSLIVE (aka SEGA), and others, may be the better known brand in some quarters, Phoenix does command a huge hunk of market share and is growing fast.
As one is want to do in a joint such as the Dart Prince, I lingered over a couple more Hite Lagers, picked up a few more games with Hye-rim and her friends, and jotted notes for what I have just shared.
I searched YouTube to find the Little Bit O'Soul clip above and discovered another 1967 tune equally appropriate for the occasion. Soul Man (Hold On I'm Comin') by Sam (Moore) and Dave (Prater) has been recorded many times over the years by the likes of the Blues Brothers and James Brown and was even the soundtrack for a comedy by the same name in 1987. It's a song familiar to more than my generation. But no group has ever recorded a more entertaining version than Drake and Josh, featuring the one and only darts player extraordinaire (and all around great guy) – Howie Dirks from New Jersey. You just gotta see this…
The Dart Prince is a Mecca for those of the soft-tip persuasion. An accidental discovery for me, it's a must stop for you if ever you find yourself dancing through the streets of Seoul.
It was just after 9:00 p.m. that I made my way back through the giant dartboard and into the city night… and across the alley to, finally, get my donut.
From the Field,
Dartoid
The following two tabs change content below.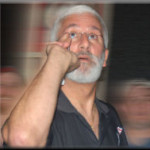 Author of the column that since 1995 has been featured by Bull's Eye News, the American Darts Organization's (ADO) Double Eagle and numerous other darts publications and websites around the globe.