Column #509 Darts under the Northern Lights
Monday, February 1, 2016
Column 509
Darts under the Northern Lights
I must begin today with an apology to Kace Sanders, president of the Goldenheart Dart Association (Goldenheart Dart Association)…
After spending a terrific night throwing darts with Kace and his girlfriend, Tracy, at the Refinery Lounge in North Pole, Alaska, I promised to be in touch the next day about getting back together.  I did not.  In fact, I did not get back to Kace until I made it home.
So… I am sorry Kace. The truth is, after tossing in a couple of 180s, taking out 104 (t18, bull) and just missing that 170, I froze my ass getting back to my hotel.  As many will attest, when my ass freezes (and often even under normal conditions) I don't think clearly.  Maybe you found my hat?
For the record, to drive the 4,600 miles from the sunshine and warmth of Florida to the darkness and cold where I met up with Kace – without stops – would take nearly 80 hours. By air – with layovers and a 45-minute drive from Fairbanks – the trip took almost 18 hours, longer than a flight to Japan.  But I'm not complaining – the baby (flying for free) screaming and puking across the aisle from me made the trip delightful.
To say it was "dark and cold" is an understatement. In January, in this nook of Alaska, there are only four or five hours of daylight and, typically, the temperature is -25° or so.  For the few days I was here the mercury never dipped below -10°.  Locals called it a heat wave.  My ass begs to differ.
Kace, Tracy and I had a blast. At least I did.  I learned about panning for gold, skinning a moose, bear attacks, the Alaskan pipeline, how to build a house in -50° weather (Kace owns a construction company), guns, how to get women in Alaska (you need a job – or you can go to Match.com, which is how Kace and Tracy met), the Northern Lights and, of course…
…all about the Goldenheart Dart Association.
There are 130 players in the league, competing in two divisions (red and blue) out of six bars (Ivory Jack's, Elf's Den, Badger Den, Moose Creek, Speedway and the VFW) in addition to the Refinery Lounge.  The teams sport respectable names like Crazy Bastards and Bitches and Titties and Beer.  There's even a team called Dead Ass Last which could have been the name of most any team I have played for during my stellar career.
The Refinery Lounge is a great joint, decked out in rustic wood like the inside of a backwoods hunting lodge, with six boards, all steel, well lit. There's a couple of pool tables (I have no clue why).  There's beer.  A juke box.  Some big screen television sets, probably tuned into hockey or ice fishing or icicle jousting.
There were no girls pole dancing (again, I have no clue why). I'd have stayed longer if there were.  Sort this out Kace and I'll be back.  With gloves and a snow suit.  And dollar bills.
Around midnight, I headed into the night and back to my hotel in Fairbanks to rest up for the primary reason I traveled to the Great White North – to meet Stacy Bromberg the next day and venture further into the wilds to, hopefully, see the Northern Lights. One might call this our warm up (or freeze up) for our next trip to Machu Picchu and Easter Island, in early March.
For those of you not familiar with the Northern Lights – or the Aurora Borealis, so named in 1621 by the French scientist, Pierre Gassendi for Aurora (the Roman goddess of dawn) and Boreas (the god of the north wind) – technically, the colorful and luminous lights (similar to Peter Wright's hair) are caused by high-speed solar particles colliding with gasses, mainly nitrogen and oxygen, in the atmosphere – whatever this means. To my mind, they are just the spirits of dead rock stars dancing in the clouds.
For those of you not familiar with Stacy Bromberg, she's a soft spoken, un-opinionated dart player from Las Vegas. She has been the United States' top-ranked women's player a record 16 times (13 in a row); National Team member – 12 times; National Ladies 501 Champion – 11 times; National Ladies Cricket Champion – four times; the first player, male or female, to tally 1,000+ championship points in one year; and the National Ladies Points Winner – 15 times. She has also been a member of the US team competing in the WDF World Cup competition a total of eight times, winning four gold medals (including in 2009 as the World Cup Ladies Singles Champion).  She has been a member of the US America's Cup competition three times and BDO World Master's US Team member eight times.  In 2009, Stacy became the first ever, and only, PDC Women's World Champion.
Whew. My apology for that long paragraph but, frankly, it could have been a hundred times longer.  No North American female has ever or will ever match, or even come close, to all Stacy Bromberg has achieved in the sport.  Of course, this begs the question: Why the hell didn't she bring a set of darts and a board to Alaska?
Fortunately, I did.
We were driven from the Fairbanks airport, part of the way alongside the pipeline, by a nice man named Norton, to the Mt. Aurora Lodge (Mt. Aurora Lodge), a rustic old gold miner's barracks built in 1928. It's basic, homey and run by an incredibly accommodating staff – Deanna, Jon, and Max.  We were served home cooked made-to-order breakfasts and set dinners and awakened in the wee hours if Jimi Hendrix and Janis Joplin were lighting up the sky. 
In between, we could go dog sledding and get attacked by a bear or go snowshoeing and get attacked by a bear. Stacy and I opted to stay warm and safe – sharing travel stories with some of the guests from around the world.  We also fed wild birds, wrestled with a sled dog named Trigger and watched Max fly a small helicopter drone around the lodge.
Conditions have to be just right for the lights to do their thing. Winter is the best time because it is darkest for the longest periods.  Cloud cover and warm temperatures will foil the dancing flames.  After midnight is when the best displays are often visible.
We got lucky at about 10:00 p.m. – and for a few hours running – the very night we arrived. We were fortunate because the next two nights were cloudy.  There was nothing to do but play with Trigger and watch Max play with his, well, drone.  And drink (Stacy brought no darts, but she did bring an ample supply of miniature airplane liquor bottles).
We headed into the crisp snow behind the lodge with John and a couple of new friends from Malaysia. Inside the lodge all lights were flipped to red, appearing brothel-like, to ensure there was no interference with the show in the sky.
And there they were! They appeared first as a gigantic green band jutting across the expansive pitch black sky.  Gradually, sections of the band began to dissolve into a series of flame- and smoke-like patterns, reaching into the heavens, much like native Indian smoke signals, but a thousand times brighter and luminous.  More bands formed, everywhere, shooting in multiple directions, and then morphed into curtain-line formations.  Always moving, always changing, the display was as mesmerizing as the word mesmerizing is cliché.  We were told sometimes the lights crackle, adding to the experience.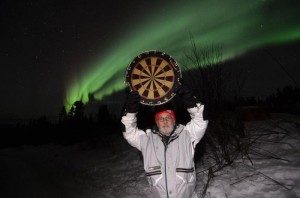 We watched for hours, had photos taken (the dart board came in handy for this), and then headed into the warmth of the lodge – popping out regularly to see if the show had intensified or faded. Unfortunately, the later was always the case.
The remaining nights were void of any vivid display. So we really did get lucky.  We could just have easily missed them altogether.  Still, we continued to wander outside often to take a peek.  There were brief hints of dancing light activity but nothing near as spectacular as we experienced just hours after we arrived.
With little to do but hope the lights would return, we talked. And talked.  I played a little harmonica, poorly (but apparently good enough for some Chinese guy to videotape me).  We slept…
We had the better part of two days to while away. With a little encouragement (and a lot of help from the mini bottles) I was able break through Stacy's meek, always mild mannered disposition and, together, we solved many of the world's problems – the wars in the Middle East, the volatile price of oil, the depressed real estate market, global warming.  You name it, we solved it.  We (actually, it was me) even came up with a plan, involving toxic waste, to clean up the ADO.
There were all sorts of books and reading material to peruse, so we learned some things.   We learned if Alaska were divided in half, Texas would still only be the third largest state.  We learned if New York had the same density of population as Alaska, there would be only 29 people (instead of 1.5 million) living in Manhattan. We learned in Fairbanks it is considered an offense to feed alcoholic beverages to a moose.
And I learned a joke…
What happened to the five-year-old boy who won a moose calling contest at the Alaska Zoo in Anchorage? He was shot by Sarah Palin.
Beware Donald Trump.
I was picked up at 3:30 a.m. on our final day to head back to Fairbanks for my return trip to Tampa – I arrived after midnight. Stacy was collected at 8:00 a.m. and, due to delays, arrived home in Las Vegas at about the same time I touched down in Tampa.
The absence of pole dancers notwithstanding, the dance in the sky on our first night made for an incredible experience. It was a one-of-a-kind trip – long but short, cold but exciting – one of the best, possibly the best, I have ever taken.  I have no doubt, with the exception of having to put up with me, Stacy feels the same.
From the Field,
Dartoid
The following two tabs change content below.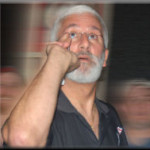 Author of the column that since 1995 has been featured by Bull's Eye News, the American Darts Organization's (ADO) Double Eagle and numerous other darts publications and websites around the globe.