Column #508 Tomlinson, Haycock, and Smith resurrect Bulls Eye News!
Friday, January 1, 2016
Column 508
Tomlinson, Haycock, and Smith resurrect Bulls Eye News!  
It was a short but meteoric career. Few of today's young players were alive at the time…
After winning the Columbus, Ohio, city championship in 1982 and the world championship (defeating John Lowe in straight sets) in 1983, the once bushy-haired young man stepped off the oche, packed away his darts, and started a magazine. The rest is history.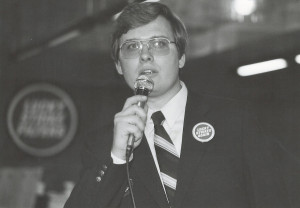 For 34 years (give or take a month, or a year, here and there) Jay "Bird" Tomlinson – not Unicorn – has been the "Big Name" in darts. Any list of the top promoters ever of our sport, certainly in North America, must rank Tomlinson on top. No one, certainly not the handful of newcomers who use Facebook to congratulate themselves at every turn (I am not talking about the CDC boys – they should congratulate themselves more), shines a candle to Tomlinson's three decades of accomplishment.  Those who take issue with the use of the word "ambassador" to define the role of some must agree that Tomlinson epitomizes the accolade.
Now a little older and not so bushy-haired, Tomlinson has retired to spend more time with his family and take care of his ailing father. While he will continue as a senior advisor and writer for Bull's Eye News, ownership and day-to-day operations have been assumed by Catherine Haycock and Rick Smith (more on them in a moment).  The first new issue (November-December 2015) has arrived in mailboxes and looks spectacular.
Certainly Holly Young agrees (Big Daddy is dancing on the cover). Jeremiah Millar is on the cover too, looking ready to kick ass at America's first Premier Cup, which he did.
Even three-times world champion, John Lowe, loves the comeback issue…
When my good friend and founder/owner of Bulls Eye News, Jay Tomlinson, decided to retire after many years promoting and reporting the sport of darts through his excellent magazine, we wondered if that would be the end of BEN. Well, the good news is Catherine Haycock and her husband who reside in Canada have taken over and their first issue has now been released.  The quality and the layout of (the magazine) I have always been a long time admirer of… is just as good, if not better.  It contains great reports and information.  Well done to Catherine, a lady I have personally known for over 30 years.  She started as a player and supporter, then a reporter for BEN (and) now (is) the owner of the best darts magazine on the planet.
If you don't subscribe, click here now: SUBSCRIBE TO Bulls Eye News. If you're into darts – steel or soft – it's worth every penny of the price and will do far more for your game than lining your closet (and some vendor's pocket) with silly $80 shirts.
So, who the hell are Catherine Haycock and Rick Smith?
Haycock is a well-respected personality in the darts community and has a long history of playing, organizing, and promoting our sport. Her rise through the women's rankings came to a halt some 20 years ago when she shifted her attention to organizing.
She spent 17 years as a volunteer, managing and developing the national qualifying program in Ontario, Canada. The program is one of the most successful in Canada with over 1,000 participants each year vying for the opportunity to represent Ontario at the Canadian National Championship.  She also served as a team manager, leading her teams to 14 victories in those 17 years.
Indeed, Haycock's program was so successful it was shared with and adopted by several other large darts organizations, including the Royal Canadian Legion (veteran's club) which still today uses her format for their national program.
For the past five years, she has re-focused her volunteer efforts to support the National Darts Federation of Canada (NFDC), the WDF-recognized governing body for the sport of darts in Canada.
In addition to her volunteer work, Haycock has remained active in the darts community as a player and organizer at the local league level. She mentors players and organizers and is just a lot of fun to be around.
Haycock was a writer for Bulls Eye News for 10 years, providing Canadian content, player interviews, and on-site reports for many major events such as the PDC World Championship. She recalls being on-site back in the day when the PDC Worlds was held in a strip club.  Haycock was also instrumental in getting the first Canadian players invited to PDC World Championships events in the early years.
She has had the honor of commentating on national network sports channels in both the United States and Canada. Her first gig was with the legendary Eric Bristow.  She has shared the commentating booth with other greats such as Rod Harrington and John Part, to name just a couple.
She has been the official caller on stage for hundreds of matches. Her most memorable was the first time cricket was called on stage at the North American Open, hosted by the late Tom and Della Fleetwood.  Having never called a cricket match, it was nerve-wracking enough – to add to the excitement and pressure, Roger Carter and Paul Lim were in the finals with $100,000 on the line for a perfect cricket game.  Carter threw five perfect darts and the 6th strayed just outside the bull for the perfect game opportunity.
Haycock is a lifetime member the NFDC and Darts Ontario, a 2002 inductee into the US National Darts Hall of Fame, and a member of the Royal Hawaiian All-star Darting Team.
And the unusually named (although not so unusual as Haycock) Rick Smith?
Smith's professional background for the past 20+ years has been as an IT engineer with Canada's largest mobile phone company. For the past 15 years, he has combined his passion for darts with his love of technology.  It started when Haycock joined the engineering team at work…
Smith had just proudly displayed his "B Division Championship" plaque in his office. Naturally, the conversation turned to darts.  "Oh, you play darts," Haycock commented.  "We should go out after work and play."  (For the record, these are words no member of the female persuasion has ever uttered to me.)
Well on his way to becoming a darts fanatic and having just conquered all the guys in "B" Division, Smith readily accepted Haycock's offer (although he was concerned about having to go easy on her). A few days later, they met at a local pub…
After exchanging niceties and a few warm up darts, it was game-on. Of course, being a gentleman, Smith allowed Haycock to start.  Her first score was a 180.  She finished the first leg in 13 darts.
Remember, Smith was a "B" Division player – he had only hit a single 180 so far in his career. The trouncing continued game after game with Haycock hitting almost every double on the first dart.  Switching to cricket was even more emasculating for poor Smith.
Haycock was Smith's inspiration to practice and get better. Part of it might have been revenge-motivated, but nevertheless, he was now well on his way to a full-blown dart addiction.
In the 15 years since meeting Haycock, Smith has undertaken many ambitious technology projects to bring steel tip darts in Canada into the 21st century. Paperwork and fax machines were replaced with websites and email.  Computerized tournament management eliminated most of the drudgery of managing the results of 1,000 players competing in multiple qualifying events.  Volunteers were freed up to do more with their precious time.
In 2010, Smith came up with a radical new idea. Frustrated by the inability to get darts on television, he broadcasted the 2010 Canadian National Championship live on the Internet using live streaming technology.  Not sure if anybody would even watch it, he threw caution to the wind and gave it a whirl.  It was "crude by today's standards, with only one camera and no commentary" but as proof of concept, it was a huge success. The free channel had a limit of 50 viewers and was maxed out hours before the event with people begging on the chat lines to be let in.  The NDFC paid the fees to remove the limit and this inaugural event was enjoyed by hundreds of fans every day for the five days of the event.
This was, as far as is known, the very first live streaming of darts on the Internet. It was years ahead of the PDC and BDO.  Thankfully, technology has become more affordable and easier to use and we are able to enjoy more and more live streaming of darts.
And the new Bulls Eye News?
Early in 2015, Haycock and Smith were winding down their volunteer commitments and considering retiring from organizing to focus on family and friends, and just playing darts. One day in April, they were reminiscing about Bulls Eye News and wondering when the presses would start rolling again.  They had long contemplated new ways to promote darts and during these early days of 2015 they began to imagine all that might be accomplished by revitalizing the magazine while also harnessing the power of technology and social media.  Smith, the engineer and project manager, drafted a plan with Haycock the writer, who then arranged a meeting with long-time friend and owner of Bulls Eye News, Tomlinson.
After a series of working conference calls during which the three refined the plan, Tomlinson dropped a bombshell. "I love what you're proposing.  I think it's great.  But I have a better idea. Why don't you guys take over the magazine?  Looking after my father is my number one priority and it's a 24/7 job.  I'm turning 65 this year and maybe it's time for me to retire so that I can look after my family."
Smith and Haycock were speechless. They were volunteering to help Tomlinson get the wheels back on the bus.  Tomlinson was proposing they take over all the responsibilities.
For some people, this would have brought things to a screeching halt. But for Smith and Haycock, this was just another challenge.  Considering all they have accomplished in darts and their professional careers, it should come as no surprise that they accepted the challenge.
They started researching magazine publishing, attended numerous conferences, joined publishing associations, and managed to find a few great mentors in the publishing business. Tomlinson has been and continues to be their most important mentor, guiding them every step of the way.  He has been instrumental in making the transition become a reality.
So, Bulls Eye News is now back in print for all darters to enjoy. The new layout and focus on interesting articles mixed with the old format of player photos and results have been a huge hit.
Tons of great feedback keeps pouring in.
Bulls Eye News has become relevant on social media, and their event calendar is a fantastic way to plan your tournament travels.
This is all just the first phase of the Smith-Haycock plan. There are plenty of exciting and innovative things on the horizon.  As they said in the comeback issue…
"Buckle up, we're in for a heck of a ride."
From the Field,
Dartoid
The following two tabs change content below.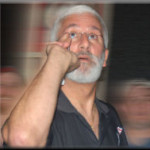 Author of the column that since 1995 has been featured by Bull's Eye News, the American Darts Organization's (ADO) Double Eagle and numerous other darts publications and websites around the globe.