Column #451 Darts in the Mississippi Delta
Sunday, September 1, 2013
Column 451
Darts in the Mississippi Delta
In three weeks I'm headin' south, to the Deep South. I'm headin' to the Crossroads – the junction of Highway 61 and Highway 49 near Clarksdale, Mississippi. It's a famous place. It's so famous that the journey must be chronicled with TWO Dartoid's World columns. The next will show up in this space on October 1. Beware.
If you've heard of Robert Johnson you'll know of whom (and where) I speak. If you haven't heard of Robert Johnson, you're about to learn why I'm so excited to make this trip.
Johnson was a bluesman, one of the best that ever lived. In 1986, he was inducted into the Rock and Roll Hall of Fame at the very first induction ceremony. In 1990, Spin magazine rated him 1st in its Guitar Gods listing. In 2008, Rolling Stone magazine ranked him 5th on their list of the 100 Greatest Guitarists of All Time.
Of Johnson, Keith Richards once said: "You want to know how good the blues can get? Well, this is it." Eric Clapton called Johnson: "…the most important blues musician who ever lived." Said Led Zeppelin's Robert Plant, it is Johnson "to whom we all owe our existence…". Jimi Hendrix, BB King and Muddy Waters were fans.
High accolades for a musician who lived to just 27 years of age, recorded only 29 tracks and died in 1938. Believe it or not, it is Johnson who is credited with writing and first recording "Sweet Home Chicago" – in 1936, way before the Blues Brothers, Jim Belushi and Dan Aykroyd, recorded it and 76 years before Barack Obama sang a few bars at the White House in 2012.
But Johnson was more than a guitarist. He played the blues harp (harmonica) too. That's why I'm an enthusiast and part of the reason I am headin' to the Delta. You see, about the only thing I'm as passionate about as darts is blowin' the blues – and I'm even worse at blowin' the blues than I am at throwin' darts. That's mighty shitty. So…
I'm goin' to camp. And the camp is down south.
For a week starting September 23rd I'll be in Clarksdale – the heart of blues country – at an intensive training seminar with about 30 other blues harp fanatics from around the world. Established by world famous bluesman Jon Gindick and staffed by some of the best bluesmen (and women) around, I'll be honing my woefully inadequate skills by day and performin' at local bars all night. By October 1, I am certain to be the first ever attendee to be banned from returning.
But that's okay. Becoming the next great bluesman isn't my sole reason for attending, although I have started to write my first song…
Da da da da DA
They call me Crazy Dartoid
DA da da da
That's my name
Da da da da DA
I throw da darts at da board
DA da da da
That's my game
Another reason I am going is to check out the local darts scene and to hit every darts bar between Memphis and Clarksdale. If there aren't any, it won't matter a damn because the main reason I am going is, well, because of good ole Robert Johnson. I'm lookin' for what legend has it he found…
As the story goes, as a young man living on a plantation in rural Mississippi, Johnson was considered to be competent with his blues harp but quite mediocre with his guitar – and he wanted to be the best there ever was. He was advised to go to a crossroad near the plantation and told, should the stars align, he would be met by someone who could help.
Johnson found his way with his guitar to the desolate junction of Highway 61 and Highway 49 near Clarksdale and was met by a "large black man" (the Devil) who took his instrument and tuned it. "The Devil played a few songs and then returned the guitar to Johnson, giving him mastery of the instrument. This was in effect, a deal with the Devil mirroring the legend of Faust. In exchange for his soul, Robert Johnson was able to create the blues for which he became famous."
Now don't get me wrong. I know many of you are God-fearing people. I am not about to sell my soul to the Devil. I ain't gonna do no pact.
But I am willing to negotiate.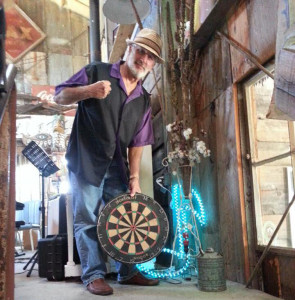 I'm going to take a dartboard and my darts to the crossroads and give it a shot. If the Devil really is a large black man (as politically incorrect as that may be) I'm gonna have a pretty white woman to trade (as politically correct as that may be). If he's a large white dude I'll be offering a large white woman in trade. If the Devil turns out to be a large white woman and she bats her eyes I'll run like the wind and forget the whole frickin' thing.
I can see it now. I will return home the greatest darts player who ever lived. There will be a letter from Barry Hearn informing me that the world championships are being cancelled – and a check for £250,000. Phil Taylor will be over the moon and exclaim: "You want to know how good darts can get? Well, Dartoid is it." Eric Bristow will call me: "…the most important arrow man who ever lived." DARTSLIVE's Steve Ngu will declare it is Dartoid "to whom we all owe our existence…" (but he will say it in Mandarin so no one will understand). Michael van Gerwen, Adrian Lewis and Simon Whitlock will be fans.
Bar Refaeli will call me for a date!
Okay, maybe I'm dreamin'. Maybe I'm nuts…
So I contacted the Old Darts Coach, Howie Reed, to get grounded. He's been around a long time. I asked him what he thought of risking my soul at a chance to become the greatest-ever darts player and to someday have my beer-stained shirt hung high at Alexandra Palace and maybe even get my mug on the cover of Bull's Eye News.
"We'll," said Howie as he was putting the finishing touches on another darts column about his close personal friend Phil Taylor, "I had this same opportunity once. The Devil – he looked like Hillary Clinton – suddenly appeared on the stool next to me at the pub…"
"I am here to offer you a deal," the Devil said. "I will give you unlimited wealth, even more power, all the young women in the world who will pander to your every whim, and a readership that will love your column. In return, all I ask for is your soul, the souls of every member of your family, and the souls of all your friends."
"I pondered for a moment," replied Howie, "and then asked, 'Unlimited wealth and power?'"
"Absolutely unlimited," the Devil asserted.
"Young women?"
"They'll fall over themselves to meet your every desire, no matter what you say or do," the Devil assured.
"And you want my soul, my family's souls, and the souls of my friends?"
"Yes. All of them," the Devil replied.
"Let me tell you 'Toid," said Howie, "I was deep in thought for a moment, but then I finally spoke…"
"So… what's the catch?"
From the Field,
Dartoid
The following two tabs change content below.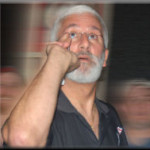 Author of the column that since 1995 has been featured by Bull's Eye News, the American Darts Organization's (ADO) Double Eagle and numerous other darts publications and websites around the globe.