Column #439 Could it be Brendan Dolan's fault?
Thursday, November 1, 2012
Column 439
Could it be Brendan Dolan's fault?
I don't believe in fate. I don't accept that it was predetermined by some Supreme Power I'd suck at darts.
What I believe in, or would at least like to, is the "butterfly effect."
Hence, I believe, or would at least like to, it is Brendan Dolan's fault that I suck at darts.
It could have been different…
"It was MIT meteorologist Edward Lorenz who watched his work become a catch phrase. Lorenz, who died in April, created one of the most beguiling and evocative notions ever to leap from the lab into popular culture:
the 'butterfly effect,' the concept that small events can have large, widespread consequences. The name stems from Lorenz's suggestion that a massive storm might have its roots in the faraway flapping of a tiny butterfly's wings."
"Translated into mass culture, the butterfly effect has become a metaphor for the existence of seemingly insignificant moments that alter history and shape destinies. Typically unrecognized at first, they create threads of cause and effect that appear obvious in retrospect, changing the course of a human life or rippling through the global economy."
Which brings me to my encounter with Brendan Dolan at the Professional Dart Corporation's (PDC) first Las Vegas Desert Classic in 2002…
I'd given careful thought to the setting of personal goals for the tournament. At the end of the day I settled on just one: to spend a night in Phil Taylor's motor home.
Nah. I only jest.
My goal, I felt, might actually be achievable: that was to win a leg, just one game, against somebody, anybody, with a British accent. My goal was to fleetingly be better than one of the best.
Counting warm up, I faced three blokes with foreign accents…
I warmed up with lawyer Kevin Liebkemann from New Orleans. He definitely speaks with a foreign accent (it's even worse now that he's moved to New Jersey). It's just not British.
I got stomped 3-0 by north Boston's superb shot, Tom Curtin. Like most Bostonians, Tom also speaks with a accent. But again, it's not British. If I'd have managed to get by Curtin (and, blimey, I would have if Tommy Cox hadn't stuck a magnet behind the triple one) I'd have toed up next against Cliff Lazarenko. If I'd have gotten by Lazarenko I'd have had to face Jamie Harvey or Lionel Sams or Keith Deller. Had I gotten past this challenge I'd have qualified as a great darts professional and ended up on stage to toe up against Phil Taylor, only to be slaughtered for cracking another motor home joke.
In the second round, I achieved my goal. My opponent was an unknown named Brendan Dolan…
I pounded the triple twenty hard and closed quick to hold my throw. I managed to break Dolan's throw in the second leg to go up 2-0. Despite my strong start in the third leg, Dolan broke back. Then I collapsed like the pussy I am and he easily won the next two legs and the match 3-2.
Dolan turned out to be from Northern Ireland, not England. But he sounded British. Or Australian. Or South African. Screw it. It's was good enough for me. I met my goal.
But you know, I should have had the match. Until recently, this was a moment long forgotten.
And this brings me to the Butterfly Effect…
Since that fateful day in Las Vegas, Brendan "Armageddon" Dolan has banked some $300,000 in career earnings. He's ranked 22nd in the world. He reached the 2011 World Grand Prix final, which he lost 6-3 to Taylor – and in his semi-final match against James, Wade Dolan hit the first ever televised nine-dart finish with a double start (160, 180, t20, t17, bull).
At the 2012 PartyPoker.net European Championship (won by Simon Whitlock) Dolan dispatched perennial champion (four times running) Taylor in the quarter finals 10-6 and should have – with a 9-6 lead – ended Wes Newton's run in the semis. Dolan let his march to the final vanish as Newton reeled off five straight legs to advance 11-9.
Just two weeks ago at the 2012 World Grand Prix Dolan streaked through the pack to the semis, but fell to Mervyn King, who lost to Michael van Gerwen in the final.
So I wonder…
Had I held my throw in the third leg against Dolan a decade ago might his and my darts careers have taken different paths?
Had the butterfly flapped its wings in my favor would it be me today who is ranked among the top players in the world, rolling in dough?
Was what happened that day in Vegas – that small event, that insignificant match that could have gone either way – the flap of the butterfly's wings that launched Dolan to greatness and relegated me to writing silly-ass stories?
No, it's bullshit.
I just suck.
From the field,
Dartoid
The following two tabs change content below.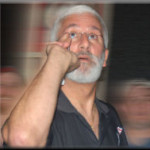 Author of the column that since 1995 has been featured by Bull's Eye News, the American Darts Organization's (ADO) Double Eagle and numerous other darts publications and websites around the globe.