Column #436 RIP Sid Waddell
Monday, August 13, 2012
Column 436
RIP Sid Waddell
Players and fans alike have been tweeting their sympathies and favorite Sid memories. Wayne Rooney, Piers Morgan and John Prescott are amongst the thousands of people sending messages of condolence.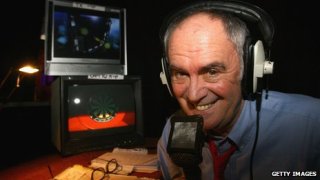 Borrowed from The Stars of Darts website, below are just a few…
Barry Hearn, PDC Chairman
It's terrible news and our thoughts go out to Irene and his family. Sid was the Voice of Darts and we wouldn't be where we are today without him.
He was such a major part of darts, a really nice fellow who no-one had a bad word about.
He was wonderful to listen to, with his university education he was tremendously intelligent and whether it was Greek mythology or Marxism he always found a way of pulling a quote out relating to a darts match.
He's up there with the legendary commentators in sport and he kept his passion for darts with him every time he went in to the commentary box.
He was totally unique and brought that excitement in to people's living rooms to add to the entertainment that the players created.
He had so much respect for the players and hated that snobbishness that some people looked down on darts with – he brought the game in to the 21st century.
He was fun to be around, you never saw him down and he looked forward to every match as it was the most important thing in his life. He loved life and whether it was writing or broadcasting he lived it 100 percent and gave it 100 percent.
We will mark Sid's memory appropriately to ensure he lives on in darts long in to the future.
Eric Bristow, five time World Champion
Sid was part of our history, he's been there since the beginning in 1973. He was fun and crazy and people loved listening to him.
There will never be another Sid, he was a one-off – so excitable and hyperactive, when you were commentating with him you'd have to turn your microphone off he'd make you laugh so much.
Every sport has a great commentator and he was ours, he was our top dog and we will all miss him so much.
Bobby George, twice a British Darts Organisation World Championship finalist
So sad to hear of the passing of the legend Sid Waddell or Sidly as I used to call him. Sincere condolences.
John Lowe, three time world champion
Darts has lost its champion of the commentary box, Sid Waddell, sincere condolences to his family, good bye dear friend."
Raymond van Barneveld, Dutch winner of four BDO World Championships and one as part of the Professional Darts Corporation
Can't believe the news that Sid Waddell died yesterday, I am emotional right now such a great personality and a good friend gonna miss you.
Barney Francis, Managing Director, Sky Sports
We will all remember Sid's wonderful words, his great sense of humor and his passion for the sport he loved.
Sid was a friend to all of us at Sky Sports, at the heart of our darts coverage since the early 1990s. He was a wonderful man and we will all miss him deeply.
Our thoughts are with him and his family at this sad time.
Dave Clark, Presenter, Sky Sports
Everybody used to fight to get in to the commentary box with Sid. There was a memorable moment when he was commentating with Stephen Fry at the Premier League Final and he asked Stephen Fry if he was enjoying it – he turned to him and said: "Sid, I'm like a pig in Chardonnay."
Sid was loved by us all, he was a one-off, a genius and so much fun to be around. He made the world a brighter place and it's heartbreaking that he's gone.
From the Field,
Dartoid
The following two tabs change content below.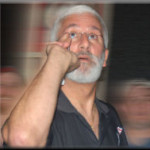 Author of the column that since 1995 has been featured by Bull's Eye News, the American Darts Organization's (ADO) Double Eagle and numerous other darts publications and websites around the globe.