Column #420 Jerry Van Loan – Does Darts and America Proud
Friday, October 28, 2011
Column 420
Jerry Van Loan – Does Darts and America Proud
Fanned (and rightly so) by the Old Dart Coach, Howie Reed, there's been a bit of banter in recent weeks (although hardly enough) about the World Cup and finagling by Olly Croft, Roy Price and possibly outgoing American Darts Organization (ADO) president, Buddy Bartoletta, to boot Stacy Bromberg from the American team.
Love her or not, Bromberg – the ADO's top ranked female player for 16 years, National Team member for 12 years, National 501 Champion for 12 years, National Cricket Champion for 4 years, 4-time World Cup gold medalist, Bullshooter Top Gun Champion and MVP for 4 years each, and the one and only PDC Riley's/Unicorn Ladies World Champion – earned her right to play. The decision to remove her from the team was contrived, unfair and wrong. The ADO should have gone to the wall on Bromberg's behalf.
I don't know how the decision was reached, but Bromberg was replaced by Cali West. Cali and I have met and recently we joked around in Nashville with Marshall Popp (who I partnered with – we were slaughtered) but I can't say I know her well. What I do know is that she's as nice as they come, is a hell of a shot and was certainly proud to be chosen to represent her country.
I also don't know how the decision was reached that enabled Jerry Van Loan to play for the men. It's correct that he won a playoff. But, as some have pointed out, at the time the playoff was held he wasn't ranked among the top nearly 1,000 players in the country.
I do know Van Loan.
I remember him well from the World Series of Darts (WSOD) in 2006 where at the Fairfield, New Jersey qualifier he battled to the final (in a heavy field that included Johnny Kuczynski, Darin Young, Bill Davis, Jim Watkins, Tim O'Gorman, Dave Marienthal, Tom Waterman, and many others) but lost to Jim Widmayer.
I remember Van Loan's fifth round defeat to Pete Morrison at the WSOD Windsor Locks, Connecticut qualifier (ultimately won in the tiebreaker by Tim Grossman who closed the double 15 as Dave Marienthal was left with 32).
I remember what in some ways may have been Van Loan's most heartrending WSOD loss at the Ronkonkoma, New York qualifier – among another stellar field (including Brad Wethington, Davis Snider, Steve Hertzfeld, Chris Helms, Richard Espinoza, Jim Newman, Conrad Daniels and Larry Butler). Van Loan went down after leading 3-0 to the eventual winner of the qualifier, Joe Efter.
No, I don't know how the ADO determines its World Cup representation. It used to be they invited the top four players in the country based on ranking points. Today it's a mystery. And that is wrong.
But what is right is that ranking points lie.
And what is right is Jerry Van Loan.
There ain't anyone around darts who knows Van Loan who doubts that he's the real deal – and who would suggest for a moment that were Van Loan to choose to play the circuit week in and out he'd qualify for the World Cup team according to the dusty old rules.
But Van Loan doesn't travel the country much. He competes when he can and just as he was proud, albeit disappointed in his WSOD effort, he takes pride in being able to compete with some of the world's best while maintaining a family and career. Based on wins in Stamford and Colorado in 2009 and Virginia Beach in 2010 – in 2010 Van Loan topped the list of World Darts Federation (WDF) ranking points for all of North America.
Damn right he's the real deal.
"On the subject of pride and proudly representing" his country, Van Loan recently shared that while "our 2011 World Cup darts team had its ups and downs, finishing 12th out of 38 countries in Ireland, I had high points of 30 points per dart against Latvia."
Van Loan continued, "Less than two weeks after the World Cup, I continued to proudly represent the American people by obtaining a guilty verdict in a complex gang conspiracy homicide case where a member of the Sex Money Murder Bloods conspired to kill (execution style, gunshot to back of head) a 21-year-old prosecution witness."
It is my pleasure to share below an accounting of Van Loan's effort as reported just two weeks ago by Jesse Smith of the Kingston Times.
As proud (and as free of ego) as Jerry Van Loan is of his accomplishments the darting community should be even more proud the he is one of us.
From the Field,
Dartoid
Jermaine Nicholas, fourth convict in King slaying, could get up to 25 years
by Jesse J. Smith – October 14, 2011
An Ulster County jury Tuesday found Jermaine "Maino" Nicholas guilty on all four counts of an indictment charging him with conspiracy to kill a witness to an alleged gang shooting.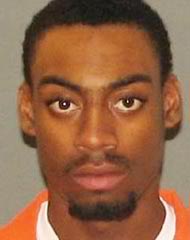 In a small courtroom before an anxious group of Nicholas' relatives, the jury forewoman spoke in a whisper as she pronounced the 24-year-old alleged member of the Sex Money Murder set of the Bloods gang guilty of conspiracy, intimidating a witness, tampering with a witness and criminal facilitation. He faces up to 25 years in state prison when he's sentenced on Dec. 7.
Nicholas is the fourth man convicted in the Feb. 9, 2010 murder of Charles "C.J." King Jr., who was shot in the head and arm on Cedar Street minutes after Nicholas called fellow Sex Money Murder gangbangers to tell them that he had spotted King at a deli.
Prosecutors say that gang associate Trevor "Little T" Mattis shot King to prevent him from testifying against his brother, Jarrin "Phat Boy" Rankin. At the time of the murder, Rankin was locked in the Ulster County Jail awaiting trial on weapons and assault charges for the Nov. 21, 2009 shooting of an alleged Crips gang member who confronted him with a sawed-off shotgun. King witnessed the gun battle and testified about the incident to an Ulster County grand jury. Mattis and alleged gang leader Gary "G Money" Griffin were convicted in April on counts of first-degree murder and sentenced to life without the possibility of parole. Rankin was convicted in June on charges of conspiracy and sentenced to 25 years in prison. A fifth alleged gang member, Rondy "Ski" Russ, faces trial on conspiracy charges later this year.
In previous trials in the case, prosecutors relied heavily on phone calls between the jailed Rankin and various gang member and associates, which they say pointed to a conspiracy to find and kill the 21-year-old Kingston resident before he made it to court.
But Nicholas' voice does not appear on any of the phone calls, nor is he mentioned in the conversations expect in a passing reference by Rankin regarding alleged Sex Money Murder member and King's step brother Lee "Justice" Gray. Assistant District Attorney Gerald Van Loan told jurors that Gray, who is currently serving 12 years in state prison for robbery and assault, was initially a suspect in the gang's hunt for the informant. In a January 2010 phone call to then-girlfriend — and now prosecution witness — Dametria "Meaty" Kelley, Rankin refers to Gray as "That little blazer Maino stack drop." In gang parlance, prosecutors argued "Blazer" is SMM soldier while "stack drop" refers to the practice of drug dealers using lower-level agents to sell their product.
Silencing a witness… forever
In Van Loan's version of the conspiracy, backed up by recorded phone conversations between Rankin and his associates, once Gray was cleared by the gang, attention turned to King and, as family, Gray was assigned to deal with the problem.
On Feb. 6, three days before King's murder, the crew gathered at Nicholas' Furnace Street residence for a drunken party. Rankin calls gang associate Amanda "Blazer Bitch" Miller and asks her to pas the phone to Gray. Rankin is heard on tape telling Gray "Your man with the ponytail, holler at him" to which Gray replied "Already DOA."
Van Loan told jurors that the alleged drug supplier-seller relationship between Nicholas and Gray and the fact that Nicholas was a bona fide member of the gang (photos presented at the trial show him throwing up the crossed pistols gang sign of Sex Money Murder in the company of fellow gang members) argued for the fact that he knew Mattis was bent on murder of the night of Feb. 9 when he spotted King at the Cedar Deli and called Miller's cell phone and told her to "put me on with Little T."
Van Loan also argued that Nicholas' actions at the deli before the shooting and in the getaway car driven by Miller afterwards pointed to evidence of his guilt. Countering defense counsel Paul Gandin's surmising that Nicholas may have thought the gang merely wanted to intimidate or threaten King when they arrived at the deli minutes after the phone call, Van Loan noted that video from the deli shows the 6'4" alleged gang leader Gary "G Money" Griffin and the 6'1" Nicholas waiting outside the deli while the 5'4" Mattis walks the equally diminutive King up Cedar Street alone.
"If the plan was to break his legs or beat him up, why didn't they do it right there?" asked Van Loan.
Van Loan also pointed to testimony from prosecution witnesses Miller and Kelley who told jurors that Nicholas squeezed in next to Kelly in the backseat of Miller's car, leaving a spot on the passenger side where Mattis jumped in after shooting King.
"This defendant knew exactly what was going to happen," said Van Loan. "They're going to walk down the street and [Mattis] is going to put a bullet in his head."
Defense: Case is weak
While Van Loan sought to tie a single phone call and a mass of circumstantial evidence into a solid case, Gandin relentlessly hammered on what he said was the weakness of the argument that Nicholas knew Griffin and Mattis planned to murder King rather than intimidate him or persuade him not to testify.
"Maybe there was going to be a fight, maybe somebody was going to threaten him," Gandin said. "Maybe someone was going to show him a gun and say, 'Look pal, we mean business.'"
Gandin used the testimony of the prosecution's two star witnesses, Miller and Kelley, to make the case that that Nicholas was ignorant of Mattis' true intentions the night of the killing. Both women, who made deals with District Attorney Holley Carnright to avoid prison in exchange for their testimony, played key roles in the search for the informant. They relayed messages from Rankin to associates on the street and, in Miller's case, drove around the city looking for King once he was identified as the witness. But both women, in statements to police after their arrest and on the witness stand in two previous trials, stated firmly that they were unaware of any plan to murder King.
Gandin also used the testimony of King's father, who told jurors of a January 2010 incident in which he was allegedly menaced by gang member Rondy "Ski" Russ who warned of dire consequences if King continued to assist authorities. On the stand, King Sr. admitted that Nicholas had never approached him to inquire about King's whereabouts or make threats despite the fact that he lived a few blocks away and regularly ran into him on the street. Then there was Nicholas' near total absence from the recorded conversations between Rankin and his co-conspirators.
"Don't you think that if there was anything in those hundreds of hours of phone calls, in that box of CDs, you would have heard it?" Gandin said in his closing argument.
Later, Gandin said that he believed jurors might have been swayed by the gang aspect of the case, including testimony by gang expert Peter Sheridan of the New York City Department of Corrections regarding the gang's history and modus operandi (Sex Money Murder was founded in the mid-1990s in New York City's Riker's Island detention center). Gandin sought to bar Sheridan's testimony, but was overruled by County Court Judge Don Williams.'
"I think that the length of time the jury deliberated shows that there was some uncertainty about Mr. Nicholas' involvement," said Gandin, who declined to criticize any of the court's rulings. "I think that the gang references injected into the trial colored an objective view of the facts."
Family's anger
For Nicholas' family, the reaction to the verdict was more visceral. Outside the courtroom before the jury returned, Nicholas' mother, Marcia Nicholas of Albany, described her son as a good kid who in high school participated in a program to help younger students learn to read, went skiing, and had been excited to meet former President Bill Clinton when he came to Kingston in 2003. She described his scrapes with the law as minor — street fights, disorderly conduct charges — the kind of things that are nearly unavoidable for young men in a poor community like Midtown Kingston which offers few opportunities for youth once they leave high school. (Nicholas is the only one of the five men charged in the murder conspiracy who has never served time in state prison).
"He's a good boy," said Nicholas. "He wasn't the type to get in trouble, he was never in prison and he never sold any drugs."
Moments after the verdict was read, Marcia Nicholas, along with Jermaine Nicholas' grandmother and fiancée, began crying, then decrying in anguished tones the decision, the makeup of the jury (none of whom were black or apparently close to Nicholas in age) and the nature of justice in Ulster County. The tirade, which subsided after Williams' threatened to punish further outbursts with contempt of court citations, resumed in the lobby and outside where family members made the racial connotations of the case explicit noting that Miller, who is white, got a deal which will spare her prison while three black men previously convicted in the case received lengthy sentences.
Nicholas, meanwhile, remained composed in a gray pin-stripe suit and crisp blue shirt as he was cuffed and led from the courtroom. At one point he turned to his sobbing mother and said in a soft tone, "It's OK, Ma, look at me, I'm good, I'm good. Thank you guys for your time and patience."
The following two tabs change content below.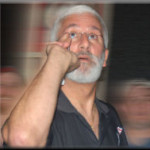 Author of the column that since 1995 has been featured by Bull's Eye News, the American Darts Organization's (ADO) Double Eagle and numerous other darts publications and websites around the globe.