Column #414 A long overdue apology to Dave "Boy" Green
Wednesday, June 1, 2011
Column 414
A long overdue apology to Dave "Boy" Green
After a decade of hesitation (which I now regret) I attended my first Chicken COOP Open (the 25th anniversary of the tournament) in Noel, Missouri in 2006. I had an outstanding time, met hundreds of terrific people, witnessed an outpouring of generosity at the annual charity auction and learned some important things.
Most important I learned to steer clear of Johnny Noe. He poisoned me with Rumplemint, the effects of which (after spending three hours in an outhouse) caused me to pass out in mid-throw, lose to someone named Dickhead, nearly drive my car into a river and wake up the next morning with potato salad all over my shirt.
Now mostly recovered and despite being booked for months I am disappointed that events have conspired to prevent me from being present and poisoned again June 2-5 at the 30th anniversary of what is so accurately billed as the longest running – and best – outdoor darts tournament in the world.
As always, it will be a hell of an occasion.
But it will also have its somber moments…
Several COOP regulars have been seriously affected by the recent tornado, just up the road in Joplin. Robin Logston's grand-baby was one of the victims. Mike Ricky is in the hospital with a broken leg (but doing well). John Whitmore and Kenny Carlson are missing. Bob Covey lost property. Jerry Harmon's aunt lost her home and belongings.
Just as Rob Heckman and others stepped up to raise funds to help our darts friends after the earthquake and tsunami that hit Japan long-time COOP charity auctioneer, John Burgin, is gearing up to ensure that this year's auction – dedicated to helping darts players and their families in Joplin – is the most successful ever.
Events like the COOP, like most daring events below the upper echelons of the sport, are about having a good time with friends, making new friends and maybe hitting a few doubles to keep pace with the ones we're drinking.
But tragedies like the tsunami and tornado also give one pause…
Life is short.
Most of us, as unlikely as it may be that we'd have ever met were it not for a few bits of tungsten, are just regular people – with families and jobs and who have experienced our own personal tragedies and heartbreak.
Dave "Boy" Green is one of these people. He is one of the hardest working, most determined, confident and passionate darters I have come across in my time around the sport. He's an honest stand-up bloke, whatever a bloke is.
When I interviewed Dave in 2007 I tried to be fair, I really did. But I also tried to be funny. My humor fell short and it inspired a tension that, fuelled by my continuing attempts to be funny, elevated into an animosity between us that impacted others.
Maybe it took an earthquake, tsunami and tornado to get me to see the light. But yes, life is short. It can end in an instant.
So Dave, today I want to say what I should have said a long time ago: I was wrong and I am sorry.
My best wishes to everyone at this year's COOP. I'll miss you – but will definitely be back next year. Have a great time and give as generously as you can to help all those who need it in Joplin.
From the field,
Dartoid
The following two tabs change content below.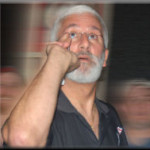 Author of the column that since 1995 has been featured by Bull's Eye News, the American Darts Organization's (ADO) Double Eagle and numerous other darts publications and websites around the globe.