Column #395 Darts Charlatans
Friday, August 13, 2010
Column 395
Darts Charlatans
There is a fundamental difference between promoting with zeal and knowingly misleading people in an effort to garner attention and profit for your enterprise. The latter is unethical, insidious, and prejudicial to the darts community. Dartoid's World will continue to call out charlatans whose deceitful self-serving actions compromise the integrity of the sport.
Period.
Full stop.
End of column.
(But probably not the end of the story.)
Next column (coming September 1): Beware the Vortex – Darts in Sedona, Arizona.
Stay tuned!
Be afraid!
From the Field,
Dartoid
The following two tabs change content below.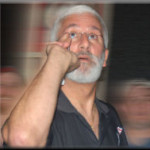 Author of the column that since 1995 has been featured by Bull's Eye News, the American Darts Organization's (ADO) Double Eagle and numerous other darts publications and websites around the globe.