Column #371 One year ago, this August, in darts…
Monday, August 3, 2009
Column 371
One year ago, this August, in darts…
Traditionally a slow month in the world of darts and, apparently, news in general, August begins with a media flashback of an old controversy from 2002 when former Hooter's girl, Jodee Berry of Panama City Florida, "won" a Toyota in a beer selling contest only to be presented with a toy Yoda doll from the Star Wars collection. But – Perry sued and WON!
So some things do make less sense than yours truly!
An estimated one billion people watch the opening ceremony of the Summer Olympics on August 8 and several days later swimmer, Michael Phelps, wins a record-setting eight gold medals, breaking Mark Spitz's record from 1972. Phelps celebrates by copping a bag of Acapulco Gold from a kid on Tiananmen Square.
On the same day in Stamford, Connecticut Brad Wethington defeats Jimmy Widmayer to claim his first National 501 Championship, Christina Medina defeats perennial and defending champion, Stacy Bromberg, for her first National 501 Championship, and Dan Lauby Jr. defeats Robert Ham to win the 2008 National Youth Championship.
The League of Legends continues with events in Reading, Bridlington, and Stoke which result in the whittling from the field of John Lowe, Eric Bristow, Bobby George, and Dave Whitcombe and lead to the finals at Circus Tavern. In the semis Bob Anderson knocks out Peter Evison (with a right cross) and Keith Deller defeats Cliff Lazarenko to set up an Anderson-Deller final, which Anderson wins ten legs to four. The Limestone Cowboy graciously accepts the £15,000 winner's check, heads to Herrods, and blows it all on a gold belt buckle the size of a Toyota.
Scotland's Robert Thornton wins the first Professional Darts Corporation (PDC) event to be held Down Under, defeating Paul Nicholson three sets to one. Pat Oreal and America's Gary Mawson lose out in the semis. Thornton continues his run, almost, at the Kirchner Open Players Championship, but falters in the semis. Dennis Priestley defeats Lionel Sams to win the event, his second PDC Professional Tour victory of the year.
In Atlanta at the PDC Professional Tour event at the Peachtree Open it is Alan Tabern who takes the honors over Andy Hamilton, three sets to one. America's Chris White gets by Dave Honey, Peter Manley, Denis Ovens, and Gary Mawson en route to the semis. In addition to White and Mawson, Darin Young and Roger Carter finish in the top eight.
Phil Taylor scores back-to-back Players Championship wins in Holland on August 30 and 31 – the first over James Wade and the second over Terry Jenkins. As September dawns the Power's record on the year stands at an extraordinary 128 wins with only five defeats – and seventeen titles in eighteen finals.
Mark Webster wins the World Darts Federation (WDF) Europe Cup over Northern Ireland's Daryl Gurney while Martin Adams and John Walton team up to win the pairs over Marko Kantele and Jarkko Komula. For the first time the team title goes to Denmark – a small European country with a capital city named after snuff.
Across America, Chris Helms, Eddie Moore, Susan Delaney and Pamela Patton score wins over little green people at the Alien Open in Roswell, New Mexico. Ed Labarbera scores a double win at the Mile High Throw Down in Colorado while Lisa Alpert and Doreen Berry split. Darin Young, Scott Wollaston, MaryJo Chesney, and Andrea Taylor record wins for the ladies at the USA Dart Classic in Stamford, Connecticut. At the Music City Classic in Nashville, Chuck Pankow and Roger Carter share the honors as do Stacy Bromberg and Paula Murphy. In Bentonville, Arkansas Brian Smith and Jay Adams win and Kat Canfield scores a double. It is England's Steve Maish and Alan Tabern who are left standing at the Peachtree Open in Atlanta while Stacy Bromberg and Andrea Taylor each score victories. However, at the Glenn Silva Memorial in Melbourne, Florida Bromberg is unbeatable, winning twice, while Mark Venable and Brian Blake split. At the Holiday on the Beach tournament in Corpus Christi, Texas, Chris Helms and Raul Tamez come out on top while Gwen Olds and Andrea Taylor split. The Bluegrass Classic in Lexington, Kentucky sees John Adams and Alan Mathews take the money for the men as none other than Ruth Kenny cleans up everything for the ladies.
Meanwhile, in American politics, Barack Obama, now the official nominee of the Democratic Party, picks Delaware's never loquacious Senator Joe Biden as his running mate.
Senator John McCain continues to search for his running mate and, in breaking news, columnist Dave Barry reports that in a conference call McCain asks his search committee to find someone capable of filling his shoes…
"Unfortunately, he is speaking into the wrong end of his cell phone, and his aides think he said 'someone who is capable of killing a moose.' Shortly thereafter, McCain stuns the world, and possibly himself, by selecting Alaska Governor Sarah Palin, a no-nonsense hockey mom with roughly 114 children named after random nouns such as 'Hamper.'"
Finally, as the economy continues to sputter (and wending our way back to darts) Fannie Mae and Freddie Mac hold up a White Castle restaurant in Toledo, Ohio. They invest their take – approximately $75and a dozen Belly Bombers – by purchasing Jodee Berry's toy Yoda doll and offer it on eBay. In a matter of hours Fannie and Freddie realize a 40% percent return on their investment when the doll is purchased for $105 by a Star Wars fanatic named John Part.
From the Field,
Dartoid
The following two tabs change content below.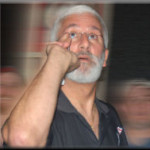 Author of the column that since 1995 has been featured by Bull's Eye News, the American Darts Organization's (ADO) Double Eagle and numerous other darts publications and websites around the globe.