Column #352 One year ago, this March, in darts…
Monday, March 2, 2009
Column 352
One year ago, this March, in darts…
March marched in just like them thar posh Redcoats once did into Lexington and Concord, and then…
BAM! BANG! BOOM!
Phil Taylor shows those who just last month chided his best days were behind him that, unlike them thar Redcoats… he still has the POWER, and more of it than ever!
Phil Taylor defeats Dutchman Rico Vonck and then Chris Mason, Wayne Mardle, Adrian Lewis and finally James Wade to take the Professional Darts Players Association (PDPA) Player's Championship (South) in Essex. Taylor falls just short the next day at the UK Open Southern Regional where Colin Lloyd downs him 8-6 after moving through Wayne Jones, Barrie Bates and Kevin McDine en route to the final stage.
Days later at Nottingham the perennial world champion smashes Raymond van Barneveld in Premier League competition 8-3, averaging 111 – finishing 121 and 167 on bull. Despite an early 3-0 lead Wayne Mardle had to settle for a 7-7 draw against James Wade. Current world champion John Part produces a steady 8-6 win over an under-the-weather and bounce-out-plagued Adrian Lewis. Peter Manley comes back from a 5-2 deficit to draw with Terry Jenkins.
In the next Premier League event Raymond van Barneveld puts the whoop-ass on Adrian Lewis, 8-2. Wayne Mardle finally finds the winner's circle with a come-from-behind win over Terry Jenkins, 8-5 and James Wade takes Peter Manley by the same score. But then Taylor brings his fans to their feet with a dazzling display, averaging 108, to wipe up current world champion John Part, 8-3 (in the face of outstanding darts by the Canadian – who averaged more than 100 himself).
Alan Tabern wins the Player's Championship with a whitewash of Chris Mason. Losing out in the semi-finals are Colin Osborne and Chris Thompson. Alex Roy, Kevin McDine, Mark Frost and Colin Lloyd get their last look in the quarters.
The next day at the UK Open North West Regional Taylor continues to impress with an 8-7 defeat of his protégé, Adrian Lewis. Michael van Gerwen and Wayne Mardle see their run end in the semis.
Wayne Mardle scores heavily to jump to a 4-1 lead over Raymond van Barneveld during Premier League on March 17 and despite a Barneveld fight-back, Mardle score a relatively easy 8-5 win. Adrian Lewis stomps Terry Jenkins 8-3. John Part steamrolls to a 4-0 lead over Peter Manley before Manley steamrolls straight back to go up a leg, 4-5. But Part steamrolls again to take four legs on the trot to secure an 8-5 win. But yet again it is the thirteen-time world champion who throws the class darts of the evening with an 8-4 victory over James Wade and a 105 average.
Phil Taylor continues his resurgence to form and seeming invincibility in Germany with rare double Player's Championship wins, each by a measure of 3-1, over Raymond van Barneveld and Wayne Jones.
In the final Premier League event of the month Raymond van Barneveld manages an 8-6 win over John Part. Wayne Mardle scores his third consecutive win, taking out Peter Manley 8-5. Due to illness Adrian Lewis sits out the evening – forcing Terry Jenkins to step to the line twice. Jenkins is manhandled in the first by James Wade, 8-4 but fights to a 7-7 draw against a somewhat subdued Phil Taylor.
Taylor bounces back immediately however by closing the month with back-to-back wins on consecutive days taking both the Midlands Players' Championship and the UK Open Midlands regional final (becoming the first player in history to win four professional tour events in a row). Colin Lloyd and Brendan Dolan (who yours truly somehow took three legs off of at the first Las Vegas Dessert Classic) are the two last men standing, except for The Power.
Meanwhile, at the North Texas Shootout Bill Davis (over Darin Young twice) and Stacy Bromberg (over Brenda Roush in 501 and Suzie Hall in cricket) clean up with double wins. At the Youngstown Dart Charity Shoot it's David Feldpush, Bob Walton, Patty Vickroy and Chantal VanMeter who take the honors. Steve Brown takes all the money at the Budweiser St. Patrick's Day Tourney in Jefferson City, Missouri while Sherrie Benton bests Margaret Hemsath for the ladies. Dayton Strawbridge bests Fred Kruger to take the 501 honors at the Tri City Open in Greenbush, New York. The sometimes controversial Strawbridge was gracious at the post-tournament press conference: "Yo! Let me tell ya, Kruger be lucky. Had that boy somehow found the darts to take me I'd a smashed him upside da head with a lead pipe – I'm a plumber, yo – and sent his ugly ass back to Elm Street in a box."
Elsewhere in America, Steve Hogan picks up wins in 501 and cricket at Arizona's Thunder Mountain Open while Sandy Szucs and Dee Richardson pick up fist place checks for the ladies. At the Aim for Eastern North Carolina shoot it's Ryan Barnette and Chris Linkous who come out on top for the men and Dawn Bocchinfuso and Diana Willman who are victorious among the women. Far away in Cooper Landing, Alaska, my friends Derk Inga and Jeff Olson take the big money (over a moose) and Helga Walker and Lori McComsey top the women. Inga continues strong to score another win in 301 at the Iditarod Open in Nome but is edged out by Alvin Arzaga in cricket. Lulu Clark and Sheri Felch are also victorious. In Tacoma, Washington, Sean Smith and Carole Herriot take the honors.
In old Savannah at the Garden City Classic, Ryan Barnette sends Roger Carter packing twice while Carter's lady, Vera Emons, shows him how it's supposed to be done – topping Jennifer Novich in cricket. Amber Baker takes the 501. Anthony Miera and Pam Patton both notch doubles at the New Mexico Chili Classic. Ryan Loch, Kyle Liddeke, Sara Gall and Angie Johnson win at the Gold Rush Open in Mitchell, South Dakota, while Joseph Perez and Kathy Podraza come out on top at the T-Moore Memorial in Spring, Texas, and Pick Paez and Brenda Bertrand win at the Shamrock in Coral Springs, Florida.
In Kalamazoo, Michigan, Dawn Jones scores two wins while Neil Quenon and Scott Meeks split. In D'Iberville, Mississippi, at the Early Bird it's Mike LaNasa and Davis Snider who take the honors and Stacy Bromberg and Vera Emons (over Bromberg) who win for the ladies. Timmy Nicoll and Steve Brown get the job done in Indianapolis as do Nancy Huntoon and Sharon Riojas. Carolyn Mars cleans up at the Montachusetts Winter Classic in Massachusetts while Tom Curtin and Adam Ledger split. Trish Jackson scores the double in Winston-Salem as Brian Blake and Chris Linkous split.
At the always-popular Virginia Beach Classic it's Bill Davis and Johnny Kuczynski who top a super-tough entry among the men and Marilyn Popp and Carolyn Mars who do the same for the ladies. Canada's Shawn Brenneman tops Steve Panuncialman and then Dave DePriest to take two wins at the Wolverine Open in Livonia, Michigan, as Trish Grzesik and C.J. Slater top the ladies. And it's Ruben Blea and Ed Labarbera who silence the competition at the Rocky Mountain Classic – and silencing the competition is no small task as Darrell Berry is among the field! Asked afterward by a reporter how he feels about his defeat Berry calmly responds: "Let me just say 'BEWARE' to Blea and Labarbera – compared to me, Dayton Strawbridge is a pussy." Berry's wife, Doreen, then punches out the reporter.
Of course, other important stuff happens in March, albeit unrelated to darts, and reality…
In politics, New York Governor Elliot Spitzer is caught with his pants down, literally, and is forced to resign. The call girl "responsible" for Spitzer's fall from fame is hounded unmercifully by the press and, unable to pursue her livelihood, applies to the federal government for $4 million in bailout funds.
Barack Obama explains in a long speech, highly touted by the liberal press, why in twenty years as a member in the Trinity United Church of Christ in Chicago he "just didn't notice" that the pastor, Jeremiah Wright, was a "whacked-out racist lunatic."
Obama's opponent, Hillary Clinton, is forced by the same liberal press (and also forgiven her "indiscretion") to explain the difference between her (initial) claim that she once "landed in Bosnia under sniper fire" and her (later) explanation (in the face of video evidence) that she "forgot" and actually landed in Bosnia "to be greeted by an eight-year girl in a pink dress."
Senator John McCain becomes the presumptive nominee of the Republican Party and goes back to sleep.
In the financial world, nothing good happens, unless you consider paying $32,000 to fill up your car to be a good thing. Shell Oil reports first quarter earnings of "BILLIONS – HA. HA. HA" and Fannie Mae and Freddie Mac announce that they will start selling vacuum cleaners door-to-door.
March ends with John McCain snoring and only oil executives and Phil Taylor able to fill their cars. All three are optimistic as they head into the proverbial April showers…
From the Field,
Dartoid
The following two tabs change content below.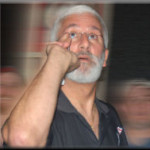 Author of the column that since 1995 has been featured by Bull's Eye News, the American Darts Organization's (ADO) Double Eagle and numerous other darts publications and websites around the globe.