Column #234 Heeere's Johnny!!!
March 12, 2006
Column 234
Heeere's Johnny!!!
It was a sparse contingent of just 59 darters that gathered today in Las Vegas to do battle for the seventh spot on stage at the World Series of Darts (WSOD) at Connecticut's Mohegan Sun Casio in May. But they didn't disappoint. Around about the same time back east that Darin Young tucked himself in for the night, possibly to dream about missed doubles and a potential million dollar pay day that may slipped at yesterday's Washington, D.C. qualifier, his friend Johnny Kuczynski was nailing his en route to a 4-1 finals victory over Colton, California's Sean Downs to stake his claim on the Professional Darts Corporation's (PDC) Pot of Pounds.
Kuczynski, who was knocked out early in the only other qualifier he's entered – New Jersey on February 11 – was downright pleased to finally get the monkey off his back. "There is a lot of pressure on the top five American players, because they are expected to win, and when they don't win, there are a lot of questions about why they didn't. I'm really glad to have won this one because the pressure is now off. Now I'm in, and I don't have to worry about it anymore."
Not that it was a cakewalk. In quarter final play Kuczynski found himself down two to nill to Aurora, Colorado's Danny Moore but stormed back in typical "K Man" style to notch up four straight legs for the win, including a spectacular tide-turning 146 close in the third leg and fourteen and fifteen dart finishes in legs five and six.
In the semi finals, America's number one ranked American Darts Organization (ADO) shooter in 2002, 2003, 2004 and 2005 — and current National Cricket Champion, faced off against St. Petersburg, Florida's Michael Winthers who raised eyebrows by reaching the top eight at the second qualifier in Atlanta on February 5. Young Winthers, who is certain to be a force to be reckoned with in the future, gave Kuczynski a match, going up 2-1 before being rendered powerless as the National Champion swept the remaining three legs.
Meanwhile, Sean Downs was walking his way to the finals, pretty much crushing everyone in his path. In semi final play, Downs stormed past Thornton, Colorado's Ruben Blea with an easy 4-1 win.
In the final, with the first three legs going with the darts, Kuczynski sat on a two to nill lead compliments of a maximum and a fifteen darter in leg three. Downs had chances to make it tight but bad luck and nerves seemed to rule as he watched a winning bull shot to even the match bounce out in leg four and couldn't find tops a little later. In the end, all Kuczynzki needed was double ten – the exact same finish that Darin Young found so elusive twenty-four hours earlier.
Looking forward, Kuczynski contemplated his chances. "It's going to be tough – the top sixteen in the world are great players. But, there are a lot of great players here in the U.S. that are coming through. At the Mohegan Sun, the first round could be dangerous for the top players. There are a lot of unknowns there in the first round. Take Phil Taylor in the first round of the Ladbrokes World Championship. He wasn't on his top game and I feel if I had drawn him in the first round and I was on my game, I could have beaten him. After the first round, nobody could have beaten Taylor with the way he threw. It will be the same at the Mohegan Sun, especially with the home town crowd cheering us on."
Following Kuczynski and Downs, finishing in the top four were Ruben Blea and Michael Winthers. Rick Jenks, Nick Rivera (who bested Las Vegas' Stacy Bromberg in an exciting match the went the full seven legs), Troy Pople and Danny Moore. Rounding out the top sixteen were Bromberg, Charlatta Francis, Ron Colvard, Troy Beatty, David Hoag, Thomas Dooling, Aaron Christian and Vic Sanchez.
As rumored, PDC Chairman Barry Hearn was in attendance and welcomed the players with a "rousing, impromptu" address during the opening introductions. As Mike Harris from Bull's Eye News described it, "Hearn challenged the players to 'step up' and prepare for the coming wave of growth in our sport and, of course, the introduction of major television coverage here in North America. He spoke passionately about the global darts boom that is now underway – particularly in Asia, as well as the fast-changing face of fan demographics in Europe and what introducing the sport to the masses on TV here stateside will mean."
So there you have it. WSOD qualifier number seven is history and one of America's Big Dogs has earned his birth to the Big Dance. For Johnny "K" the pressure is off – at least for a little while. And the British who are following the qualifiers finally have a name and a face they are familiar with to start worrying about.
And worry they should!
Next up – next weekend: the March to the Mohegan continues with qualifiers eight and nine in Windsor Locks, Connecticut and Houston, Texas. I don't know about you but I can hardly wait!
For further information about today's Las Vegas WSOD qualifier go to the Bull's Eye News (http://www.bullseyenews.com) and Professional Darts Corporation (http://www.planetdarts.tv/page/Welcome) websites.
From the Field,
Dartoid
The following two tabs change content below.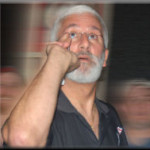 Author of the column that since 1995 has been featured by Bull's Eye News, the American Darts Organization's (ADO) Double Eagle and numerous other darts publications and websites around the globe.