Column #231 Joe Giordano
March 8, 2006
Column 231
Joe Giordano
If I win the million dollars I'll drink myself silly!
— Joe Giordano
__________________________________________________________________________
Nickname: Geo
Date of Birth: October 18, 1968
Place of Birth: Staten Island, New York
Hometown: Staten Island, New York
Hobbies: Poker
Movie: Trading Places
Television Show: Law and Order
Book: Super System II (by Doyle Brunson)
Favorite Night on the Town: Hanging out in NYC – in an Irish bar with a great juke box and shooting darts
Meal: Shepard's pie and a Corona (without lime)
Sports Team: New York Yankees!!!!
Music: Yanni! Ha. Just kidding! Billy Joel.
Pet Peeve: Cheap people
Worst Habit: I have a tendency to drop darts at the line. If someone else does it, and I am standing there, they call it a Geo dart.
What most people don't know about me: I am a generous person. I have been down and out in my life and have a soft spot for people who are down on their luck.
Weapon of Choice: 23-gram Laserdart Gold Widows
_____________________________________________________________________________
Okay. Okay. I haven't won a qualifier, YET. Most likely, I'll be heading to either the Washington, D.C. or Connecticut qualifiers. Definitely I will be shooting in the Long Island event.
But even if I don't qualify for the World Series of Darts (WSOD) you have to do my profile because you soiled my good name when you wrote me into your Queer Eye for the Darter Guy story (see Dartoid's World column #205) a couple of months ago. You owe me Big Time buddy!
I was nineteen when I threw my first league match with somebody else's darts. I knew nothing. I was just hanging out in a bar and somebody asked me if I wanted to fill in. I figured why not? I wanted a night to hang out. I bowled but that cost me fifteen bucks a week. Here was a chance to spend less and still go out and have a good time. So I went out and bought a cheap set of darts and joined the league. The one thing I can't say all these years later (I'm thirty-seven now) is that spending fifteen dollars a week bowling wouldn't have ended up being the cheaper way to go!
I attended St. John's University but didn't graduate. It'll always be there if I decide to go back. Right now I'm a professional poker dealer in New York City. Last year I helped run a poker tournament in New York City that raised $1.2 for the charity Math of America. My first job was working for my mother when I was fourteen. She was a parish secretary at a catholic church. I pumped gas for about a year when I was in college and hated it. I realized that it wasn't something I wanted to do for the rest of my life. It was a wake up call in a way. It motivated me to do make something of my life.
I won the Bergen County Open singles 301 in 2004, the 501 doubles on Long Island in 2005 with Bill Bell, and the New York City singles tournament in 2005. My goal, what I'd love to do (besides qualify for and win the World Series of Darts (WSOD) is crack the American Darts Organization's (ADO) top ten.
Jimmy Widmayer is the player that I look up to. I have known and respected him for a long time and he has taught me a lot over the years. Another great help to me has been my doubles partner Bill Bell – he is always pushing me to shoot the way he knows I can. Outside of the sport, I have to say that I admire my best friend Phil – he has always been there for me and never gave up on me, even when it looked like there was no hope left.
You know, darts has had its ups and downs. When I first started really shooting back in 1990 and 1991 for example, there was the Unicorn tournament in Atlantic City in December. The day immediately before that they held the Lucky Strike tournament in New York City. Darts was huge. At least I thought so. But then, after a few years, participation seemed to drop off – and now both of these tournaments, and others, are gone. It seems that darts started to pick up again just in the last year or so – and now with all the excitement around the WSOD it appears that the sport is primed to explode.
I want to be remembered as a person who lived every day to its fullest. People who know me will tell you that is exactly the kind of person that I am. My aim currently is to practice as hard as I can and the throw the best darts I possibly can.
Oh and yes, you asked who I would most want to be with if I were stranded on a remote island. Hmmm. I would have to say (and this might surprise a LOT of people) George Bush. The reason is because he is the president. I am sure that the world would come looking for him – so I would be rescued.
This means I wouldn't have to miss one of the WSOD qualifiers!
The following two tabs change content below.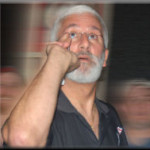 Author of the column that since 1995 has been featured by Bull's Eye News, the American Darts Organization's (ADO) Double Eagle and numerous other darts publications and websites around the globe.